Inside Gwyneth Paltrow's Montecito Home That Includes a $62,000 Hammock
Get a peek inside Gwyneth Paltrow's California home which she built after seeing the lot listed on her "favorite pornography app."
The Montecito area located in Southern California's Santa Barbara County is home to some of the biggest stars in the world including Oprah Winfrey, Kevin Costner, Tom Cruise, Ellen DeGeneres and Portia de Rossi, and Prince Harry and Meghan Markle.
It's also where Gwyneth Paltrow and her husband, Brad Falchuk, have a stunning property that they "built from the ground up." Here's a look inside their Montecito mansion, complete with a $62,000 hammock right in the living room.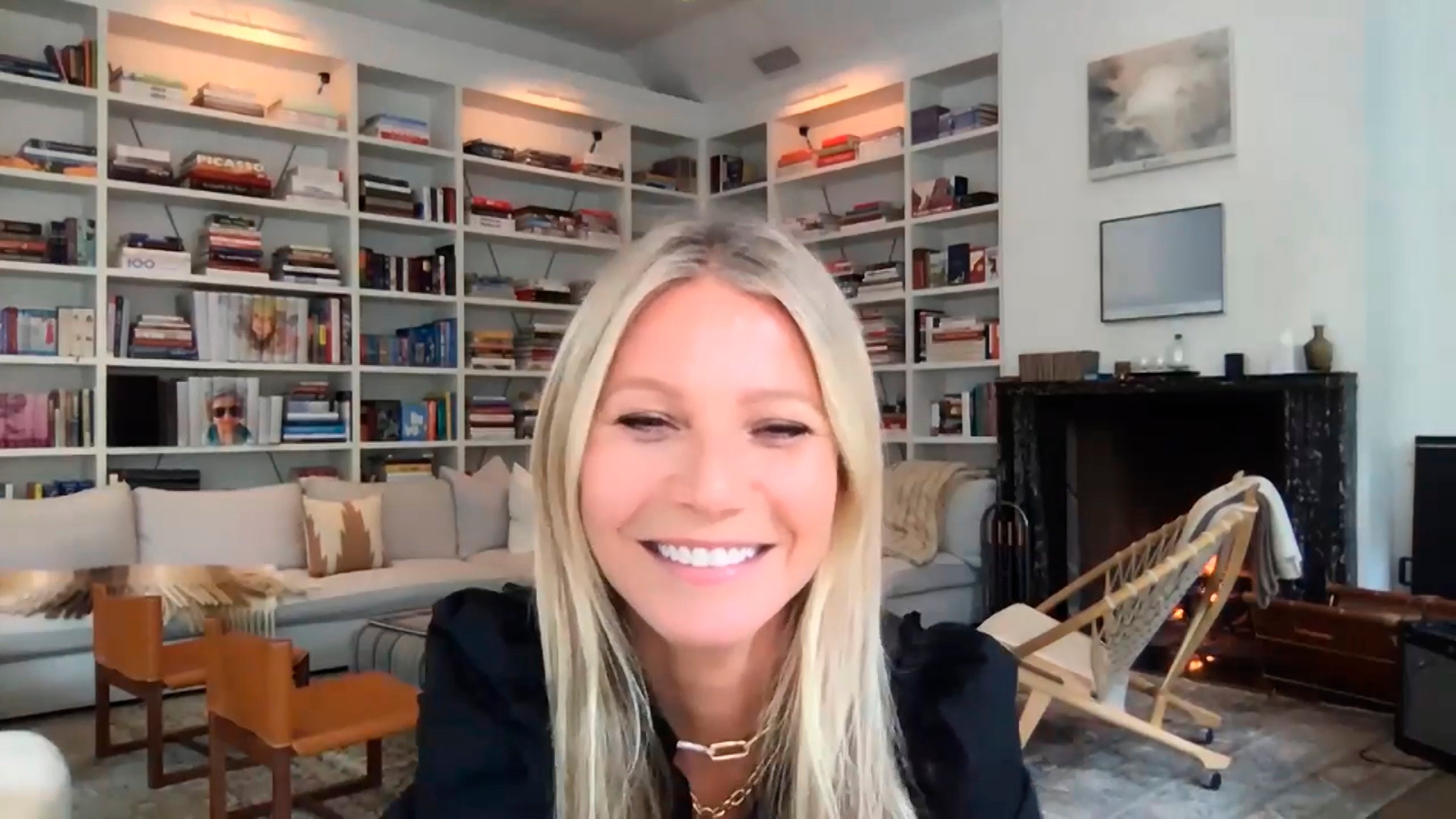 Paltrow and Falchuk had 'quite an undertaking' building the home 'from the ground up'
Paltrow invited Architectural Digest into the spacious home and revealed when and how they chose that property.
"I've always gravitated toward Santa Barbara. Even when I was living in London, we'd take the kids there for holidays," she said. "It was our sweet gem of an escape in the U.S." During one visit in 2015, the Goop founder checked Redfin, her "favorite pornography app," and saw a huge lot with a teardown for sale.
"It was like Grey Gardens," she recalled. "There were wild animals living there and swarms of bugs, but I fell in love with the land and the views."
Inside the mansion which features a very expensive hammock in the living room
The entryway of Paltrow's home is almost as grand as the rest of the house. The large space is bright and has a black-and-white checkered floor tile as well as a fireplace. The Iron Man star explained that is "something you see a lot in Europe in an entryway and it just gives this really nice feeling of warmth and welcome as you come in."
There's another fireplace in the dining room, kitchen, and living room but something else in her living room is what's so eye-catching.
A large $62,000 hammock is situated in front of a window in the room. Paltrow said she lies in that swing "all the time" and it's one of her "favorite spots" in the whole house.
The estate is powered on solar energy
Adding to the tranquility of the home is its massive spa. "It's like an ancient bathhouse unexpectedly sheathed in these beautiful pale-green tiles with an Arts and Crafts vibe," said Robin Standefer who along with Stephen Alesch of Roman and Williams designed the entire mansion. "We love investigating the tension and voltage between things you don't normally see combined."
The property is powered on solar energy with a gray-water system.
"A home should reflect the physicality and ethos of its owner, and this house takes its cues from Gwyneth's height, beauty, and focus on distillation. You see it in the tall bones, the attenuated proportions, the radiused corners, and the slender molding profiles," Standefer stated. "The house is built around extremely precise, thoughtful spaces that we refined again and again for years."