Inside Jack Black and Angelina Jolie's Cool Friendship
Solid Hollywood friendships are not an anomaly. Jack Black and Angelina Jolie may not have a bromance like Ben Affleck and Matt Damon, but their relationship goes beyond being industry friends.
The Maleficent actor is low-key about her inner circle, and some fans may be surprised to learn that Angelina Jolie and Jack Black are friends outside of work.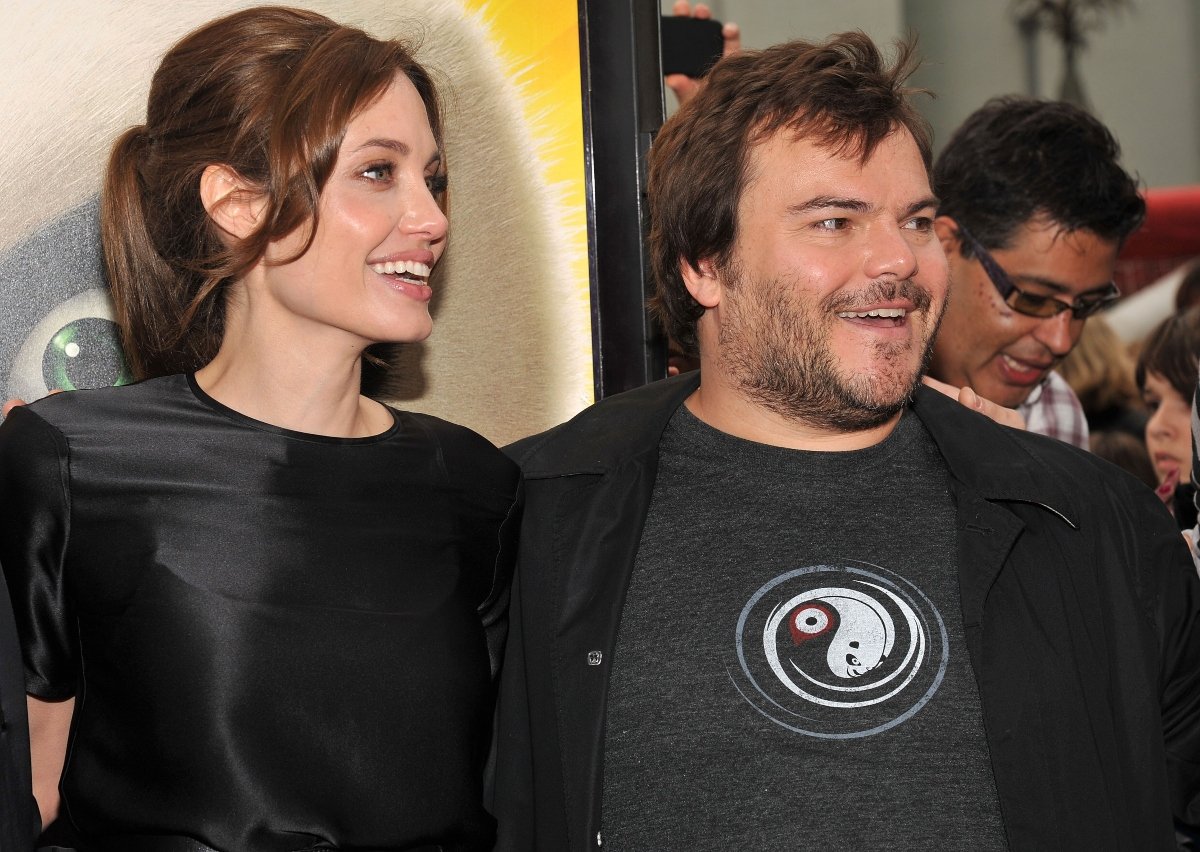 Jack Black and Angelina Jolie first met on the job
While many fans may think Jack Black and Angelina Jolie first fist-bumped while working on Kung Fu Panda, that's not the case. They connected on a different animated feature: Shark Tale. The 2004 family flick starred Will Smith, Renee Zellweger, Robert De Niro, Martin Scorsese, Black, and Jolie.
Smith, Jolie, Black, and Zellweger had lead roles in the movie about a fish who gets in over his head with a shark crime family. They all did a promotional tour for the film at the 2004 Cannes Film Festival on a themed shark ride, and Black and Jolie bonded.
During a 2011 interview with the Daily Herald, Jolie reminisced about their first official meeting. "That float on the shark was the beginning of a blossoming friendship," she said. "They say you learn more about somebody in an hour of play than in a year of conversation, so I think that happened."
Not long after Shark Tale, the pair teamed up again for the inaugural Kung Fu Panda movie and went on to do two sequels. They and their families became good friends after working together for so many years.
Black and Jolie spent Easters together
Back in 2016, the world was amused upon learning the Jolie-Pitt clan and Jack Black's family were having annual Easter hangouts together. As the lore goes, when Brad Pitt and Jolie were married, she would hit up Black to invite him and his family over for Easter egg hunts and lunch.
He's joked about how he doesn't even celebrate the holiday because of his own religion, but there's no way he'd turn down a brunch invite from the couple.
"I'm a big Jew, so I don't really understand Easter traditions, but I do know this: Easter at Brad and Angie's is awesome," Black once told People. "The kids love it, and so do I." Jolie confirmed that's the one occasion they make a point to get together.
Jack Black and Angelina Jolie's kids were in 'Kung Fu Panda 3'
Kung Fu Panda 3 arrived in theaters in January 2016 with a slew of guest voice actors in the cast. Four of Jolie's children — Shiloh, Zahara, Pax, and Knox — and Black's son Samuel joined in the on the fun. Jolie said her kids took it very seriously but once the job was over, they told her she had an easy job.
It is unclear whether the two families will ever reunite on the big screen again, as Black has said in the past that he believes three Kung Fu Panda films felt final. Still, that doesn't mean a future family meet-up isn't in the cards, especially if their children are bit by the acting bug.