Inside the Alleged Beef Between Rappers NBA Youngboy and King Von
King Von's death leaves fans and loved ones with a lot of unanswered questions. The 26-year-old rapper was gunned down outside of an Atlanta nightclub on Nov. 6. Many believe his death is in connection with fellow rapper NBA Youngboy due to an alleged beef between the two.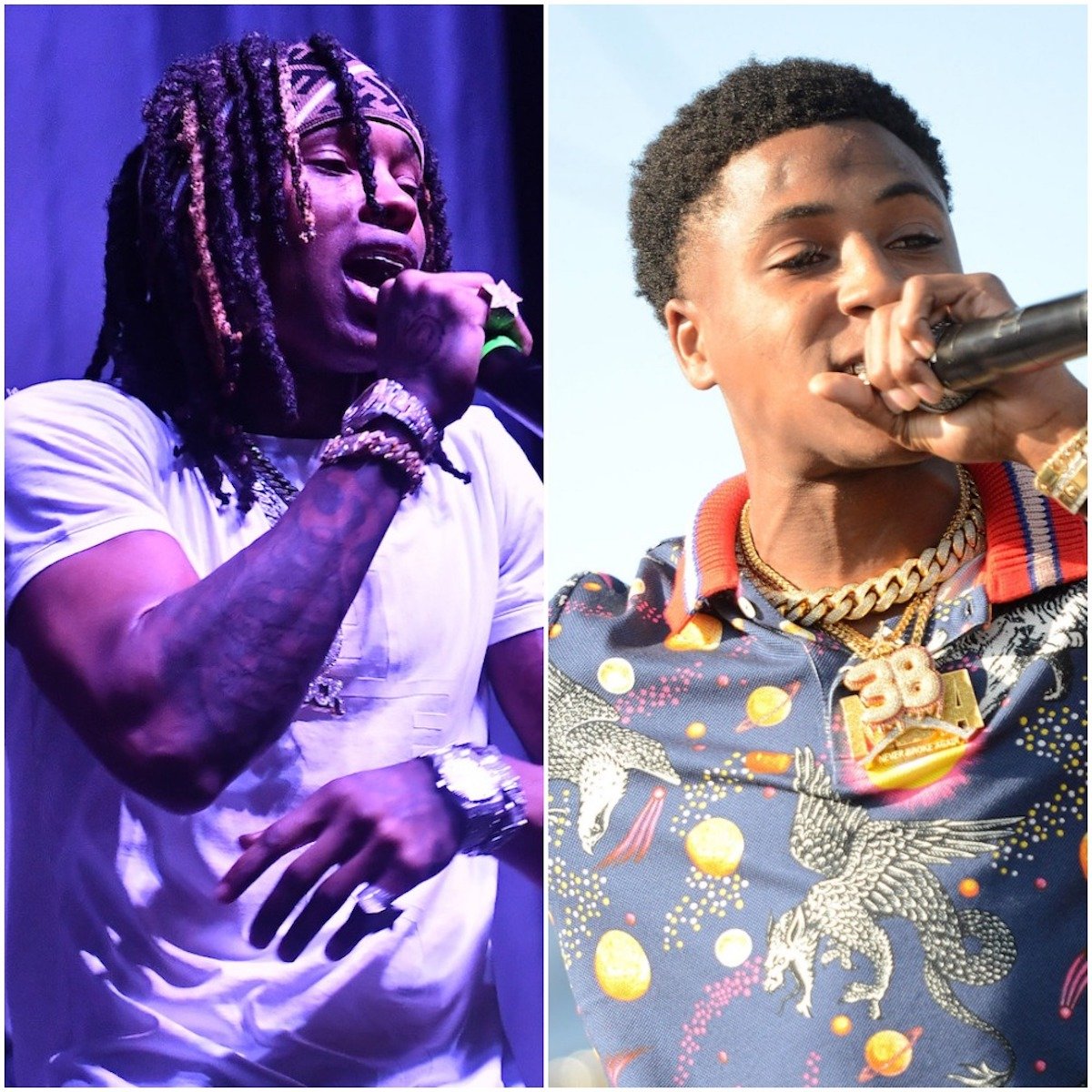 King Von accused NBA Youngboy of lying in his music
A 2018 Instagram live video shows Von listening to Youngboy's single "Play With Us," Von shared his thoughts on Youngboy's music with his followers.
"The f**k YoungBoy talking about on this song, bruh?" Von is overheard saying. "He's talking crazy, he ain't even like that. I'm on his a** now. You got caps in yo raps," he continues, insinuating Youngboy's street lyrics are not genuine to his experience.
Related: 50 Cent Calls Out T.I. For New Controversial Comments: 'They Will Kill You for What You Just Said'
Youngboy never publicly responded to Von but it's assumed by fans that he was made aware of the diss. Things between the two rappers were quiet for nearly two years since, with many assuming the two were being closely monitored by authorities due to their lengthy criminal records.
NBA Youngboy and King Von's beef involves Younboy's ex-girlfriend, Jania Meshell
Prior to Von's murder, rumors spread that Von began dating Youngboy's ex-girlfriend and child's mother, Meshell. Von shared photos of him with Meshell. Amid speculation of their relationship, Von disputed the dating rumors and insisted he and Meshell were creating music together. 
Related: Floyd Mayweather Confirms Daughter Yaya Is Expecting Baby with NBA Youngboy
Von's denial did no good for Youngboy's team. Quando Rondo, a mentee of Youngboy, was already upset about the photos and posted subliminal disses toward Von on social media. Fans also took an Instagram live post by Youngblood talking trash as a diss to Von.
Von seemingly responded to Youngboy in his own Instagram live video, saying, "Ain't no rap beef and ain't no real beef, unless somebody got shot or something." He also noted that he does not argue over women.
NBA Youngboy and King Von's record labels are allegedly rivals 
Both rappers are signed to different record labels and it's assumed that their alleged beef is a result of their record label crews. The idea that the rumors involve their label owners or mates became even more of a possibility when Von shared a photo of him with Meshell. 
Rondo's interjection into the beef following Von's post with Meshell caused further speculation as he is signed to Youngboy's label. 
On the day of Von's murder, Rondo was reportedly captured on surveillance video arguing and possibly fighting Von outside of an Atlanta nightclub lounge.
NBA Youngboy's crew is allegedly linked to King Von's murder
On the evening of Nov. 6, Von was one of two fatally wounded in a shooting, allegedly not too long after footage of his argument and a potential fight with Rondo. According to the New York Post, a shootout between rival crews ensued, leaving Von dead of gunshot wounds.
Later, Timony Leeks was arrested in connection with Von's death. Numerous sources report that Leeks is a member of Youngboy's crew as he's reportedly a close friend of Rondo.
Per the Post, Leeks is one of five suspects arrested by Georgia by police in August 2020 for a previous drug bust. At the time of his August, he was charged with attempt or conspiracy to violate the Georgia Controlled Substance Act, theft by receiving stolen property, and obstruction, according to the outlet.