'Inventing Anna': Anna Delvey Days Were Just 'a Slice of Her Mid-20s,' Anna Sorokin Says
Anna Delvey/Sorokin, whose real-life was based on the Netflix series Inventing Anna recently told New York Times reporter Emily Palmer she was ready to leave her Anna Delvey days behind her.
Palmer revealed in a TikTok that Delvey views the years she spent scamming megabanks, luxury hotels, and a few friends out of boatloads of cash in her past and she's ready to "move on." But, as Palmer pointed out, Delvey is still in ICE detention. Palmer shared a drawing that reflected Delvey's current situation, flavored with her signature sense of humor.
Anna Delvey days were a slice of her mid-20s
Palmer covered Delvey's trial and formed a relationship with the fake German heiress. She said Delvey is ready to put her "Anna Delvey days" behind her. "Her Anna Delvey days were just that, she said," Palmer shared. "A slice of her mid-20s. Mostly, she's ready to move on."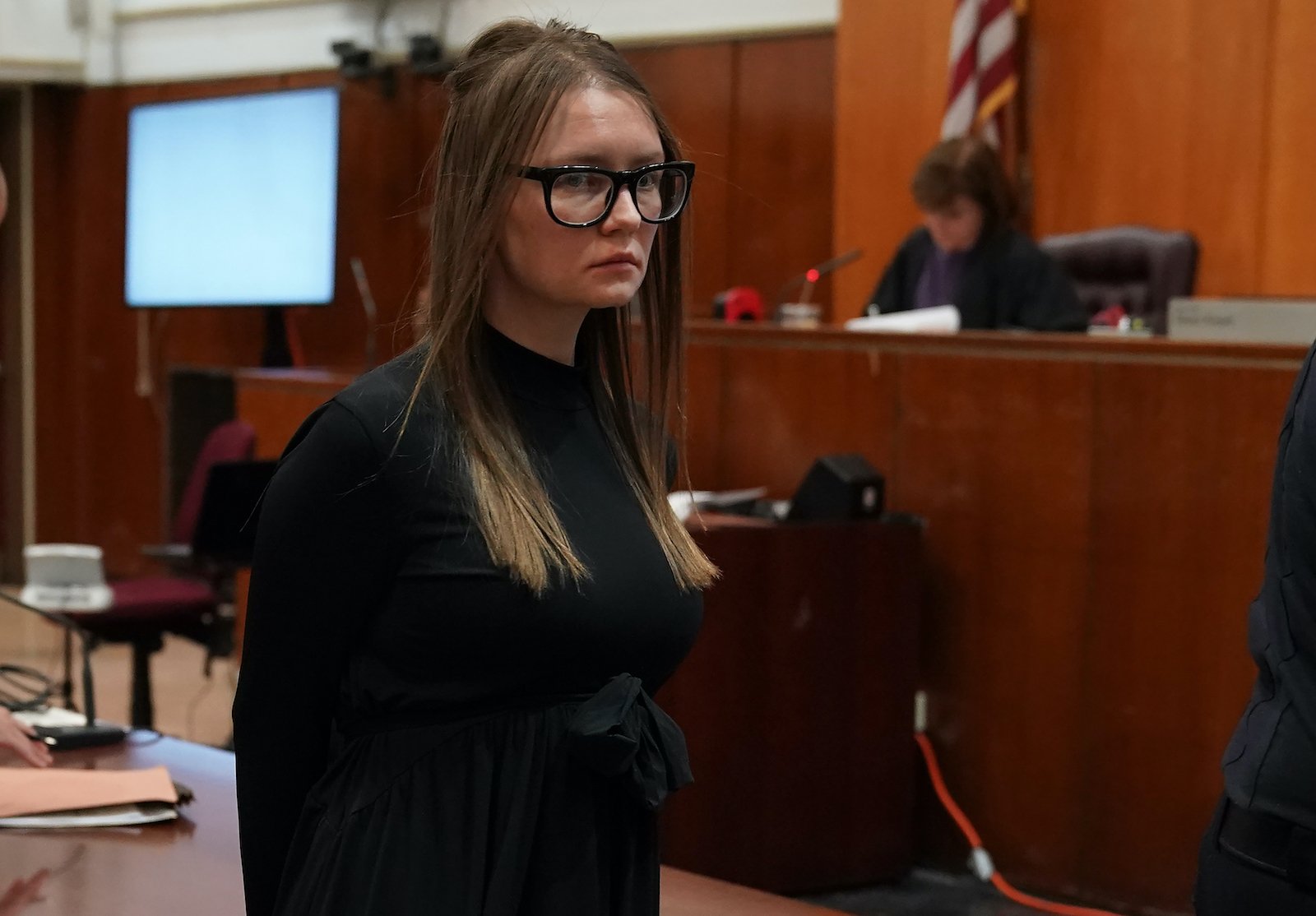 For now, she literally can't move on since she's in custody. "A few days after our call, I received a package in the mail from Anna with a drawing of a young woman floating out to sea on a block of ice. And the typical Anna humor I've come to know, she called it 'Anna on ice,'" Palmer added.
Sorry not sorry?
Palmer originally reported that Delvey wasn't sorry for her crimes. Delvey was convicted of bilking big banks out of thousands of dollars with the intent of scoring millions. After serving two years of her 12-year prison sentence, Delvey was released for good behavior. She was then picked up by ICE for overstaying her Visa.
"Years after Anna Sorokin told me she was 'not sorry' for the financial crimes she was convicted of under another name, I phoned the fake heiress at her correctional facility in Goshen, New York to ask her the same question again," Palmer shared on Instagram.
"I first met Anna during her manhattan trial in 2019. And I wrote a story from our jailhouse interview that went viral— teeing up the first question at her parole board hearing in October 2020. but a lot has changed in the three years since that first interview," she added.
Palmer updated her remarks. "Three years after our first conversation at Rikers, [Anna Delvey] told me she is in fact sorry for her financial crimes … and the convicted con artist is ready to prove it (out from behind bars). In a series of phone calls from her ICE detention center in Goshen, New York, the supposed German heiress reflected on what all has changed since her 2019 trial and her plans for the future."
Anna Delvey … on TikTok?
Palmer recently said she and Delvey made a TikTok and they watched Inventing Anna together. "I watched the Netflix series Inventing Anna with Anna Delvey herself … and now we're both on TikTok (for the first time) talking about it for Cosmopolitan," she shared on TikTok and Instagram. "When I asked Anna the other day if she had a TikTok account, she said she hadn't gotten around to it … she'd been a little preoccupied in jail. (I had no such excuse.) But the editors at Cosmo convinced us … and now Anna promises #PrisonTok …"
"We screened a few scenes over video chat," Palmer shared. "Anna seemed to enjoy the show laughing through much of it, and she gave a pretty diplomatic review of actress Julia Garner's portrayal of her down to that wacky accent."
RELATED: 'Inventing Anna' Delvey Scammed Billy McFarland Before His Fyre Festival Scam