Iris Apatow and Ryder Robinson Are Official: Whose Famous Parents Have a Higher Net Worth?
Iris Apatow and Ryder Robison are Hollywood royalty. All of their parents have an influence in the entertainment industry, helping their families amass huge net worths.
Iris Apatow is one of young Hollywood's most promising talents. The daughter of fan-favorite director Judd Apatow and actor Leslie Mann, Iris, along with her sister, Maude Apatow, has followed her parents into show business. Active on social media, Iris appears in movies her dad directs, such as This Is 40 and Knocked Up.
In recent days, a flurry of interest has surrounded the young star, as she just went Instagram official with her boyfriend, Ryder Robinson. Pop-culture fans are familiar with Robinson as well; he's the son of a former Hollywood power couple, Kate Hudson and Chris Robinson. 
Iris Apatow and Ryder Robinson recently made their relationship official
On Valentine's Day, Ryder took to Instagram to post a picture that surprised fans and followers. The image he chose is a sweet snapshot of Ryder planting a kiss on Iris's cheek. A simple heart emoji accompanied the picture, making it clear it's an official relationship announcement.
According to People, it's unclear how long Iris and Ryder have been dating. Still, the parents of the up-and-coming stars have nothing but positive things to say about the duo. Hudson and Mann left evidence of this on Robinson's Instagram post.
"Sweets," Hudson commented, adding a double heart emoji. Mann left a string of heart emojis in the comments section. Even Maude, Iris's older sister, let the two feel the love, commenting "So cute :)." Iris herself left her approval on the announcement picture, adding a couple of emojis on Ryder's Instagram post.
Judd Apatow and Leslie Mann are a Hollywood power couple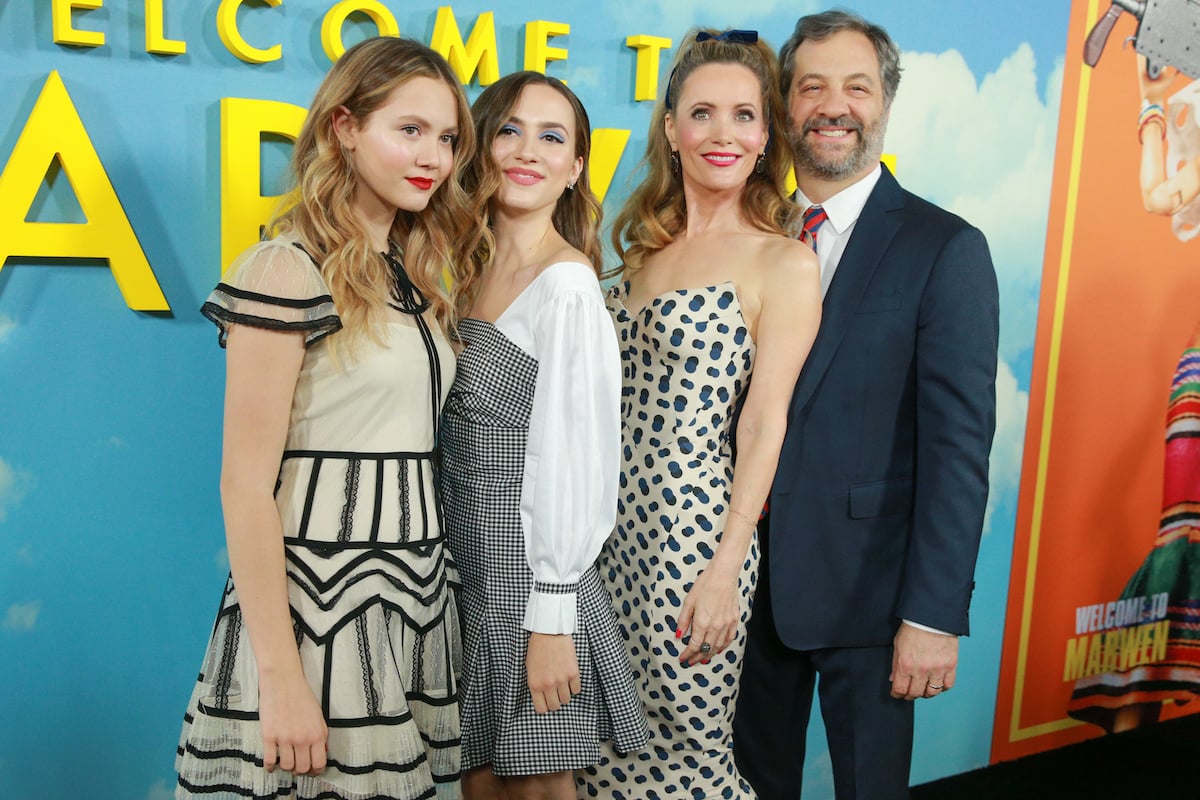 People know Iris's star-studded family for their influence. Judd is one of the most acclaimed comedic directors in Hollywood, responsible for hit movies like Knocked Up, Funny People, and Trainwreck. Judd has become very successful over the years. According to Celebrity Net Worth, he and his wife Mann have an approximate net worth of $150 million.
Judd and Mann wed in 1997. The actor appeared in movies like The Cable Guy and George of the Jungle. She collaborates with her husband, often serving as his muse in his comedies. Judd and Mann, along with their two daughters, Iris and Maude, are often cited as one of the most endearing Hollywood families. 
Ryder is the son of Kate Hudson and Chris Robinson
Ryder is no stranger to the limelight. The son of actor Kate Hudson and The Black Crowes frontman Chris Robinson was born in 2004. Hudson, who is herself Hollywood royalty, is one of the most popular stars in Hollywood. She has an estimated net worth of around $80 million, according to Celebrity Net Worth. Hudson's successful athleticwear company, Fabletics adds to that amount, too.
Robinson, a founding member of the rock band The Black Crowes, is known for his bluesy vocals and guitar skills. Although he and Hudson divorced in 2007 after seven years of marriage, they've established a healthy co-parenting relationship with Ryder.
Robinson himself continues to experience success as a solo musician, as well as with various groups. His net worth, estimated by Celebrity Net Worth, is around $9 million. There's no telling what the future holds for Iris and Ryder's new romance, but fans will certainly be watching.