Is BTS an All-Boy K-pop Group?
They're one of the biggest K-pop groups in the world. It's what each of these performers can do individually that make BTS so special.
Is BTS an all-boy K-pop group? Who are the members? Here's what we know about the band behind songs like "Dynamite" and "Boy With Luv."
There are seven members in BTS
Although they sometimes release solo music, these seven performers together form the award-winning K-pop group, BTS. There are seven members in BTS, each of them appearing in the music videos for songs like "Boy With Luv" and "Dynamite."
The stage names of these performers are RM, Jin, Suga, J-Hope, Jimin, V, and Jungkook, each of them with their own personality that makes BTS so special as a group. Although there have been mixed-gender K-pop groups in the past, BTS is an all-male band.
RELATED: Jimin From BTS Finally Puts the 'Dumpling Incident,' Mentioned During 'The Late Late Show With James Corden,' to Rest
This K-pop group is made up of all men
While there are some all-female K-pop groups, BTS is composed of seven men. Within the seven members, three of them (RM, J-Hope, and Suga,) function as the rappers of the group, sometimes performing solo songs for BTS. Jimin, V, Jin, and Jungkook are the singers of the group.
Occasionally, however, these performers will form "subunits" and release songs in smaller groups. For their 2020 release, Map of the Soul: 7, RM and Suga teamed up for the song "Respect." Jimin and V recorded the song "Friends."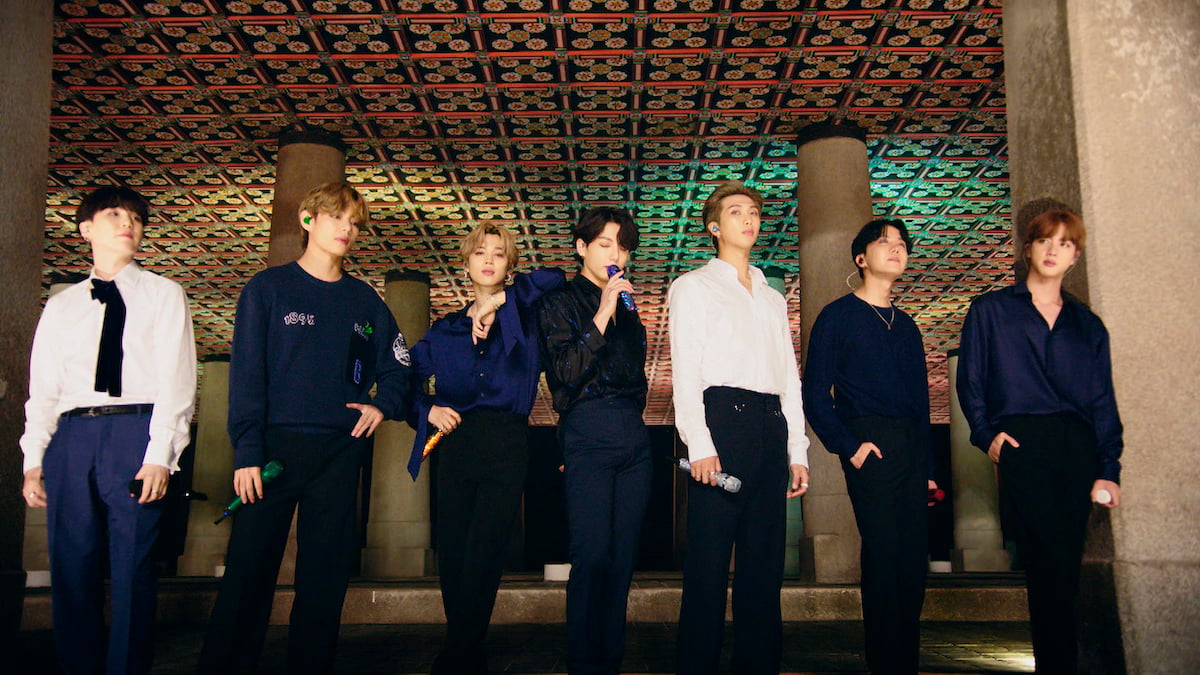 RELATED: Is Jungkook the Last BTS Member to Create a Solo Song? Here's What We Know About 'Still With You' and the Mixtapes of These K-Pop Idols
Its been about seven years since these performers debuted
Since their debut, this K-pop group became one of the world's biggest boy bands. BTS became the first K-pop group to perform at the Grammy Awards. They performed at the MTV Video Music Awards, the Billboard Music Awards, and won the Billboard Music Award for Top Social Artist four years in a row.
This recognition is mostly thanks to the BTS ARMY or their massive fan base that stretches overseas, as well as their ability to have a hand in the writing process. Of course, their close friendship is another key to their success.
"The album looks back at our seven-year journey together as a seven-member band," rapper of the group, J-Hope, said during an interview with Rolling Stone.
"It talks about the stories that made us who we are today and our true feelings in a candid manner," he said. "It was as if we'd opened up a grand, detailed account of our diary of the past several years. It's showing ourselves as we are– so we felt proud and blessed that we can present ourselves in such a way."
The "Dynamite" music video is now available on YouTube. Music by BTS, including their recently released album, Map of the Soul: 7, is available for streaming on Spotify, Apple Music, and most major platforms.