Is Captain Marvel Brie Larson the Only Avenger Who Has an Oscar?
Marvel has assembled a stellar cast over the years to lead its biggest projects in the Marvel Cinematic Universe. From Cate Blanchett to Michael Douglas and Anthony Hopkins, there have been quite a few Oscar winners that have played heroes and villains for Marvel's most popular movies. But is Captain Marvel's Brie Larson the only member of the Avengers who has won an Oscar?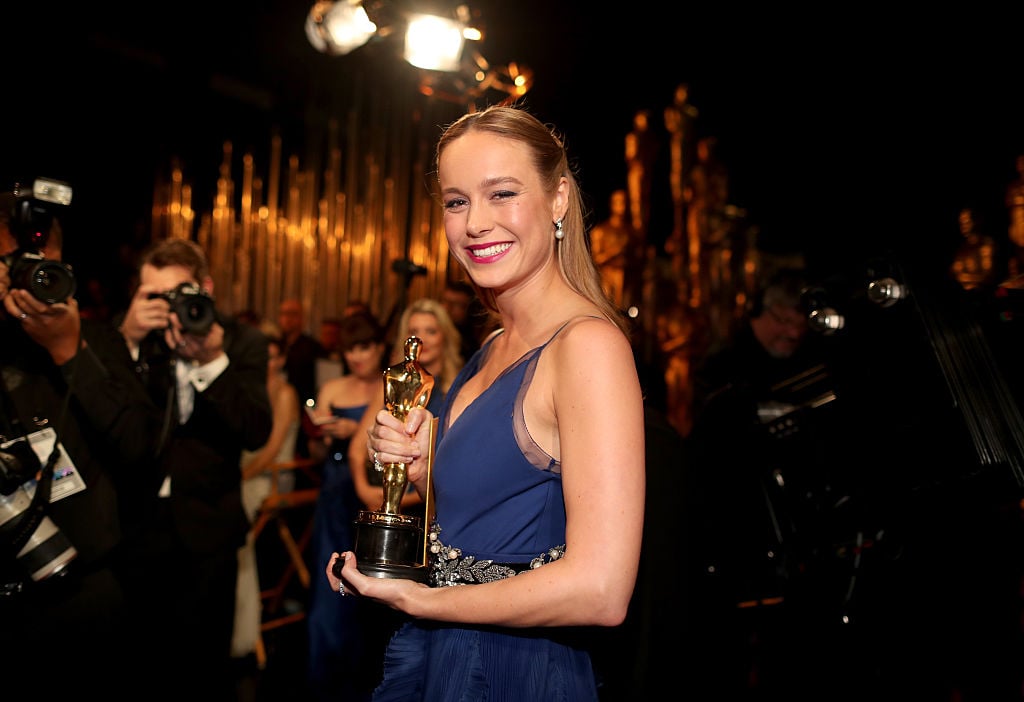 Members of Marvel's Avengers have a deep history with the Oscars
There have been several members of the Avengers who have taken home Academy Award nominations over the years. It's worth noting that we are only considering the core group of superheroes who make up the Marvel's The Avengers, not all of the characters who have appeared in the crossovers.
This includes Black Widow (Scarlett Johansson), Hulk (Mark Ruffalo), Captain America (Chris Evans), Iron Man (Robert Downey Jr.), Captain Marvel (Brie Larson), Thor (Chris Hemsworth), Scarlet Witch (Elizabeth Olsen), Black Panther (Chadwick Boseman), Vision (Paul Bettany), and Hawkeye (Jeremy Renner).
This past year, Johansson was nominated for two Academy Awards for completely different projects. The Marvel star was up for an Oscar in the category of Best Actress for the film, Marriage Story, and Best Supporting Actress for the movie, Jojo Rabbit.
Mark Ruffalo has been nominated for three Oscars over the course of his career. He was in the running for Best Performance by an Actor in a Supporting Role for Spotlight (2015), Foxcatcher (2014), and The Kids Are All Right (2010).
In 2008, Renner received his first Oscar nod for The Hurt Locker. He was also nominated in the category of Best Performance by an Actor in a Supporting Role for the 2010 movie The Town.
Lastly, Downey has gotten recognition from the academy on two separate occasions. The actor snagged a nomination for Best Actor in a Leading Role in the 1992 movie, Chaplin, and received one for Best Performance by an Actor in a Supporting Role in 2008's Tropic Thunder.
This Marvel film took home the studio's first Oscar
Marvel has produced a collection of the highest-grossing movies of all time, but only one of the studio's movies has taken home an Oscar. In 2018, Black Panther became the first Marvel movie to win an Academy Award when Ruth E. Carter took home an Oscar for Best Costume Design.
The movie's success at the prestigious award ceremony did not end there. Carter's victory was quickly followed by another big win, this time Hanna Beachler took home a trophy for Best Production Design.
To make the evening even better, Ludwig Göransson won in the category of Best Original Score, giving Black Panther three Oscars under its belt.
Avengers: Infinity War, meanwhile, was up for Best Visual Effects but lost out to First Man. Black Panther was also in the running for Best Picture but that award went to Green Book instead.
The following year, Marvel's Avengers: Endgame was nominated for Best Visual Effects. Despite being the highest-grossing movie of all time, the award went to 1917. 
This is the only Avenger who has won an Oscar
Although there have been plenty of Oscar-winning actors to play parts in the MCU, the only Avengers who has won an Academy Award is Brie Larson.
Larson took home an Oscar in 2016 for Best Leading Actress in the film Room. She is slated to play an important part in the MCU moving forward, starting with her next big appearance in Captain Marvel 2.
Other actors that have fought alongside the Avengers and won Oscars include Gwyneth Paltrow, who won Best Leading Actress for Shakespeare in Love, Lupita Nyong'o, who won Best Supporting Actress for 12 Years a Slave, and Natalie Portman, who won Best Leading Actress for Black Swan.
Marvel had to push back phase 4 due to the current pandemic, but the next film slated for release is Black Widow, which is scheduled to hit theaters on November 6, 2020.
Fans can watch Marvel's latest, Avengers: Endgame on Disney+.