Is 'Chicago Fire' Canceled or Renewed? What We Know About Season 9 So Far
[This article contains possible spoilers for the season 8 finale of Chicago Fire.]
Season 8 of Chicago Fire came to a somewhat abrupt end on Wednesday night. The April 15 episode of the hit NBC show saw one of 51's own suffering a serious injury that might have ended his career, another member of the crew struggling with a major loss, and someone else considering a huge decision that could see them leaving the firehouse for good. 
It wasn't exactly the season-ending episode the writers originally planned. When the coronavirus pandemic shut down production of Chicago Fire, it meant one of the show's mid-season episodes suddenly had to be turned into a season finale. Fortunately, fans don't need to worry about being left hanging about the fate of everyone at Firehouse 51. The show is definitely returning for another season. 
'Chicago Fire' has been renewed for three more seasons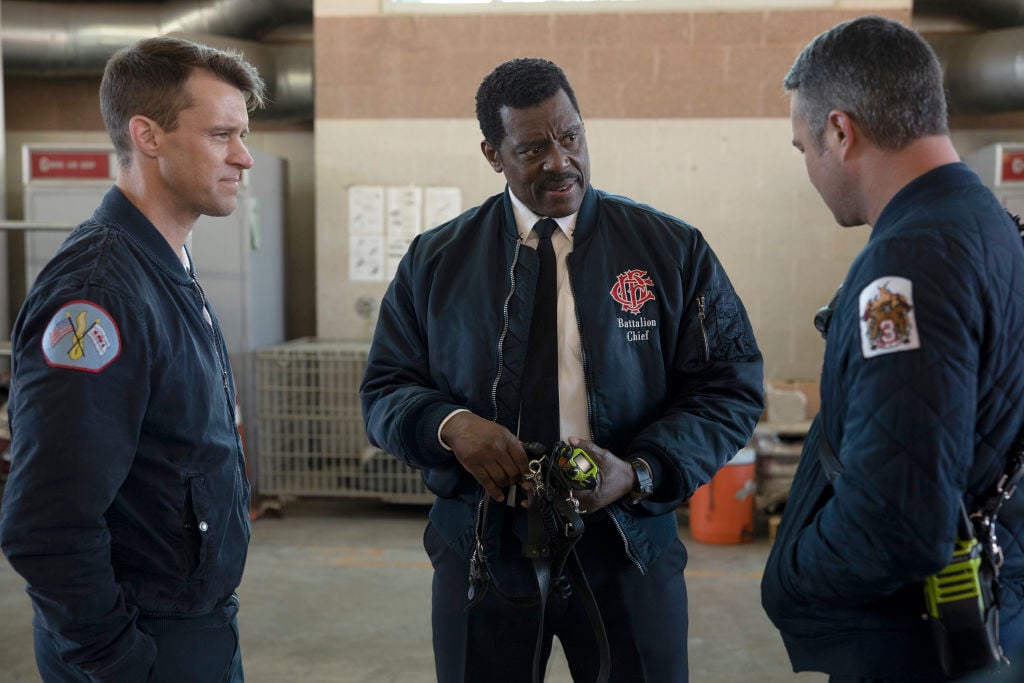 In February, NBC announced it was renewing Chicago Fire for seasons 9, 10, and 11. That means the show will be on the air through 2023. The other One Chicago shows also got three-season renewals. Chicago P.D has been renewed through season 10 and Chicago Med through season 8.
The renewals were no surprise given the franchise's popularity. All three shows are among the most-watched dramas on TV, Deadline noted. On Wednesday, 9.33 million people tuned in to watch the Chicago Fire season finale, a record high for the series. 
When will 'Chicago Fire' Season 9 premiere?
While we know Chicago Fire will be back, we don't know when season 9 will premiere. New episodes typically begin airing in late September or early October. But with television production on hold because of the coronavirus, is it possible that could be delayed?
In the past, filming for a new season has begun in mid-July. In an April 5 tweet, executive producer Derek Haas said the plan was to be back in the writer's room in early June. 
"We have some ideas because of the storylines we didn't get to finish, but we're gonna look at it all with fresh eyes when we get back to the writer's room, hopefully on June 1st," he wrote. "We're gonna really try to do something hopeful and inspiring next season, I think."
Hopefully, that means that production can resume this summer and Chicago Fire will be back on TV screens as scheduled this fall. Right now, the city of Chicago, where Chicago Fire is filmed, is under a stay-at-home order until April 30. 
What to expect from the next season 
So, what does the future hold for the Chicago Fire crew? Haas has said fans can expect to see a continuation of some unfinished season 8 storylines. 
"I think we can transfer storylines we were going to begin in the last three episodes and adapt them to be season-starting storylines rather than season-ending ones," he told Entertainment Tonight.
"I'm looking forward to extending the Girls on Fire storyline for Kidd and also the Casey/Brett storyline as their friendship was growing stronger throughout Brett's birth mother ordeal," he added. Brett and Casey's relationship will also be a factor. Haas has promised to "turn up the heat" in that department as Brett deals with the fallout from the death of her birth mom.
Cast changes are also on the horizon.
"[Y]es, we will definitely have more cast shake-ups in the coming season," Haas said. "It's just part of the way we work to keep our audience on their toes."  
Check out Showbiz Cheat Sheet on Facebook!