Is Disney's Aladdin Based On a True Story?
The Walt Disney Company officially began in 1923. Since then, the company has managed to create a dynasty.
Disney has an untouchable reputation when it comes to producing and creating films. Disney continues to provide its viewers and audiences with countless films and movies that embody every kind of story imaginable. It doesn't seem like they plan on stopping any time soon.
The characters and fictional realms that they live within have become staples for so many. The princesses associated with some of the films continue to be relevant in today's dag and age. Princess Jasmine is one of those princesses. Take a closer look at the premise of Aladdin and find out if the film is actually based on a true story. 
What is Disney's popular film 'Aladdin' about?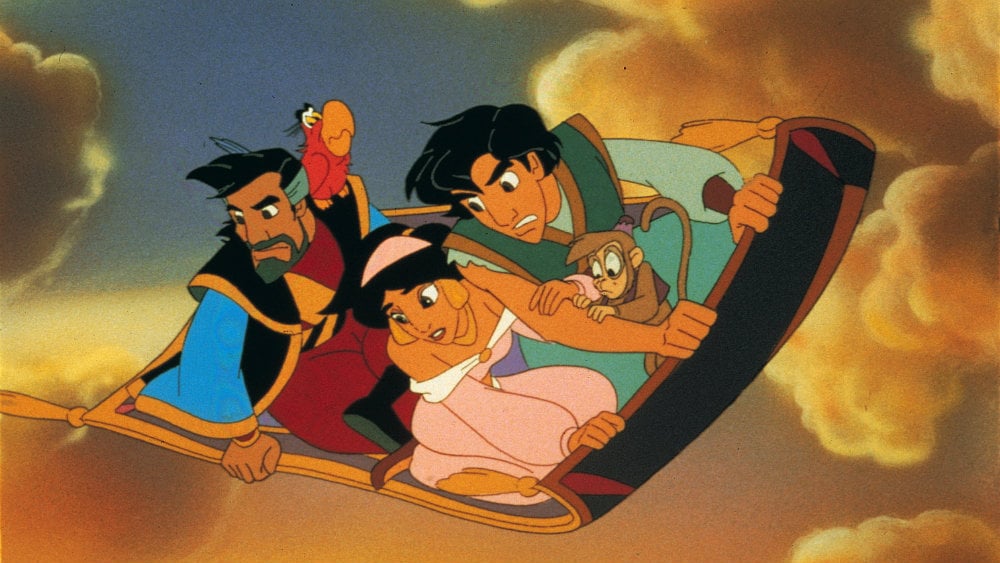 Aladdin has become one of Disney's most popular films over the years. The premise of the movie is centered around a charmingly sly "street urchin" named Aladdin and his monkey Abu. The two had quite a reputation for stealing and foolery. However, they both seemed extremely good-natured at heart.
Agrabah is the fictional Arabian city that the movie takes place in. The beautiful and lively place is also the home of Princess Jasmine. When Aladdin and Princess Jasmine's paths unexpectedly crossed the two recognized an instant connection. When Aladdin discovered that Jasmine is a princess he became very upset since he believed that no one like him would ever stand a chance with someone of her social ranking and status.
However, that all changed when Aladdin was tricked by Jafar to go into the Cave of Wonders, and Aladdin accidentally uncovered a magic lamp that contained a genie. Jasmine's father, The Sultan, and her pet tiger, Rajah Rajah, also played an important part in Aladdin. The film did an excellent job of capturing the adventure and complications Aladdin faced on his journey of love and friendship.
When was Disney's movie 'Aladdin' released and how popular did the animated movie become?
RELATED: Will Disney Move Forward with Their 'Aladdin' Spin-Off About Prince Anders?
Related post url: 
It is hard to believe that Aladdin was released in 1992. That is almost thirty years ago. The animated comedy became a huge hit after its initial release.
Robin Williams was one of the most popular actors to take on a voice role in the Walt Disney Pictures' production. Williams became famous for his character as Genie.
The movie brought in well over 500 million dollars after Aladdin premiered nationwide. In 2019, Disney created a live-action musical adaptation of the popular and beloved movie. 
What is the origin story behind the popular film Disney film 'Aladdin'?
Fans of Aladdin are probably wondering if the film is based on a true story. Unfortunately, that is not the case. However, the popular film is based on a famous piece of literary history.
The One Thousand And One Nights is the Middle Eastern folktale that Disney's film Aladdin is based on. It is said that Antoine Galland first heard  "The Story Of The Lamp" from a storyteller named Ḥannā Diyāb all the way back in 1709. The original story and Disney's films do have a lot of similarities, but there are also a lot of differences. 
For instance, in the story told by Galland, there are two genies involved in the mix versus just one. Another glaring contrast is that Disney changed the name of the princess in the story. The character that Jasmine is based on is actually known as Badroulbadour in The One Thousand And One Nights. These were just a few of the major differences that Disney incorporated when using the story as the inspiration for Aladdin.