Is Ellen DeGeneres The 'Meanest Person Alive'? Host Slammed for Not Practicing the Kindness She Preaches
Is Ellen DeGeneres' so-called kindness real?
Ellen DeGeneres is one of the wealthiest talk show hosts on television, and one of the most popular comedians of her generation. With popular films, TV shows, and business ventures to her credit, DeGeneres is known and recognized by people all over the world.
She is probably best known for her long-running talk show, where she dances with audience members, hosts generous giveaways, and always entreats her viewers to "be kind" at the end of every episode. Still, many reports have been coming to light in recent weeks that suggest the host isn't nearly so good-natured as how she presents herself — and many fans aren't quite sure what to think. 
How did Ellen DeGeneres become famous?
DeGeneres was born in Louisiana in 1958. She attended college in New Orleans but left after one semester to enter the workforce. DeGeneres worked a wide variety of jobs at this time, including as a waitress, a cashier, and a bartender.
By the early eighties, she started performing in comedy clubs and began to rapidly gain attention. By the late eighties and early nineties, DeGeneres had entered the entertainment industry and began appearing in a few film roles, including a small part in the film Coneheads. 
In 1994, she landed a starring role in her very own sitcom. Ellen quickly became popular with viewers — especially so after a 1997 episode in which DeGeneres, playing her character Ellen Morgan, came out as a lesbian.
In 1998, Ellen was canceled, but DeGeneres didn't stay away from television for long — in 2003, her talk show, The Ellen DeGeneres Show, premiered. Although DeGeneres has gone on to work on many other projects, her talk show has been her first love ever since it debuted on television. 
Ellen DeGeneres touts the importance of being kind to others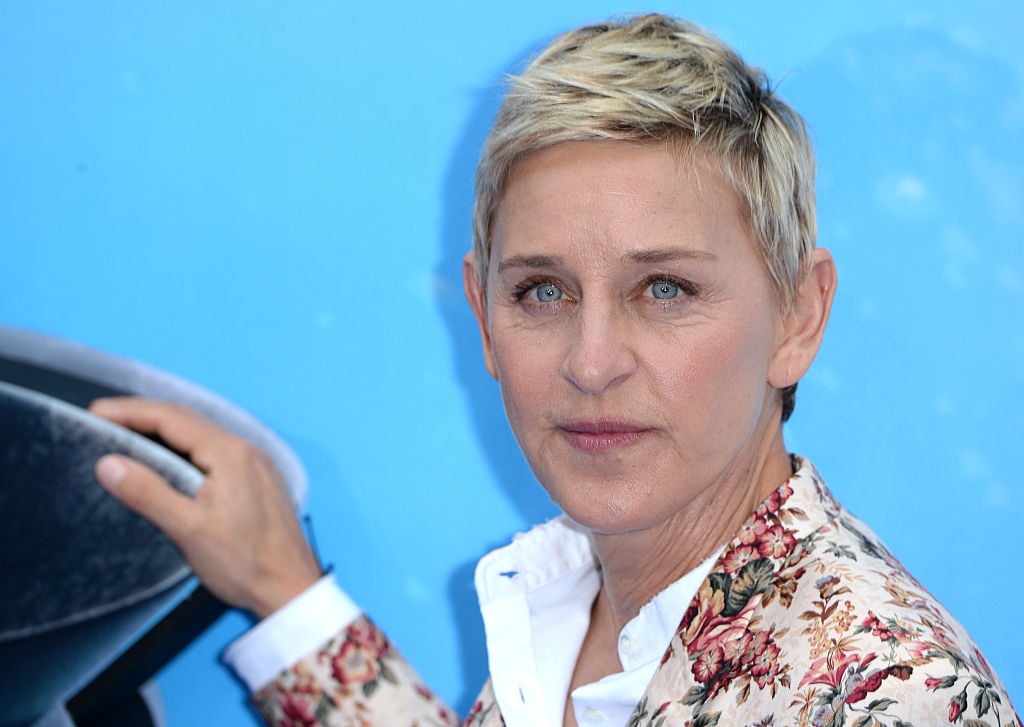 Over the years, DeGeneres has earned the reputation as one of the nicer talk show hosts. When welcoming celebrity guests, DeGeneres rarely asks difficult or probing questions, preferring to let her guest feel at home on the set.
She also hosts regular giveaways, handing out occasionally huge amounts of cash and very expensive prizes. And, DeGeneres ends each episode of her show with: "Be kind to one another."
Although she has experienced some controversy during the course of her lengthy career, DeGeneres regularly touts the importance of being kind to others and always closes out her talk show with a plea to people everywhere to be kind to each other. If it weren't for some recent reports that have cast serious doubt on DeGeneres's off-screen personality, fans might have continued to believe her. 
Reports say that Ellen DeGeneres isn't as nice as her image suggests
It all started when a comedian named Kevin T. Porter called DeGeneres out for being one of the "meanest people alive," and invited Twitter users to share their stories about DeGeneres being unpleasant. Not only did the tweet go viral, but it led to an onslaught of stories from people who have had experiences with DeGeneres over the years. Stories ranged from DeGeneres complaining about a waitress in a restaurant having chipped nail polish to reports that she refuses to tip.
In April, beauty YouTuber Nikkie de Jager said DeGeneres was "cold and distant" when de Jager appeared on The Ellen DeGeneres Show in January. De Jager's appearance was tied to her coming out as a trans woman.
DeGeneres has been increasingly been accused by fans of being tone-deaf and insensitive. The comedian joked that being quarantined in her $27 million mansion during the global coronavirus pandemic was akin to "being in jail." She previously was slammed for her friendship with political leaders with known anti-LGBTQ stances.
Perhaps the most damning evidence against DeGeneres is the stories from former staff members who recently stated that "the stories are all true."
"Is she always nice? No," a former staffer told PageSix. "It irritates me that people think she's all sweetness and light and she gets away with it."
A former security guard has echoed these sentiments. "Ellen pretty much just gave me a side glance out of her eye and didn't even say 'Hello,' or 'Thank you for protecting my mother, my wife and me,'" Tom Majercak, who guarded the host and her family during the 2014 Academy Awards, told Fox News. "It was very cold and it was very sly and it was actually kind of demeaning in the way that she treats people other than those who are in her circle."
Some crew members of The Ellen DeGeneres Show have claimed that they haven't been receiving their promised wages during the COVID-19 shutdown and that DeGeneres essentially hasn't been communicating with them regarding any updates or future plans.
While DeGeneres hasn't made any official statement regarding the onslaught of rumors and allegations, some reports indicate that she isn't handling it well.
"Ellen is at the end of her rope," a source told Us Weekly. "She thought this was all just sour grapes from a few haters. But it's not a passing thing — the hits just keep coming."