Is Fox News' Tucker Carlson Married?
One of the biggest stars of the political scene right now is Tucker Carlson, the extremely controversial Fox News television host.
Political reporters and talk show hosts have achieved a special place in society, and are often the subject of as many headlines as movie stars and other celebrities.
One of the biggest stars of the political scene is Tucker Carlson, the controversial Fox News television host. Carlson has become popular with viewers for his outspoken beliefs and tenacious habit of engaging his guests in tough conversations.
However, there is a whole other side to Carlson, one that he works hard to keep out of the public eye. 
How did Tucker Carlson become famous?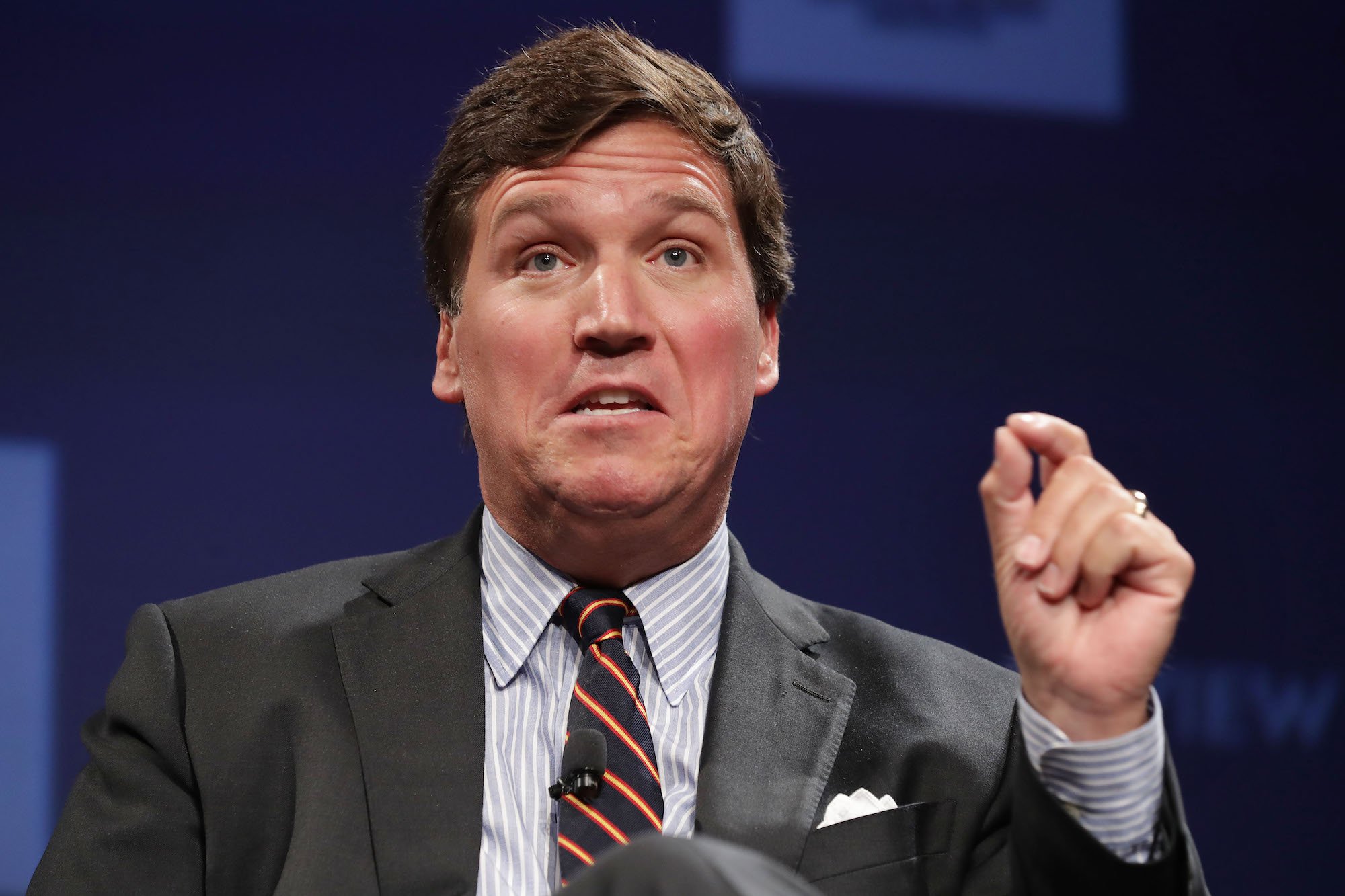 Tucker Carlson was born in California in 1969. Carlson's father was politically active, and when Carlson's mother left the family, his father ended up raising Carlson and his brother all on his own.
After relocating to a prestigious area of California, young Tucker Carlson enjoyed the finest education that money could buy and began pursuing a career in journalism. All throughout the eighties and nineties, Carlson worked as a reporter for many publications, including The Weekly Standard, Reader's Digest, and The Daily Beast.
In the early 2000s, Carlson launched his television career. He began working as the host for the show Crossfire, followed by a stint at hosting his very solo effort, Tucker. He hosted Tucker from 2005 until 2008, all while working on other political projects, including the hard-hitting opinion website, The Daily Caller. He also worked as a contributor for other networks and published several bestselling books.
Carlson was criticized by some for his political opinions and praised by others — through all the ups and downs, he remained unapologetic and intense, always earning high ratings. 
Who is Tucker Carlson's wife?
In 2016, Tucker Carlson began hosting his biggest television project to date, Tucker Carlson Tonight. In short order, the show became one of television's most popular political talk shows and Carlson began his run as one of Fox News's most influential talking heads.
The show features interviews, monologues, special sections, and opinion pieces from Carlson, as well as in-depth political analysis. 
Carlson has become a very controversial, often divisive figure over the years. He had a long-running feud with fellow television host Jon Stewart and had often made headlines for his remarks on immigration and the Black Lives Matter movement.
In addition, Carlson became the subject of some ridicule when he participated in season three of the reality series Dancing with the Stars. However, the personality that Carlson cultivates onscreen seems to be the opposite of how he is off-screen. Carlson is actually happily married to his longtime partner Susan Carlson. The two were high school sweethearts and got married in 1991, in their high school chapel, and have been together ever since.
Does Tucker Carlson have children?
Tucker Carlson prefers to keep his wife and children well away from the spotlight, so not much is known about them. One possible reason for Carlson's extreme privacy regarding his family could be due to his own controversial place in politics — it is likely that Carlson wants his family to remain private for their safety.
Carlson and his wife have four children: Lillie, Buckley, Hopie, and Dorothy. Besides their names, not much has been publicly revealed about his children.
Carlson's children could eventually decide to pursue their own political careers, or do something else entirely — and when they do, it is possible that they could become more public and utilize their family name. Either way, they will have the backing of their father, one of the most powerful political pundits of the past few decades.