Is 'Jersey Shore' the Next 'Office'? Both Shows Offer Fans the Same Thing
The Office and MTV's Jersey Shore are two wildly different series. One is a scripted comedy detailing the employees' lives at a fictional paper company, Dunder Mifflin. Conversely, the other show is a reality series highlighting the adventures of a family of guidos. Ironically, both series share a significant thing in common that keeps fans coming back for more.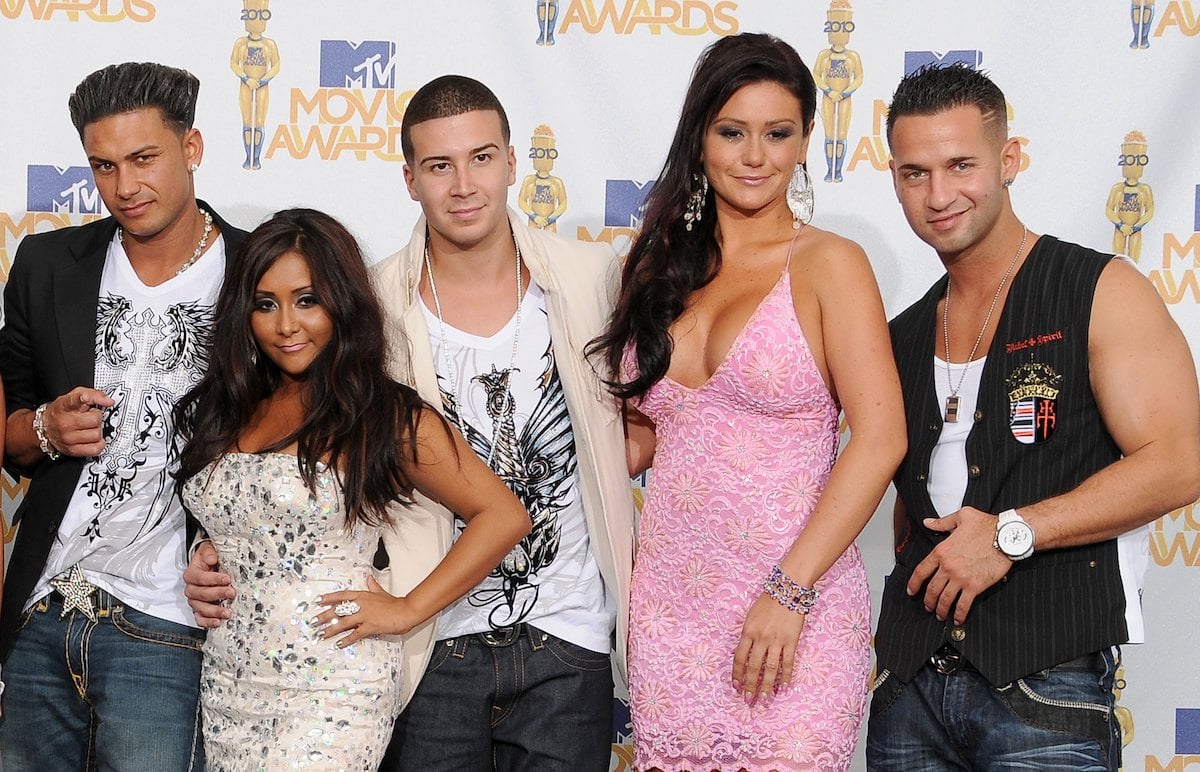 Watching 'The Office' brings comfort to many fans 
Nearly 15 years later, The Office is still wildly popular amongst fans. That's because there's a level of comfort that comes with watching The Office. For many — especially during these unprecedented times — watching The Office is kind of like donning a security blanket. 
"There's something happening right now where everybody is so fragmented and so divided," editor Jen Celotta explained on Office actor Brian Baumgartner's podcast An Oral History of The Office. 
"It sounds crazy, but there is a comfort [in watching The Office] that is like, 'I know these people! They're like me, [and] I'm safe here.'" 
Though some fans have taken issue with the show's move from Netflix to Peacock, that doesn't mean their love for the series has lessened. 
Like 'The Office,' 'Jersey Shore' brings a level of comfort to fans
The original run of Jersey Shore ended in December 2012. It seemed like the end of an era, and the roommates pursued other projects outside of the MTV series.
In 2018, the family got back together again for new episodes. Today, many fans turn to Jersey Shore: Family Vacation to fill the void, as most of the original cast are still part of the show. Still, there are some fans watch new episodes of JSFV in tandem with reruns of Jersey Shore for comfort. 
"Jersey Shore was my show as a teen," a fan shared on Reddit. "It was something I looked forward to when I had a rough week in high school." Watching the show allowed this fan to "forget about everything." 
"Even though JSFV is a bit forced and sort of dry when it comes to storylines, and it's definitely nothing like the original of course — no matter how much I say I'm not gonna watch it again, I still end up watching it especially now," they added. For this fan, Jersey Shore and Jersey Shore: Family Vacation offer an escape from the stresses of the world, including the coronavirus (COVID-19) pandemic. 
"This year doesn't seem to be getting any better, but as soon as I sit down and watch [Jersey Shore], I still feel a sense of comfort — it's like I'm a teen again and it's 2010," they concluded. 
Many other fans agreed, calling the show "100% nostalgia" and something that reminds them of a "simpler time." 
'The Office' and 'Jersey Shore' are about family 
As Rainn Wilson, who played Dwight Schrute on The Office, pointed out on Baumgartner's podcast, The Office was so successful — and continues to be — because it is a show about "unlikely families." 
"I think the reason The Office has lasted the way it has is because all great television is unlikely families," Wilson said. "[The Office] is the most unlikely family and you love to be with that family." The presence of that unlikely family soothes viewers, according to Wilson. 
The cast of Jersey Shore is the exact same thing — an unlikely family. Time and again, the roommates have talked about being there for each other the way only a family can. Those familial ties are what have kept fans coming back for more.
Maybe Jersey Shore and The Office aren't so different after all.