Is Kelly Ripa the Reason ABC Pulled the Plug on Another Regis Philbin's Tribute?
Regis Philbin died in July 2020 and ABC was scheduled to air a tribute. Was Kelly Ripa involved in getting the special pulled?
Legendary TV personality Regis Philbin died in July and many continue honoring the host. On Aug. 27, rumors began circulating that ABC pulled another Philbin-focused special, claiming Live! With Regis and Kelly co-host, Kelly Ripa is behind it Is there any truth to it?
Kelly Ripa allegedly not invited to Regis Philbin's funeral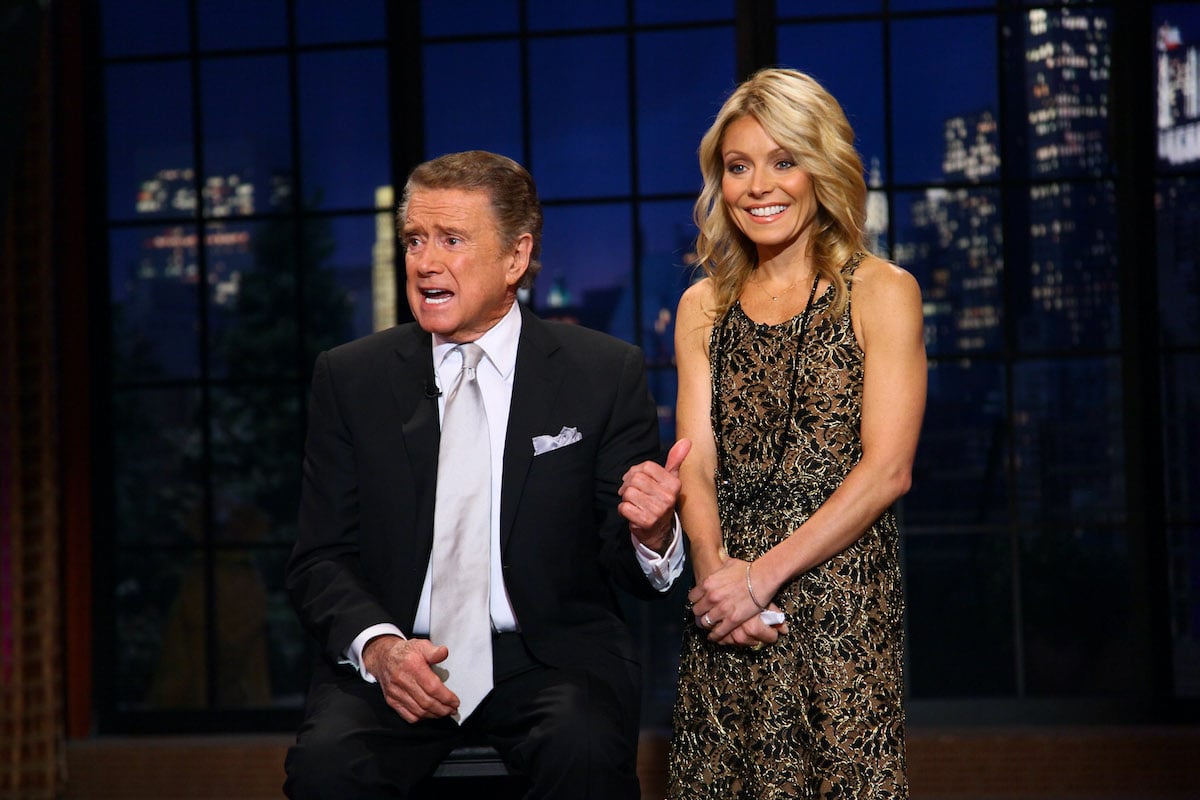 Philbin died of natural causes at the age of 88 in July. His alma mater, the University of Notre Dame, held his funeral and burial. The location choice was due to Philbin's frequent visits after graduating in 1953.
South Bend Tribune stated that Philbin was buried at Cedar Grove Cemetery, but not everyone who knew Philbin personally was invited. OK! Magazine reported that sources close to the family said Ripa was not on the invite list.
"Kelly isn't invited," the outlet reported. "You have to understand the dynamic of their relationship. It was an on-air, not off-air, friendship—and towards the end (of their time on-air together), there was a lot of bad blood."
Philbin left his chair on Live! in 2011, which reportedly didn't go well with Ripa. In a 2017 interview with Larry King, Philbin spoke her feelings on his "retirement" from the show.
"She got very offended when I left. She thought I was leaving because of her," Philbin said. "I was leaving because I was getting older, and it wasn't right for me anymore."
Philbin and Ripa's tension was apparent
Despite calling Philbin a "class act" after his passing, even Ripa might acknowledge the pair's tension. In past interviews, such as one with The New York Times, she detailed what their working relationship looked like, including not speaking before a show.
"He had almost a superstition about it. You save it for the show," she said. "I'd be like, 'Good morning,' and he'd say, 'Save it for the air!' "
With a drastic juxtaposition compared to Philbin's relationship with former co-host Kathie Lee Gifford, Philbin and Ripa may not have made amends before his death.
"I spent 10 years with her before I left," Philbin told The Insider in 2017. "I've never done the show since then.
A previous interview with the same outlet revealed that Philbin felt "ex-communicated" by the show, likely due to Ripa's discontentment over his leaving.
"Never once did they ask me to go back," he said. He did return in 2015 for a Halloween special, to Ripa's surprise.
"He's also been invited back several times as a guest, and in fact was confirmed for a date, but was not able to make it at that time," a spokesperson for WABC, Dave Davis, said in a statement.
Philbin said he left the show because he was tired — it had nothing to do with Ripa. Still, he felt she "resented" him for it.
When asked about Michael Strahan's exit from the show, Philbin replied with a little shade, "And you never saw him again, either."
Did Ripa have anything to do with Philbin's tribute cancellation?
ABC allegedly had a second tribute planned for Philbin but it was suddenly canceled, leaving some to wonder why.
"Regis gave Live with Kelly and Ryan a massive 19 percent ratings bump the week that started and ended with special tributes to his passing," a source told OK! Magazine reported. Monday saw Kelly and Ryan Seacrest getting emotional over the death of the man that invented their show."
They continued: "Friday's episode was a repeat of Regis's last episode ever from 2011 when he said goodbye to Kelly and the show he loved. Yet, even after proving he is still the ratings king even when he isn't around anymore, the tribute has suddenly been pulled."
The source noted how easily ABC could pull something new together with years of Philbin footage at their disposal.
"But for some reason, it's no longer happening," the insider added. "Inside the building, everyone is looking at Kelly and wondering if she stopped it."
That said, ABC already aired a tribute on July 28 titled Regis Philbin: The Morning Maestro – A Special Edition of 20/20 which included an interview with Ripa. We can't say for sure whether another Philbin special was in the works, but is Ripa somehow involved in deciding what goes on the air? It's unlikely.