Is Kim Kardashian a Republican or Democrat?
Here's what to know about Kim Kardashian's party affiliation after her meetings with President Donald Trump.
There's no doubt that Kim Kardashian has evolved politically since landing on the world's radar back in 2007. Lately, the reality star has been keeping up with criminal justice reform, working side-by-side with people like CNN's Van Jones and the Trump family.
Obviously, this has lead to questions like whether Kim Kardashian is a Republican or a Democrat. And as it turns out, the 38-year-old has answered this question directly in the past.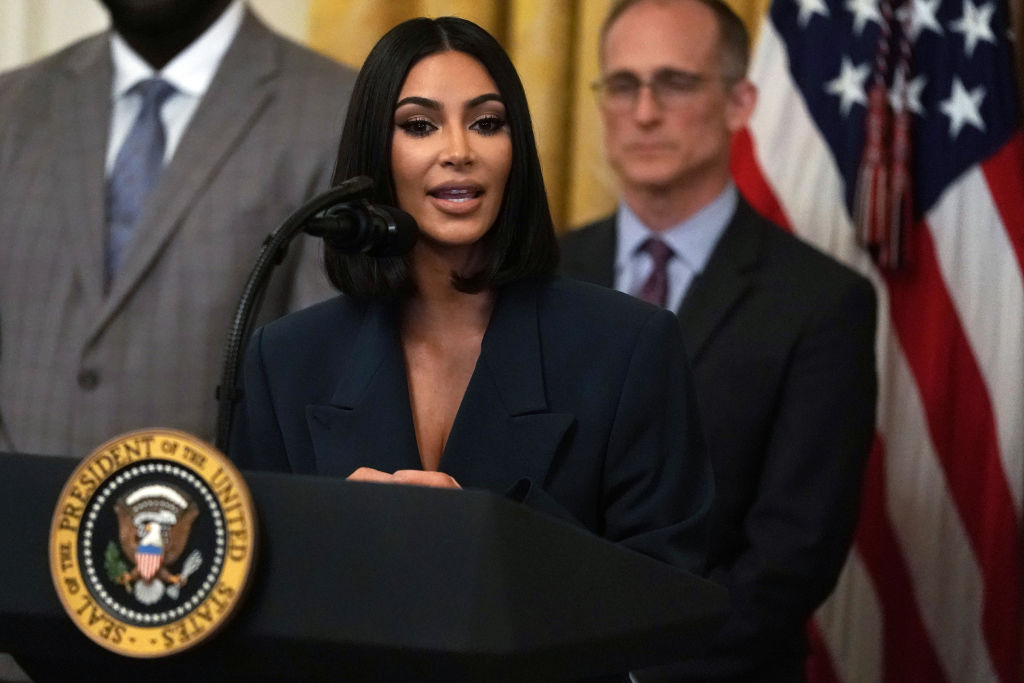 So, what exactly is Kardashian's party affiliation?
Kardashian has fluctuated between political parties. In 2012, the KKW Beauty mogul described herself to The Guardian as a "liberal Republican," saying she was a fiscal conservative and a social liberal.
However, she pointed out that she tends to vote as a Democrat. She told the publication that the first time she ever voted, she backed former President Barack Obama. 
"I loved being part of that decision-making process, but I never voted in prior years when I was legally eligible. I don't know why," Kardashian revealed to the outlet.
Kardashian changed parties years later
In June 2016, she told GQ that she had become a Democrat and planned on voting for Democratic candidate Hillary Clinton over then-Republican rival Donald Trump. But she later swayed toward the latter.
In September 2016, she reportedly said she was "on the fence" between Clinton and Trump after her stepparent Caitlyn Jenner (who is openly conservative) caused her to second-guess her decision.
But in the end, Kardashian chose to support Clinton. She said in a statement that the candidate's views on hot topics like gun control and reproductive rights ultimately aligned more with her own opinions. (Clinton supports abortion rights, as well as gun reform.)
"I found that without a doubt, I stand with Hillary," she said in a statement shared to her website in September 2016. "I'm with her. I believe Hillary will best represent our country and is the most qualified for the job. This year, I'm not just voting for myself, but also my children, and I took that into careful consideration when I made my decision."
Is she switching to the Republican side?
Fans might be wondering this, considering that Kardashian has met with President Donald Trump on multiple occasions. In the last year alone, she's traveled to the White House to advocate for the release of several inmates, like Alice Marie Johnson. (Trump granted Johnson clemency in June 2018 after she served 21 years of a life sentence stemming from a non-violent drug offense.)
But Kardashian isn't switching sides. She said on CNN's Van Jones Show in April that she merely wants to obtain more clemencies. 
"I know I got so many times people would say to me, 'Don't go to the White House, your career will be over, don't go there,'" she said about critics who tried to steer her away from working with the Trump administration.
"And I just kind of weighed the decision where it was like … to save a life or to get maybe bad tweets about me or a bad news story for a few days. I guarantee you the people sitting behind bars do not care who the president is. They just want that relief. And so if I could have done that, I don't care," she continued.
With that, it seems like Kardashian has made it clear where she stands. But she's also bounced back and forth between political parties, so you might want to keep your eyes on her just in case.