Is Machine Gun Kelly Related to Travis Barker?
Colson Baker, famously known by his stage name Machine Gun Kelly, is an American singer, rapper, songwriter, and actor. The talented artist is famous for blending alternative and contemporary hip-hop with rock. In a similar fashion, Travis Landon Barker is an American musician who is a drummer for a rock band Blink-182. Given the similarity in their last names and their very close friendship, fans have wondered: Is Machine Gun Kelly related to Travis Barker? Keep reading to learn more about their relationship.
Machine Gun Kelly and Travis Barker both work in the music business
As mentioned, the two celebrities have long-standing careers in the music industry, and they have actually collaborated many times. As the "Bloody Valentine" hitmaker explained, their chemistry cannot be denied. This compatibility was evident when they worked together on his 2020 album, Tickets to My Downfall.
Speaking to Zane Lowe, MGK had this to say about their friendship:
"This whole (record) started out with one studio session. We've been great friends for a decade. So, this was just like, 'Hey, let's do a random day of work.' The energy was so immense that came from it. And it was so powerful that Travis was like, 'F**k it, I'm blocking out two months of my life and we're doing this album."
In August 2021, the duo released their first single together called "Papercuts." Later on in September, they released their new song, "A Girl Like You."
As People highlighted, in addition to music, the two artists have other commonalities — like their tattoos. While their bodies may be full of body art, they take up every opportunity to add more ink. The artists even have a matching tattoo, which is a true sign of their longtime friendship. Unsurprisingly, they also hang around the same social circles and have been seen going on double dates time and again.
Is Machine Gun Kelly related to Travis Barker?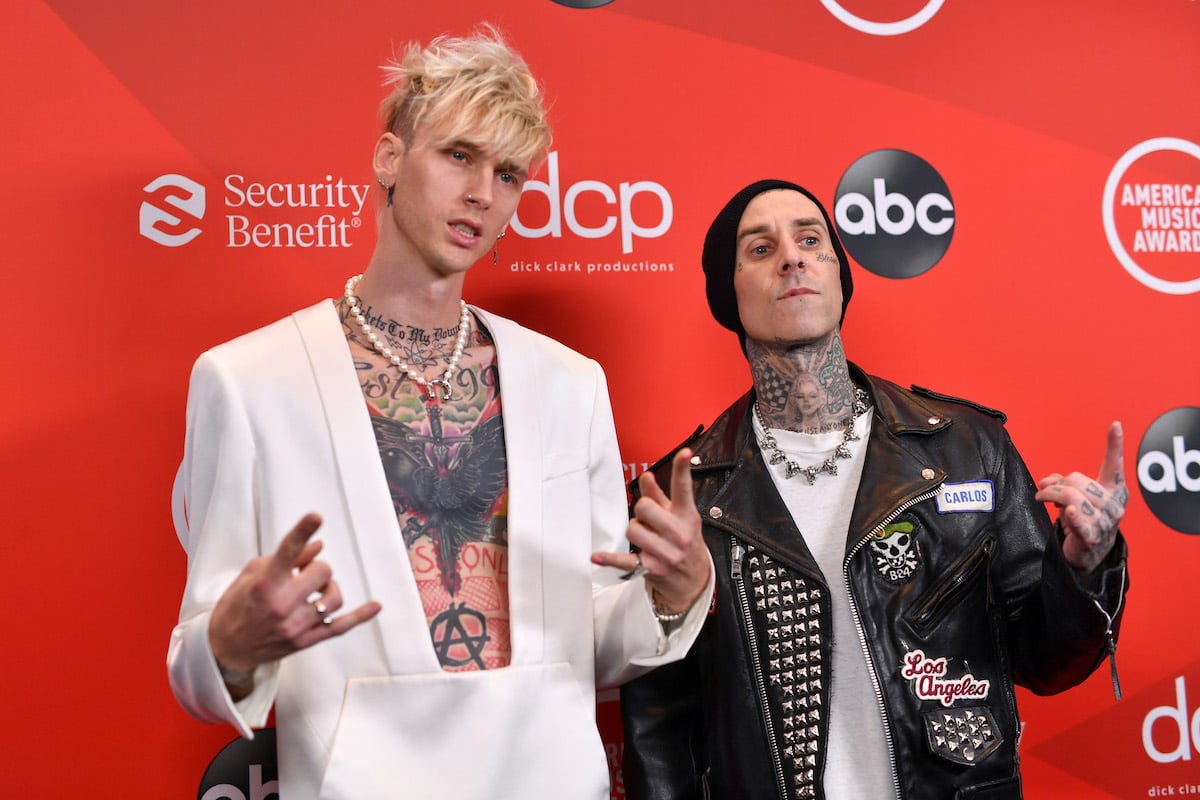 So, is Machine Gun Kelly related to Travis Barker?
Although they don't share any type of blood relationship, they do share a bond that's just as close as many brothers. Travis Barker was born on Nov. 14, 1975, to Randy Barker and Gloria Barker. He is the last born and the only boy in the Barker family.
On the flip side, Machine Gun Kelly's birthplace is Houston, Texas. He hasn't shared a lot about his family, but his mother separated from his dad when he was very young. Because of his dad's unemployment and depression, MGK had a rough childhood. He endured a lot of bullying from his peers growing up.
MGK and Travis Barker first met back in 2011 on a random night in Los Angeles. Machine Gun Kelly was leaving a club while Travis Barker was coming out of a tattoo parlor in the wee hours of the morning. They seemed to have clicked immediately, and from that encounter, a wonderful friendship was born.
As MGK explained to triple j, "I was on the other side of Sunset and he either yelled out, or I yelled out 'Travis!' … We got in [the studio] and just didn't stop recording for a month and a half straight."
Machine Gun Kelly and Travis Barker's friendship has only grown since then
Over the last decade, MGK and Barker have evolved to be the best of friends. As a matter of fact, their bond is so strong that fans are now wondering whether the duo are permanently working together. Machine Gun Kelly explained that Travis Barker created a "family support system" for him. They both share the same interests and love living life.
The two celebrities have not only stuck by each other through rough waters, but they also got each other's backs against gossip magazines and have a lot of praise for each other during interviews. Now, this is one enviable bromance!