Is Miley Cyrus' New Album 'Plastic Hearts' About Liam Hemsworth?
Miley Cyrus is finally, finally releasing a rock album. After what feels like a lifetime of buildup, the "Midnight Sky" singer announced on Oct. 23 that her new album, Plastic Hearts, is coming out Nov. 27.
Her announcement, paired with telling retweets on Twitter, tease what's to come on the star's highly anticipated seventh studio album, and it's sure to be packed with emotional meaning.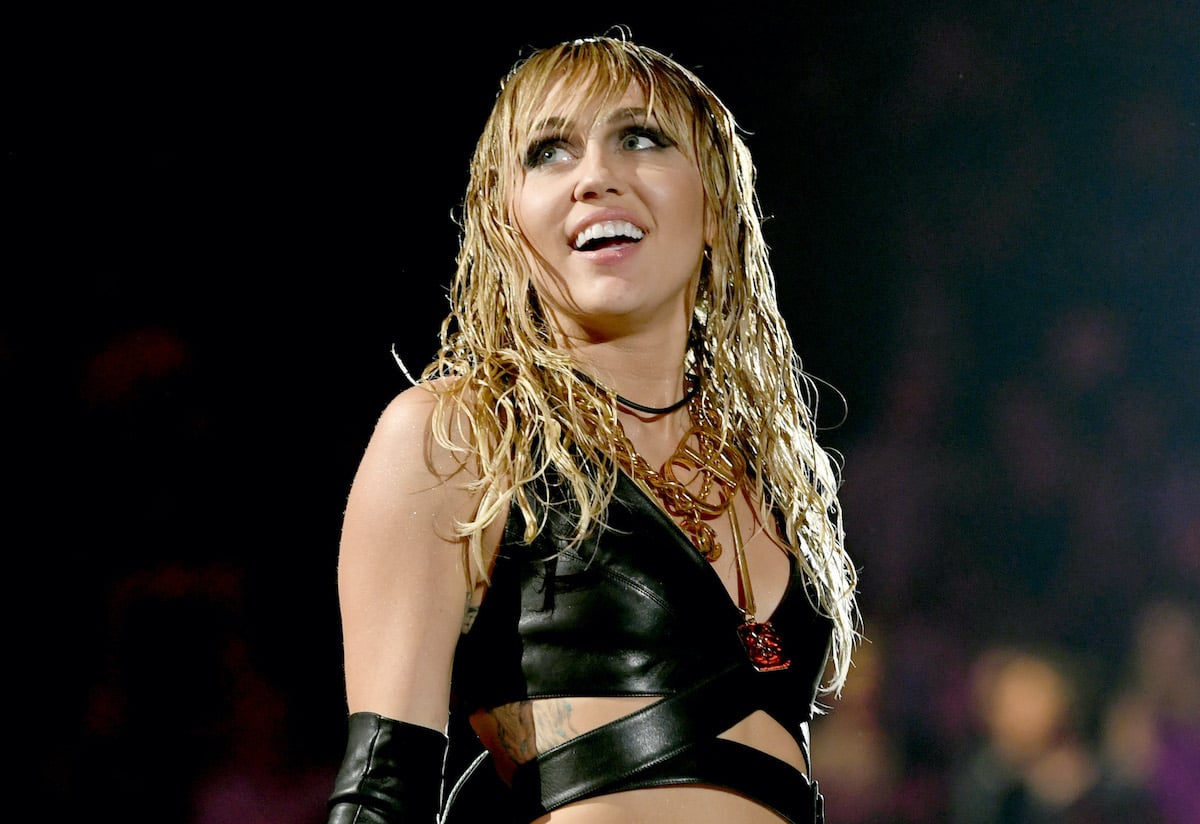 Miley Cyrus' 'Plastic Hearts' drops Nov. 27
Cyrus started off her announcement by thanking her fans for their patience in the development of this work.
"If you're reading this… know that I f*cking love and appreciate you on the deepest level," the star wrote. "I began this album over 2 years ago. Thought I had it all figured out. Not just the record with its songs and sounds but my whole f*cking life. But no one checks an ego like life itself."
The Hannah Montana alum then revealed she originally had an entirely different album ready to go (which was likely going to be the follow-up to her SHE IS COMING EP), but she scrapped it all.
"Just when I thought the body of work was finished," Cyrus said, "it was ALL erased. Including most of the musics relevance. Because EVERYTHING had changed."
RELATED: The Rock Icons Who Gave Miley Cyrus 'a Healthy and Sexy Relationship with Recklessness'
Miley Cyrus redid her entire album after her divorce from Liam Hemsworth
Indeed, Cyrus' life looks much different than it did two years ago. She and Hemsworth's Malibu home burned down in November 2018, they got married in December 2018, and in August 2019, they split. The singer then went through a string of highly publicized relationships with Kaitlynn Carter and Cody Simpson. Cyrus addressed losing her home in her album announcement.
She wrote, "Nature did what I now see as a favor and destroyed what I couldn't let go of for myself. I lost my house in a fire but found myself in its ashes."
The "Younger Now" singer went on to say that despite being able to salvage the original work completed for the EP series, she ultimately scrapped it because it told a stale narrative.
RELATED: Miley Cyrus on Fan Reactions to Liam Hemsworth Divorce: 'How Could You Really Have the Whole Story?'
'Plastic Hearts' is a rock album detailing Cyrus' life over the last two years
There was a big elephant in the room by excluding her life's story from the last two years from the project. The 27-year-old said:
Luckily my collaborators still had most of the music that was burned up in journals and computers filled with songs for the EP series I was working on at the time. But it never felt right to release my 'story' (each record being a continual autobiography) with a huge chapter missing.

If it were a chapter in my book I guess I would call it 'The Beginning' which usually when something is over we call it 'The End'. But it was far from that.

In triumph and gratitude I present to you my 7th studio record, Plastic Hearts. To be released Nov. 27th 2020.
Outside of the emotional honesty Cyrus says the album will bring, the star retweeted tweets from fans who were dreaming of a Cyrus rock album.
"If miley dropped a rock album coronavirus would simply disappear," one fan joked.
The star quoted the tweet and said, "PLASTIC HEARTS OUT NOVEMBER 27TH."
Another Twitter user used the candle emoji to basically create a prayer circle that said "miley cyrus rock album" in the center. The star quoted the tweet with the same aforementioned caption about the album release.
Brace yourselves, everyone. Rock Miley is coming.