Is Molly's Bar from 'Chicago Fire' Real? How to Visit the Bar from the One Chicago Shows
Chicago Fire fans know that Molly's Bar is the go-to hangout for after-shift drinks for the crew at Firehouse 51. But what they might not realize is that it's a real place – sort of. Many scenes from the three One Chicago dramas – Chicago Fire, P.D., and Med – are filmed in real Windy City neighborhoods, not on a set, including some of the action that takes place at Molly's Bar in the show's first two seasons.
Molly's Bar is actually Lottie's Pub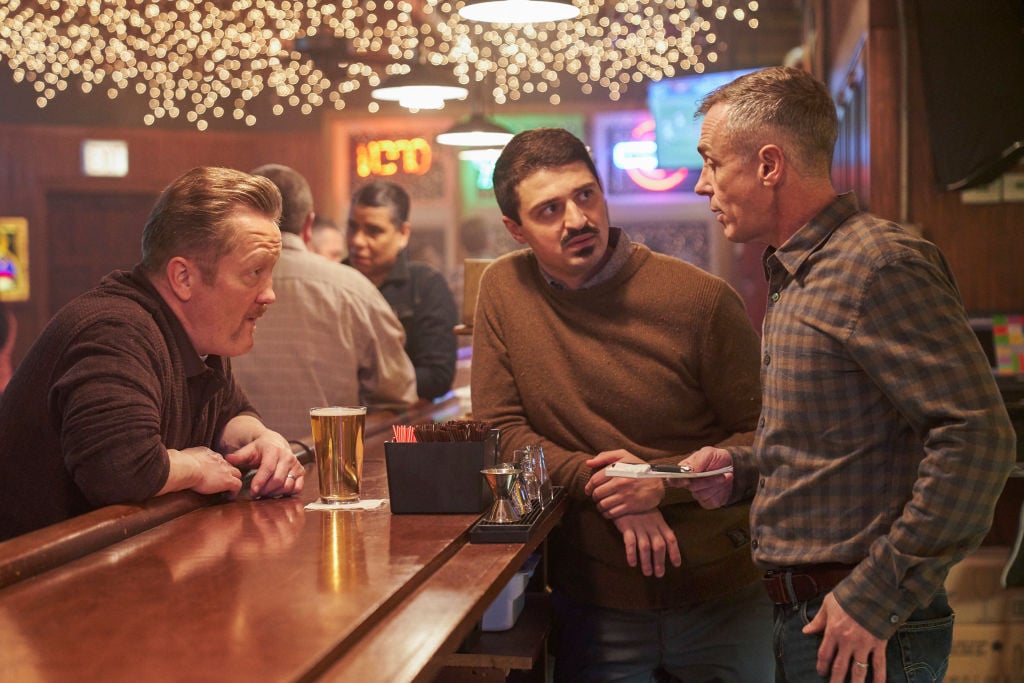 The real-life Molly's Bar is a spot called Lottie's Pub in the city's Bucktown neighborhood that's been around since 1934. The decades-old tavern at 1925 W. Cortlandt Street was exactly what producers were looking for when they were hunting for a place to film the bar scenes for the first season of Chicago Fire.
"The show was looking for a corner tavern in the middle of a neighborhood," co-owner Mark Domitrovich, explains on the bar's website. "That's a dying breed. They said we were the No. 1 pick and that they didn't have much of a backup."
However, don't show up at Lottie's expecting to see the Fire cast in action. Midway through Season 2, production for scenes set at Molly's shifted to a film studio in the city, where a replica of Lottie's/Molly's was constructed.
According to Domitrovich, the producers decided to go with the lookalike set because filming on location got too complicated. "With Chicago PD also filming at the bar, it got to be a bit much," he told the Chicago Tribune in 2013. "It's just such a big part of the story. For them to have to pay to shut us down a day, set up, break everything down — it was a lot of work on their end."
The bar embraces the One Chicago connection
While Chicago Fire is no longer filmed at Lottie's, fans still show up at the bar to see where their favorite characters drink on the show.
"Every day we get people coming in, wanting to see what Molly's looks like, take some pictures," general manager Eddie Treacy told TV Trippin in 2015. "It's been good for business."
The bar plays up the One Chicago connection on its menu, where you'll find a Chicago Fire burger that's served with guacamole, pepper jack, bacon, pickled jalapeno, and garlic aioli on a brioche bun. There's also a Chicago Med turkey burger with cheddar, mushrooms, and onion, and a Chicago P.D. burger with American cheese, carmelized onions, dijonaise, and pickles.
Fans can wash down their burger with a Molly's by Day IPA, a beer created in collaboration with Spiteful Brewing. It launched in 2018 and costs $6 a pint.
Fans love visiting Lottie's
Lottie's profile on TripAdvisor has plenty of reviews from Chicago Fire fans who stopped in for a beer because of the bar's connection with the show. Most had a good experience. Several reviewers said that the bartenders and servers were happy to answer questions about the show. They also praised the food, with one person saying the Chicago Fire burger was "one of the best" they'd eaten.
"I would definitely recommend stopping by Lottie's if you're a Chicago Fire fan," wrote another visitor.
Check out The Cheat Sheet on Facebook!