Is 'My Universe' the 1st Time BTS and Coldplay Collaborated?
On Sept. 24, Coldplay and BTS will release a single called "My Universe." Coldplay will also include the song on their upcoming album Music of the Spheres. With all the anticipation surrounding "My Universe," some fans of the bands might be wondering if the song is the first time BTS and Coldplay have ever collaborated.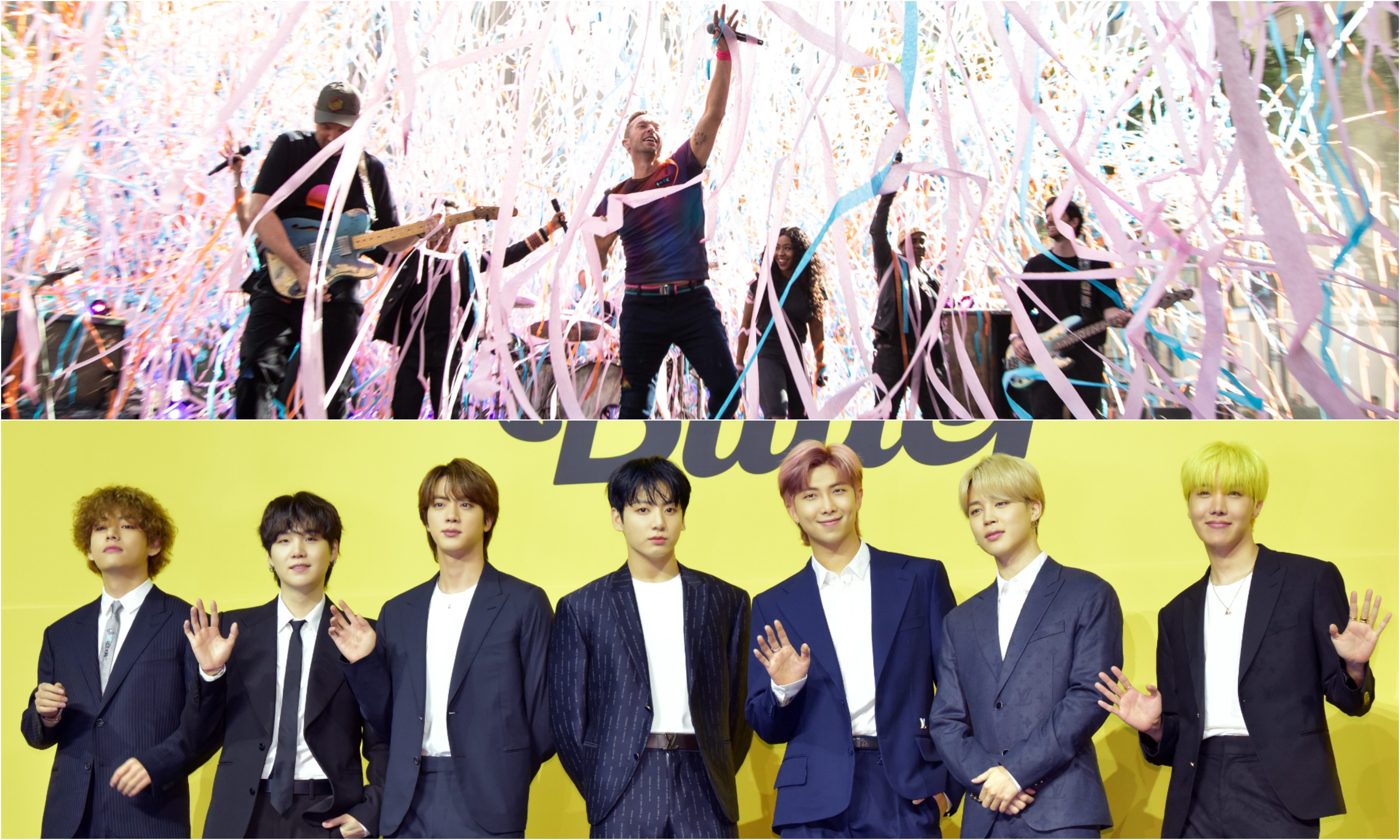 'My Universe' is the first song BTS and Coldplay have made together
Even though both bands have large fanbases and a great deal of respect for one another, "My Universe" is the first time Coldplay and BTS have created a song together.
Coldplay originally formed in 1996 and is primarily a rock band, though the group has also created songs that fall into pop and alternative rock genres. The band is comprised of members Chris Martin, Jonny Buckland, Guy Berryman, and Will Champion. Phil Harvey is Coldplay's creative director and is also considered to be a fifth member of the band.
BTS debuted in 2013 as a K-pop group, and the band releases pop, hip-hop, and R&B music. The group has seven members: Jin, Suga, J-Hope, RM, Jimin, V, and Jungkook.
RELATED: How to Listen to a Preview of Coldplay and BTS' Upcoming Single 'My Universe'
The groups wrote 'My Universe' together
Coldplay announced "My Universe" will be a collaboration with BTS on Sept. 13. The two bands then released exclusive previews of the song on TikTok.
Following the announcement of "My Universe," Coldplay shared details about the track on their official website, writing:
"The band have today announced their much-anticipated collaboration with BTS. My Universe will be released on September 24th.

The track, sung in both English and Korean, was written by Coldplay and BTS and produced by Max Martin. It is available to pre-order / pre-save now, with a CD single also available to order, at myuniverse.coldplay.com.

My Universe is the second single to be taken from the band's forthcoming album Music Of The Spheres (out October 15th)."
RELATED: How to Watch BTS' 'RELEASED' Episode With Coldplay's Chris Martin
BTS are huge fans of Coldplay
Even though "My Universe" is the first song Coldplay and BTS have collaborated on, the two bands have a history of sorts.
In 2019, BTS appeared on iHeart Radio Live, and the interview was streamed on LiveXLive. During the interview, the members were asked about artists they wanted to make music with in the future.
"I really want Coldplay," V said.
"Chris Martin," RM agreed.
At this, some of the members began singing Coldplay's "Viva La Vida."
On Feb. 23, BTS appeared on their own episode of MTV Unplugged. For the MTV Unplugged episode, BTS performed their songs "Telepathy," "Blue & Grey," "Life Goes On," and "Dynamite." The band also performed a cover of Coldplay's popular song "Fix You."
RELATED: V Wanted to Collaborate With Coldplay Before BTS Covered 'Fix You' on 'MTV Unplugged'
On Sept. 9, Martin interviewed Jin, Suga, J-Hope, RM, Jimin, V, and Jungkook of BTS for an episode of YouTube's RELEASED series. Days later, Coldplay announced their first official collaboration with the Korean septet.