Is Pat Sajak Married, and Does He Have Any Kids?
Pat Sajak has been a well-known television personality for years. But how much do you know about his family and personal life?
Pat Sajak was born on October 26, 1946 in Chicago, Illinois as Patrick Leonard Sajdak. He is best known as the long-time host of family game show, Wheel of Fortune. He has previously served as a weatherman and talk show host. In his youth, Sajak served American in the Vietnam War, where he also helped keep his fellow service men's spirits up as a disc jockey.
Interestingly enough, Sajak never believed that his stint as game show host would last. He is quoted as saying that he "honestly didn't think the show was going to last much longer when I started in 1981. I thought a year would be lucky, 13 weeks more likely before it was back to forecasting the weather."
Is Pat Sajak married?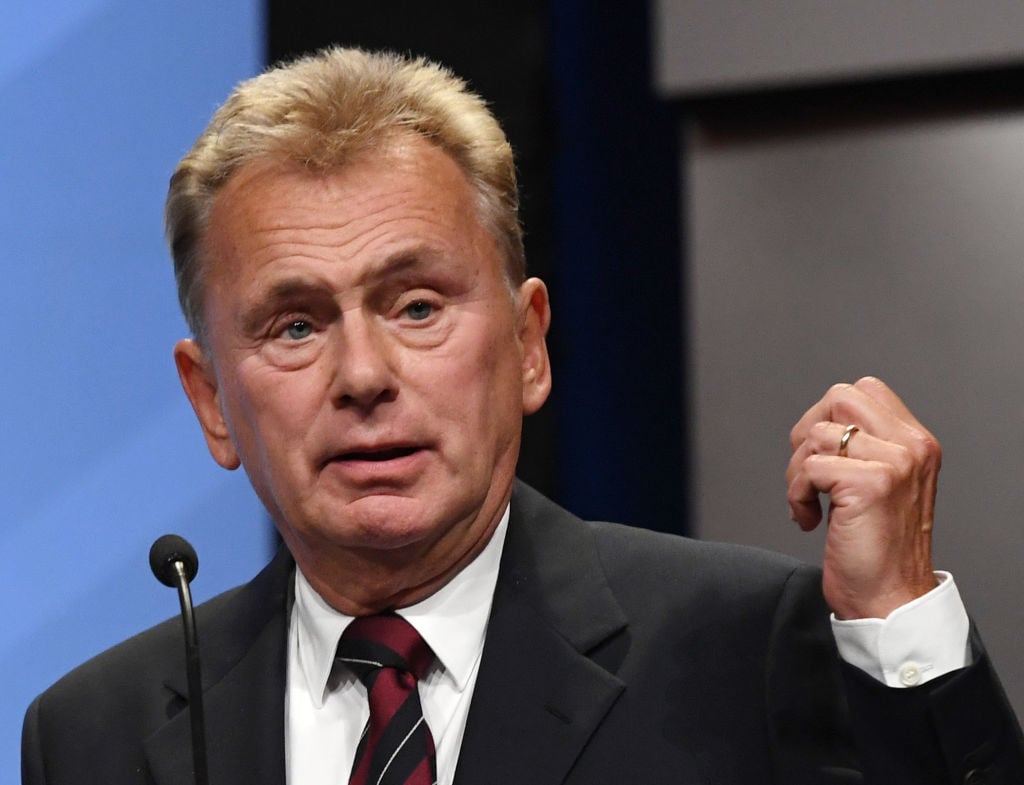 Pat Sajak is married to photographer Lesly Brown Sajak. The couple married in December 1989, and continue to be happily wed after 20 years. Sajak was previously married to Sherrill (maiden name unknown). They married in 1979, but divorced in 1986.
When Sajak first met Lesly, he recalls that it wasn't love at first sight. He stated that there was "no electricity in the air. She wasn't talked about on the car ride home." After their initial meeting, however, the two began a long-distance friendship over phone calls. Over time, they began to like each other romantically and eventually got involved.
Prior to their marriage, Lesly was an aspiring actress who once appeared in a spread called Women of Washington for Playboy. After marriage, Lesly primarily focused on raising her children and supporting Sajak in his own television career. She has, however, appeared on Wheel of Fortune a few times with her husband.
Pat and Lesly Sajak's wedding
The two married at Saint Mary's Roman Catholic Church in Annapolis, Maryland. The ceremony took 40 minutes, and was attended by between 100 and 150 guests. A few celebrities were included, but a list of names was not released. One celebrity known to attend the wedding was Pat Sajak's long-time Wheel of Fortune co-host, Vanna White. She was spotted trying to leave the church without being seen.
Does Pat Sajak have any kids?
Pat and Lesly Sajak have two children together – one boy and one girl. The couple's son, Patrick Michael James Sajak was born on September 22, 1990. Their daughter, Maggie Marie Sajak, was born on January 5, 1995. Pat did not have any children with his first wife, Sherrill.
Maggie Sajak is an aspiring country singer
Pat Sajak's daughter, Maggie, is a 23-year-old aspiring country musician. She has always had a love of music. Maggie began playing the guitar at age twelve, and also plays the piano, mandolin, and ukulele. She has released three singles to date – Wild Boy, Pretty on the Inside, and If I Was Gonna Go. According to her website, the talented young lady also writes her own songs and (of course) sings.
The kids still live at home
Most interviews state that both Maggie and Patrick still live at home with their parents in Maryland. The family is known to be very close, and a central part of Pat Sajak's life. Neither children have yet married or had children, so it makes sense for them to remain at home with their parents.
Patrick, Jr. stays out of the spotlight
Sajak's son, Patrick, has opted to take a different route than his musician sister. He rarely appears at celebrity events with his parents, and is silent on social media. In fact, not much can be found out about the 28-year-old at all. This leads us to believe he lives a very normal life, despite his well-known father.