Is Rob Lowe Anything Like His 'Parks and Recreation' Character or Is He 'Literally' Acting?
Chris Traeger is every Parks and Recreation fan's favorite optimist. The upbeat character, played by Robe Lowe, began in season 2 of the hit NBC show and stayed for four seasons. The sitcom has been off-the-air for years, but Chris's iconic scenes have since been used as meme fodder. Is Lowe anything like Chris?
Rob Lowe's former 'Parks and Rec' costars joined him on 'The Ellen DeGeneres Show'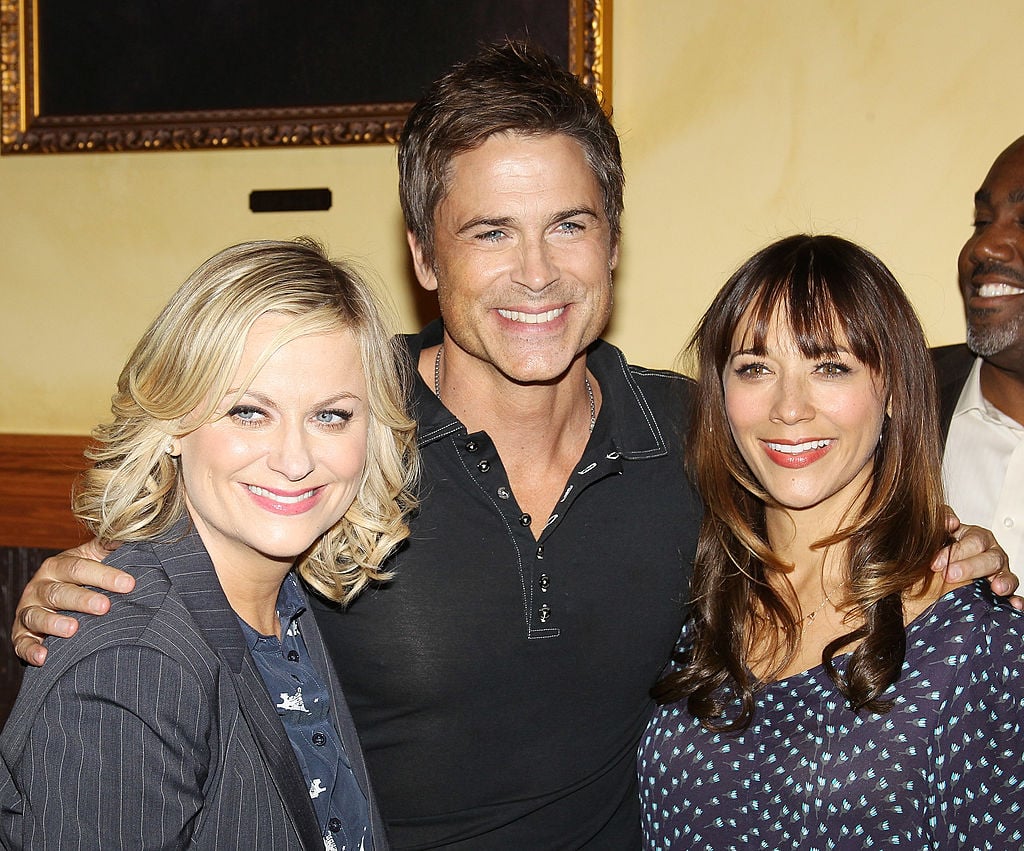 Luckily for Lowe fans, that star hasn't altogether disappeared since leaving Parks and Rec. On May 21, he guest-hosted The Ellen DeGeneres Show with special guests and former costars, Adam Scott and Kathryn Hahn.
Scott played Leslie Knope's eventual husband Ben Wyatt with Hahn as snarky campaign manager Jennifer Barkley. The three reminisced about time on the show.
"You can't fake the kind of relationships that we had," Lowe said.
Hahn — who admitted to being a longtime fan of Lowe's — revealed a secret about her and Lowe's romantic scenes on the show.
"I had to forget everything of my childhood so I could be present, or else I would have exploded," she said. "If my 13-year-old self had known that this was in my future, I could not have worked. It was so fun."
Is Lowe anything like Chris Traeger?
The similarities aren't lost on Lowe who admits he is similar to Chris in a lot of ways.
"Everybody on the show is a steroid version of who they actually are," he said in a 2019 interview with Vanity Fair "I do have a little bit of energy and I am kind of optimistic and I am kind of enthusiastic and they just mainlined it. So much so that seasons into playing Chris, I was like, 'I wonder if there's just other layers to Chris?' 'Nope, there's none.' That Chris could be excited about the most mundane, boring thing, it just was a well that never ran dry."
Then there's the way Chris talks. Even fans have questions.
"Wasn't aware that Rob Lowe actually talks like Chris Traeger in real life," a viewer posted on Reddit.
"Probably more likely that Chris Traegar talks like Rob Lowe. Maybe Rob is more like Chris in real life!" another said.
"Chris is literally Rob in the Parks and Rec world. like literally," another added.
How that one word became Lowe's calling card
As far as Chris's trademark word "literally," that was Lowe taking a risk with the character.
"I think I just leaned into that word really hard a couple of times and it made Mike Schur laugh," he told Vulture in 2012. "The next thing you know it just became one of Chris's things, but it was never designed that way. It was merely a word in a sentence. I think I just took a really big, probably very embarrassing swing at it and it stuck."
He continued: "It's funny, I have no idea what I'm doing when I'm doing it … But it's very exciting to be so far down the road in this business and to finally have a catchphrase. It's one thing I can tick off my career to-do list. I don't think it's as good as 'What'chu talkin' 'bout, Willis,' but it's up there."
As far as health and fitness, many already know that Lowe takes great pride in both. His love of exercise started during his teen years while working. He described to Elite Daily he didn't get serious about fitness until his role for Youngblood required a bulk.
"It was the first time I ever had a trainer and did proper weight work," he said. "It was brutal."
That initial taste, however, became a lifelong journey.
"It became an outlet for all of the tension, stresses, compulsivity," he said. "I funneled the addiction, frankly, into that."
Lowe said it took years of 'ramming' humor 'down people's throats' before they saw his humor
For years, Lowe wasn't taken as a comedic star. All his earlier roles were of the serious nature — until Parks and Rec gave him the time to shine.
"It took four years of ramming it down peoples' throats as Chris Traeger to get to the point where people are understanding that I like to do comedy," he said in the same Elite Daily interview. "There's nothing better. When I see Alec Baldwin on 30 Rock or Matt Damon, who's hilarious when he's doing comedy, there's just something great about that."
We think Chris Traeger would "li-trilly" agree.