Is Russell Hantz a Good 'Survivor' Player? Fans Weigh In
Survivor has hosted its fair share of antagonistic, villainous players, but few have received the same attention as Russell Hantz. Hantz exhibited a masterful social game, proving himself capable of pitting players against one another as he exacerbates tension and executes social schemes in the background. However, he is also widely viewed as a villainous player as a result. For some, the question is still debated — is Russell Hantz a good Survivor player? Here's what fans had to say.
Villainous castaway tells folks to mask up
RELATED: 'Survivor' Fans Remember Show's Worst Challenge Reward
Before we dig into opinions on whether or not Russell Hantz is a good Survivor player, it's worth noting that the villain has the right mindset when it comes to masking up during COVID-19. In fact, he went out of his way to call out anyone not wearing a mask during the ongoing pandemic.

"With the Mask thing…You do know the government MAKES you wear your seatbelt right?? This isn't the first time the government mandated something to protect you or others. #justsaying," he wrote on Twitter.
Hantz later doubled down on his mask statement, saying he thinks it's a relatively simple matter of health and safety.
"Why wouldn't i wear a mask?? I think it's smart to wear a mask even during flu season. To me it's not political…," he added.
Regardless of how Survivor fans may feel about his behavior and performance on the show, it's good to see Hantz on the side of facts and science.
'Survivor': Russell Hantz has an incredible history on the show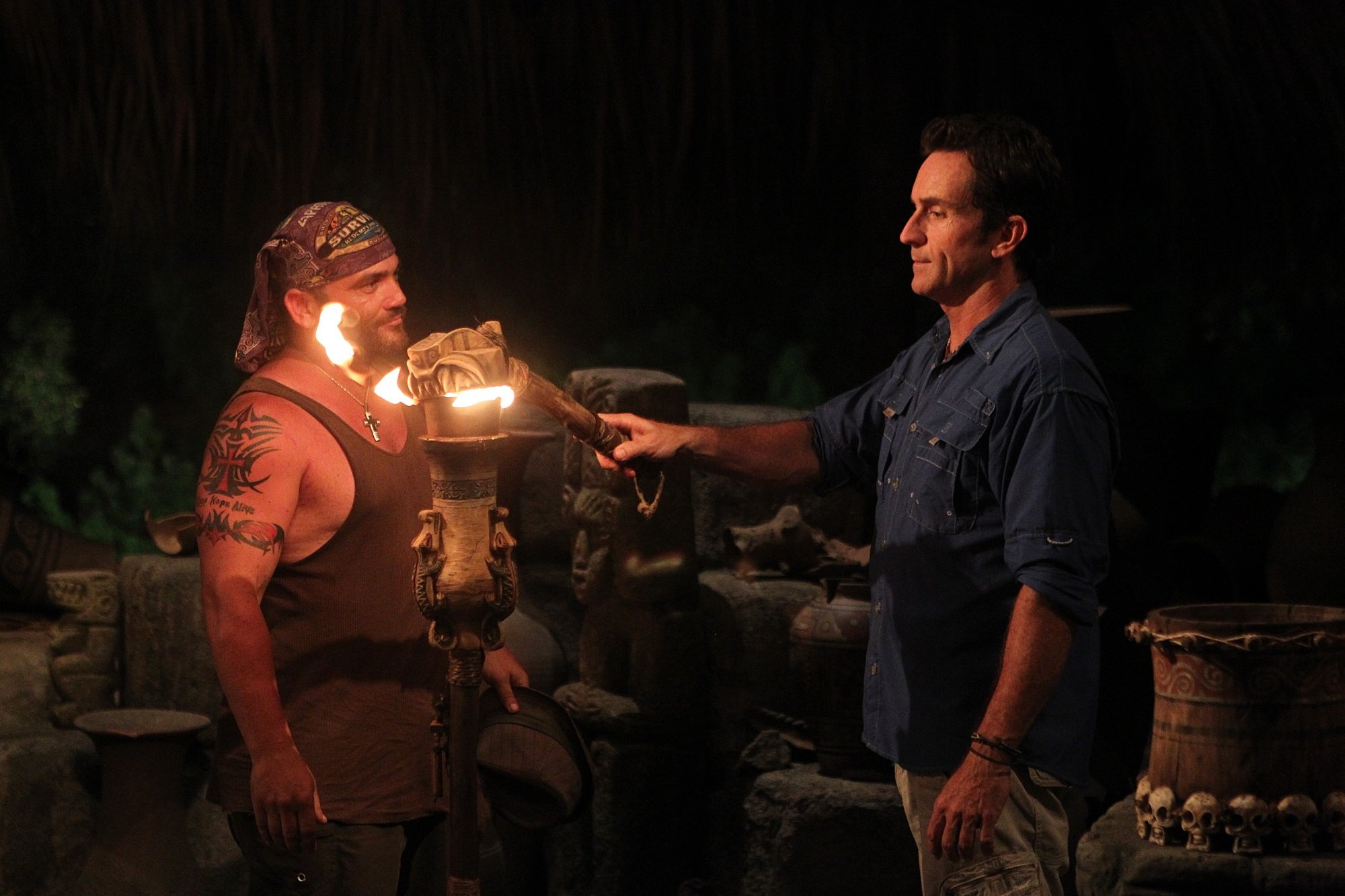 Survivor star Russell Hantz has an incredible history on the show. He's appeared on Survivor four times, including the Australian edition. Specifically, Hantz appeared on Samoa, Heroes vs. Villains, Redemption Island, and the Australian season Champions vs. Contenders.
Hantz is notorious for stirring up drama amidst his fellow castaways, including his own tribe. During his appearance on Samoa, Hantz immediately started making conflicting alliances with just about anyone who would listen, setting himself up as the puppetmaster behind each one.
Additionally, he sabotaged his own tribe on the very first night just to cause chaos among the other castaways. Notable, he burned Jaison Robinson's socks in the fire, and dumped out all of the water stored in containers at camp.
Hantz eventually made it to runner-up, losing first due to his behavior and ruthless play style. A similar situation arose on Heroes vs. Villains, where he landed second runner-up. On his next two appearances, Hantz was voted out almost immediately due to his reputation as a cunning player with no qualms.
Is Russell Hantz a good 'Survivor' player? Fans weigh in
Russell Hantz is a very divisive Survivor castaway as a result of his behavior on the show. He's the center of an ongoing discussion about what constitutes good play on Survivor. So is Russell Hantz a good Survivor player? Some fans think that his prowess is undeniable, given his crafty play.
"[H]e's an amazing strategist, you can't deny the moves he made were incredible, his power over people, and his surprising ability to make people trust him enough," wrote one Redditor. But, there's a caveat.
"[H]e suffers when you take into consideration his abhorrent social gameplay. All he has to do is show humility and empathy (and quite frankly I'm starting to wonder if he even has those) and consider OTHERs for a second and he could be the greatest player ever. He changed how the game is played without a doubt," they added.
"I think he played great in Samoa but didn't learn from his mistakes during HvV. From there, he only played worse and worse," pointed out another user.
"Russell has a very good strategic mind. However, I do think his successful plays often elevated his ego. Russell would make moves like playing idols to negate all his votes and blindsiding people and have a deity type complex," pointed out another Survivor fan.
Jeff Probst himself has previously praised Hantz's gameplay, suggesting it reinvented much of the game.
"I just re-watched Heroes vs. Villains and I really was reminded of how impressed I was by his absolute relentless pursuit of any and everything, including Parvati, which may have done him in," Probst said of Hantz. "[R]ussell really did reinvent a couple of things."
It seems the jury is still out. Do you think Russell Hantz is a good Survivor player?