Is the Lead Singer of Jack Leopards & The Dolphin Club Related to Taylor Swift? Many Think So
Say what you want about Taylor Swift, but she really holds her own as a songwriter and as an evil mastermind. Well, maybe not evil, but Swift has outsmarted Scooter Braun with the help of Killing Eve, if her fans are correct. The show used a cover of her song, "Look What You Made Me Do," and many think it not only is a plot from Swift, but that Swift's brother is the singer on the cover.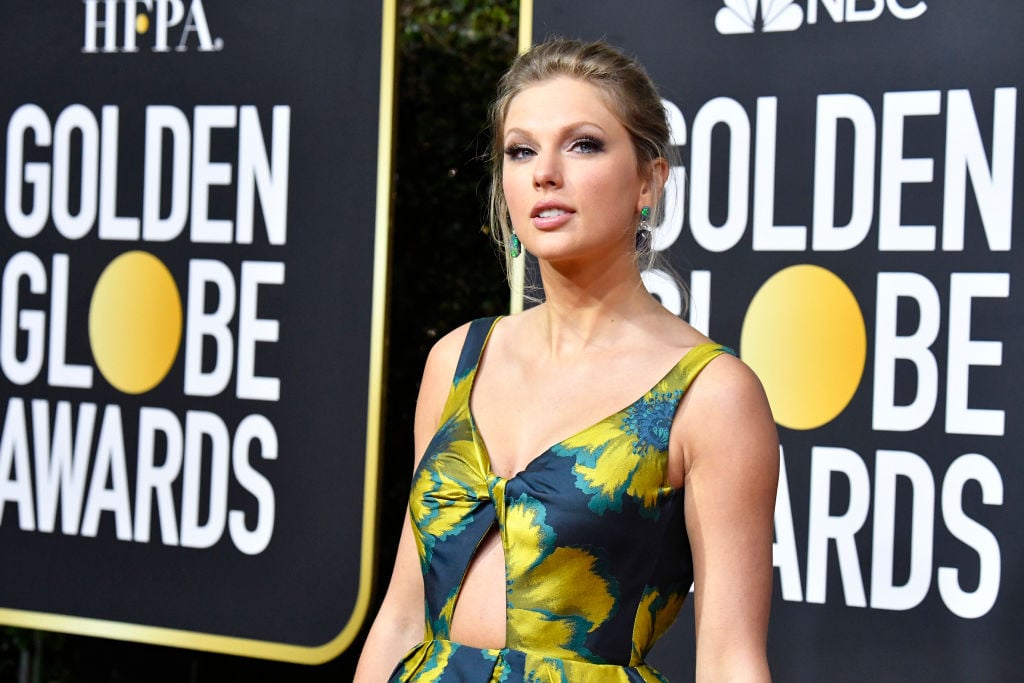 'Killing Eve' used a cover of Taylor Swift's song
On May 24, Swift posted on her Twitter and Instagram story about Killing Eve's use of her lead single from her last album, Reputation. "VERY STOKED about this cover of lwymmd on @KillingEve by Jack leopards & the dolphin club!!" she tweeted. 
The version is heard during the credits for the popular show, which stars Sandra Oh and Jodie Comer. It's a stripped-down, slower rendition of Swift's original version of "Look What You Made Me Do." The cover fits the vibes of Killing Eve perfectly, so it would make sense that the show chose that version of the song.
RELATED: When Will Taylor Swift Re-Record Her Masters?
However, that's the only cover or song Jack Leopards & The Dolphin Club have ever released. In fact, that band seemed to pop up, virtually out of nowhere, with no other credentials or songs under their belt. How did this band land such a noteworthy gig and a shoutout from Swift?
Because they're allegedly fake. 
Jack Leopard & The Dolphin Club is Swift's creation
There are so many clues that Swift is behind the band, with their limited discography one of them. But another is the fact that Spotify lists Jack Antonoff and Nils Sjöberg as the producers on this specific cover, Elle reported. Antonoff is of The Bleachers fame, and has produced and written with Swift numerous times throughout the years. Sjöberg is a bit more elusive, but that's because it's a pseudonym Swift has used in the past for herself. It also appears on the song credits for "This Is What You Came For," by Swift's ex, Calvin Harris. 
There's really no denying that this band is Swift's creation at this point. But why did she go to these lengths to create a band to do a cover of her own song, when she could have done it herself? Or gone public with the new band?
Well, because it was a sneaky way to get back at Scooter Braun without outwardly getting back at Braun. Last July, Braun bought all of Swift's masters as the new owner of Big Machine Records for $300 million. Swift called this her "worst-case scenario" because a man who allegedly bullied her now owns the rights to all of her previous albums, minus Lover.
RELATED: What's Really Going on Between Taylor Swift and Scooter Braun. All of the Drama Explained
She also claims they won't sell them back to her without involving her in another contract. Which is not what she wants and would take away her power as an artist who wants to own her own music. Since Reputation is owned by Big Machine still, this cover isn't. So using it for Killing Eve is a way to use said song, but not involve Braun's new record label. 
Fans are convinced that Swift's brother, Austin, is the singer on the song
RELATED: Taylor Swift's Original Albums Were Removed From Her Spotify Page — but Not Because of Scooter Braun
And to make things better, there are clues within the name of the band that connects to Swift, if you weren't already convinced. From Antonoff's name used in the band's name to Swift's continued love of dolphins, it checks out.
Fans are also convinced that Swift's brother, Austin Swift, is the singer on the cover. Back in February, The Daily Mail reported that Taylor Swift asked Phoebe Waller-Bridge to include Austin on the Killing Eve soundtrack for Season 3. Swift loves the show, and both her and Waller-Bridge appeared on Saturday Night Live together this past year. And Waller-Bridge — star and writer of Fleabag — is an executive producer on Killing Eve.
It all just adds up too perfectly for it not to be Austin Swift on the song. And if it is all a part of Taylor Swift's masterplan, it gives fans one more reason to love her. 
RELATED: Taylor Swift's Fake Band Jack Leopards & the Dolphin Club: How Did She Come Up With the Name?