Is the New Lifetime Movie 'Love You to Death' Based on True Story?
The story sounds too bizarre to be true. A selfless mother dedicates herself to caring for her seriously ill daughter. One day, the mother is found dead, and her daughter is missing. Everyone fears the worst until the daughter turns up alive, and the story takes a shocking turn. The daughter, who wasn't actually sick, is also behind her mother's murder. The plot of the new Lifetime movie Love You to Death sounds bizarre, but it's actually based on a shocking real-life crime. 
Love You to Death is inspired by the case of Gypsy Rose and Dee Dee Blanchard  
In June 2015, 48-year-old single mom Dee Dee Blanchard was discovered dead in her home in Springfield, Missouri. Her teenage daughter, Gypsy Rose, was nowhere to be found. Gypsy Rose had multiple serious medical conditions, including muscular dystrophy, asthma, epilepsy, and chromosomal defects. She had leukemia as a child and, according to her mother, the mental capacity of a child of 7.
Dee Dee worked full time caring for her sick daughter, according to a lengthy report from Buzzfeed's Michelle Dean. The two lived in a house built by Habitat for Humanity, which they moved into after their home in New Orleans was destroyed by Hurrican Katrina. Dee Dee held fundraisers to generate money for Gypsy Rose's care and took trips to places like Disney World with the help from charities. Neighbors said they seemed happy, despite their many troubles.
But it turns out it was all a lie. Gypsy Rose was not sick at all. She wasn't even a teenager (she was actually 23 years old). Instead, her mother, who experts now believe suffered from Munchausen syndrome by proxy, forced her to appear ill. She abused and controlled her daughter for years. Eventually, Gypsy Rose fought back. A boyfriend she met online traveled to Missouri, where he killed Dee Dee. Then he and Gypsy Rose fled to Wisconsin, where police apprehended them.
After a trial, Gypsy Rose received a 10-year prison sentence. Her boyfriend, Nicholas Godejohn, was convicted of first-degree murder and faces the possibility of life in prison.
Marcia Gay Harden stars in the Lifetime movie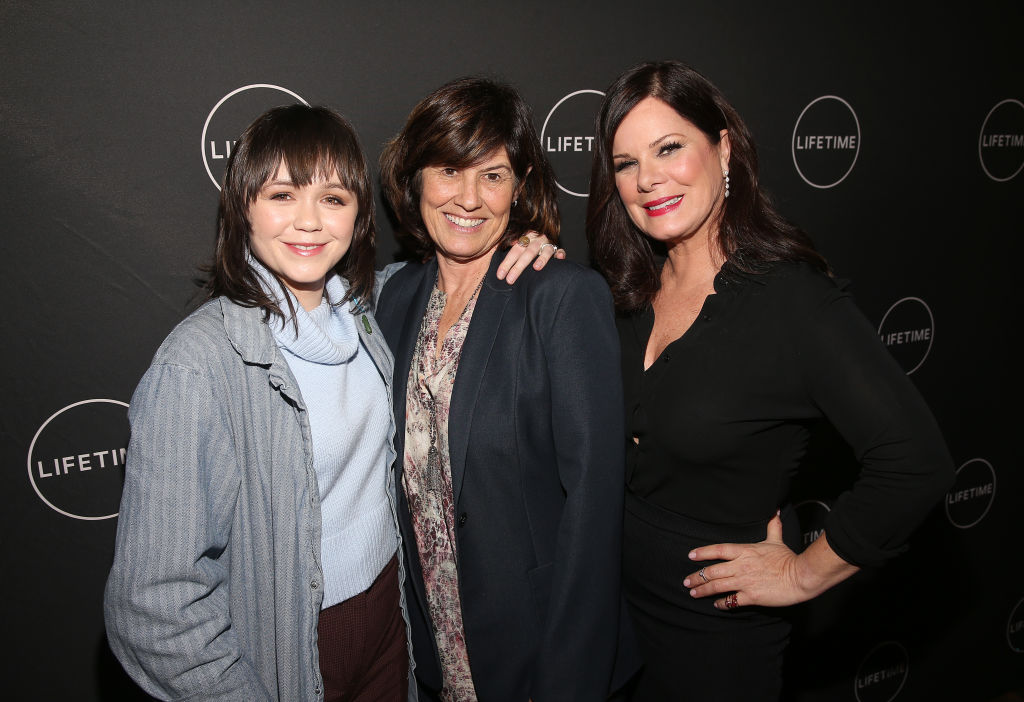 In Love You to Death, Oscar winner Marcia Gay Harden plays a woman named Camile. Though the names differ, Dee Dee inspired the character. Emily Skeggs plays her daughter Esme, inspired by Gypsy Rose. Brennan Keel Cook plays Esme's boyfriend and Tate Donovan plays Esme's estranged father.
It's not the only move about Gypsy Rose's story
Love You to Death isn't the only upcoming film adaptation about Gypsy Rose's story. Joey King and Patricia Arquette will star in Hulu's The Act, a true-crime anthology series based on Dean's article for Buzzfeed.
The HBO documentary Mommy Dead and Dearest also chronicles the facts of the case and includes interviews with both Gypsy Rose and Godejohn. In November 2018, Investigation Discovery aired an 85-minute documentary about the case titled Gypsy's Revenge.
Love You to Death premieres January 26 at 8/7c on Lifetime.