Is Tom Cruise Still a Scientologist?
Tom Cruise is one of the biggest movie stars of all time. His resume includes films such as Top Gun, Jerry Maguire, the Mission: Impossible series, War of the Worlds, and Jack Reacher.
Even at an age when many actors start to step back from action roles, Cruise is still going strong, and will soon be appearing in the highly-anticipated Top Gun sequel. In spite of his many accolades and accomplishments, Cruise is also a controversial figure – and his relationship with Scientology has been the source of many rumors over the years. 
Tom Cruise is a well-known Scientologist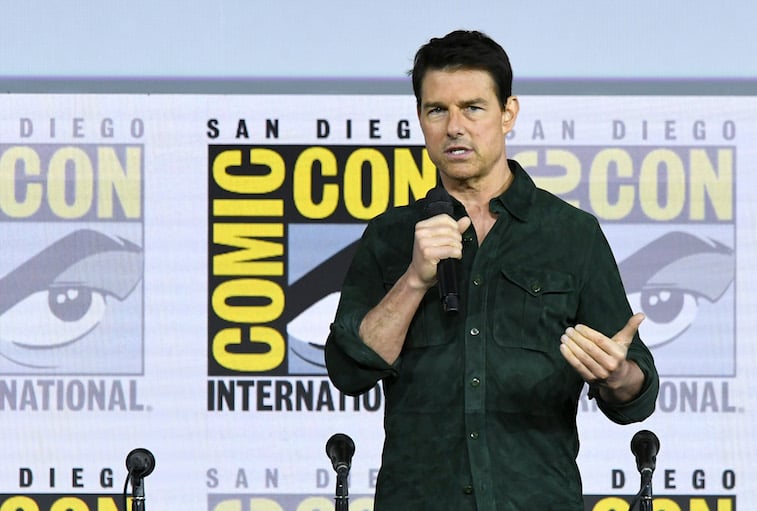 Tom Cruise was a star on the rise when he first became involved with the Church of Scientology in the early 1990s. While it is widely believed that Cruise first came into contact with Scientology via his first marriage to Mimi Rogers, Cruise has been light on details regarding his initial recruitment.
Nevertheless, he quickly became a passionate advocate for the organization and over the years, has appeared all over the world to speak on Scientology's behalf.
Cruise has come under fire for his association with Scientology at various times throughout his career. Notably, in 2005, in an interview with Matt Lauer, he appeared very agitated and angry at Lauer's questions about the religion and Lauer later mentioned that he could see a "physical change" in Cruise as soon as Scientology was mentioned.
Scientology has also reportedly affected Cruise's marriages in a negative way.
Did Scientology affect Tom Cruise's marriage to Nicole Kidman?
Tom Cruise's second marriage was to Nicole Kidman. The two were married from 1990 through 2001 and although they seemed to be a happy couple and even adopted two children together, there were some mysterious circumstances surrounding their separation and divorce.
Reportedly, even though Kidman joined Scientology when she married Cruise, she became disenchanted with the religion and tried to convince Cruise to leave the organization with her. Cruise was steadfast in his devotion to Scientology and ultimately separated from Kidman.
It is important to note that neither Cruise nor Kidman has directly spoken to these rumors. However, there has been a great deal of buzz over the years, and after Cruise's third marriage to Katie Holmes, the speculation only intensified.
Tom Cruise's marriage to Katie Holmes
In 2006, Tom Cruise married the much-younger actress Katie Holmes. The two welcomed a daughter, Suri, and had a huge, opulent wedding that was attended by many of Scientology's top leaders. However, their marriage was plagued by rumors, with many fans whispering that Scientology had arranged their entire relationship.
In 2012, Cruise and Holmes divorced under mysterious circumstances. Holmes has seemingly maintained sole custody of their daughter, and Cruise has not been spotted with the child in many years. Some reports claim that since Holmes will not allow the girl to be raised as a Scientologist, the religion will "not allow" Cruise to see his youngest daughter.
Is Tom Cruise still involved with Scientology?
In spite of all the rumors and controversy, Tom Cruise seems to still be heavily involved in Scientology. In fact, according to a recent report, Cruise moved several members of his family, including his three sisters and two older children, into a Scientology-focused apartment block.
The report claims that Cruise moved them into adjoining residences in order to keep them from leaving the religion like his ex-wives, Nicole Kidman and Katie Holmes.
The apartment building is reportedly home to several major Scientologists, including entrepreneur Bob Duggan and businessman Adi Arezzini. While Cruise has not spoken out about the report, it certainly doesn't seem out of the realm of possibility for the controversial star.