It Looks Like Everyone Wants a 'Mamma Mia! 3,' But There Is 1 Main Issue According To Amanda Seyfried
ABBA's songs are some of the most positive, fun, and dance-worthy tunes to ever exist. And Mamma Mia! birthed two beloved films that bring out just as much happiness as ABBA's discography. Now, two years after the sequel, there are rumors that a third movie could happen too. But there might not be enough songs to "go again."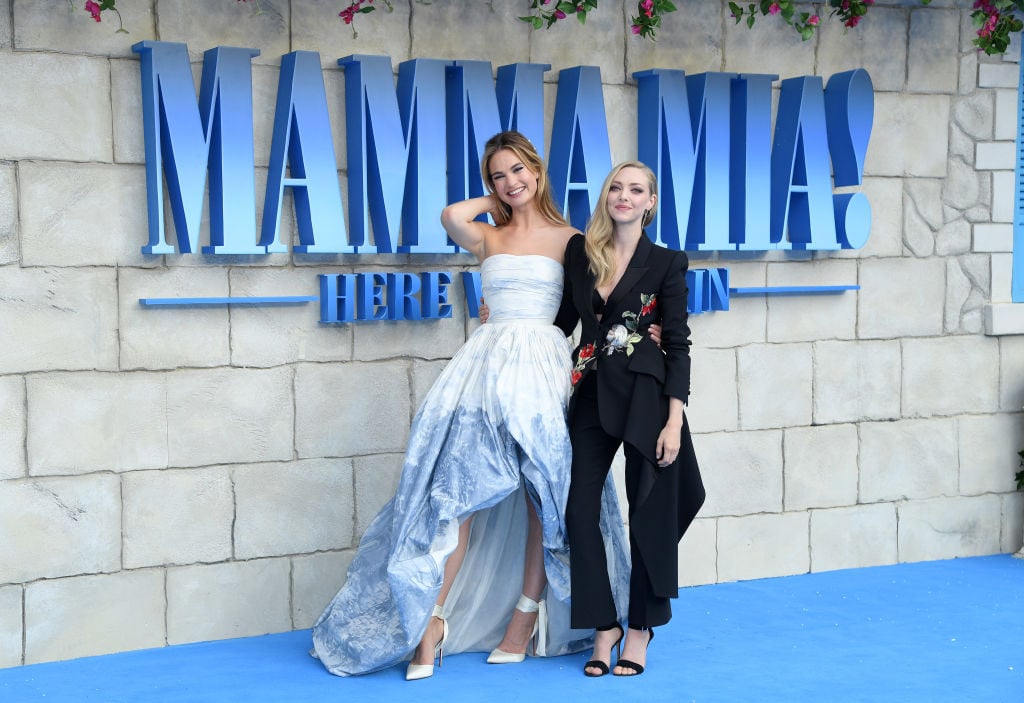 RELATED: Mamma Mia! How much is ABBA Worth? Plus, Do They Want a 'Mamma Mia 3'?
COVID-19 actually put a stop to planning a 'Mamma Mia! 3' 
In 2008, Mamma Mia! starred Meryl Streep as Donna Sheridan and Amanda Seyfried as her daughter Sophie in a film adaptation of the jukebox Broadway musical of the same title. The all-star cast also included Christine Baranski and Julie Walters as Donna's best friends and Pierce Brosnan, Colin Firth, and Stellan Skarsgård as Sophie's possible fathers. 
A decade later, the sequel Mamma Mia! Here We Go Again premiered to vast acclaim, too. This time around, everyone came back except for Streep and Lily James took on the role of a young Donna. 
On June 20 in an interview with Daily Mail, Judy Craymer — who produced the original stage production of Mamma Mia! — shared that she's actually pondering a third film.
"I was meant to have been getting on with that, in my head, during these months. But then I got hit with COVID fog," she said. "I think one day there will be another film, because there's meant to be a trilogy, you see. I know Universal would like me to do it."
That's pretty promising considering it was already something she was thinking about before the pandemic hit. After the first film went on to become the fifth highest-grossing film in 2008, its sequel fared just as well.
RELATED: Did ABBA Have a Number-One Hit?
'Every single person' in the last movie would do a 'Mamma Mia! 3'
Plus, it's not like this third movie is happening in a vacuum, without the cast involved. Seyfried told Collider on June 21 that everyone in the last film would be down for another movie in the proposed Mamma Mia! Cinematic Universe. 
"Listen, every single person in that movie would say yes in a heartbeat because we want to hang out with each other," Seyfried said. "That's what we talked about last time, like did we ever think that we'd end up here again on an Island in Croatia?"
She also talked about why the sequel was an even better story than the first one, possibly hinting that the movies just get better with age. 
"… They had something to grow on. Like the first story had to match the stage show. So it was like, they were kind of stuck," she said. "With the second story, it could have been anything. Having Meryl's character die kind of gave us so many good storylines. It was kind of a genius idea because you're like, no, we don't want to lose her. But at the same time, look at what you can do, you can go back. And Lily James can play young Meryl. It was just perfect. It was so well written."
However, Seyfried pointed out that there aren't enough songs for a third film
There's just one, pretty significant snag, though. There just aren't enough ABBA songs to do original numbers. 
"I wish there was a Mamma Mia! 3," Seyfried said. "But I'll tell you what – I've said it before and I'll say it again and I hope I'm wrong again. I don't think there are enough ABBA songs to make a third movie. Because we'd have to use 'Super Trooper' again and we'd have to use 'Mamma Mia' again and have to use them in a different way."
In the original and sequel films, both versions of Donna sang the titular "Mamma Mia!," in different styles. And "Super Trooper" was also in both, as Seyfried said, with Donna and the Dynamos singing it for Sophie's bachelorette party, and the whole cast singing it in the sequel. 
However, Craymer did tell Daily Mail that she'd want to use the four new ABBA songs that Benny Andersson and Bjorn Ulvaeus wrote for their virtual tour. So maybe there isn't a problem after all. Plus, who gets tired of good 'ole "Mamma Mia!" anyway?
RELATED: Amanda Seyfried: 5 Roles That Made Her a Hollywood Star