'It's Always Sunny in Philadelphia' Cast Net Worth and Who Makes the Most From the Show
'It's Always Sunny in Philadelphia' is a huge hit because of its multi-talented cast — so who has the highest net worth and who makes the most money from the series?
It's Always Sunny in Philadelphia is a long-running sitcom that has amassed a large cult following. The show debuted in 2005 and has been going strong ever since, having been renewed in December 2020 for four additional seasons. It's Always Sunny in Philadelphia is known for dark humor, satirical situations, and clever wordplay – and much of the show's success can be attributed to the work of the talented cast.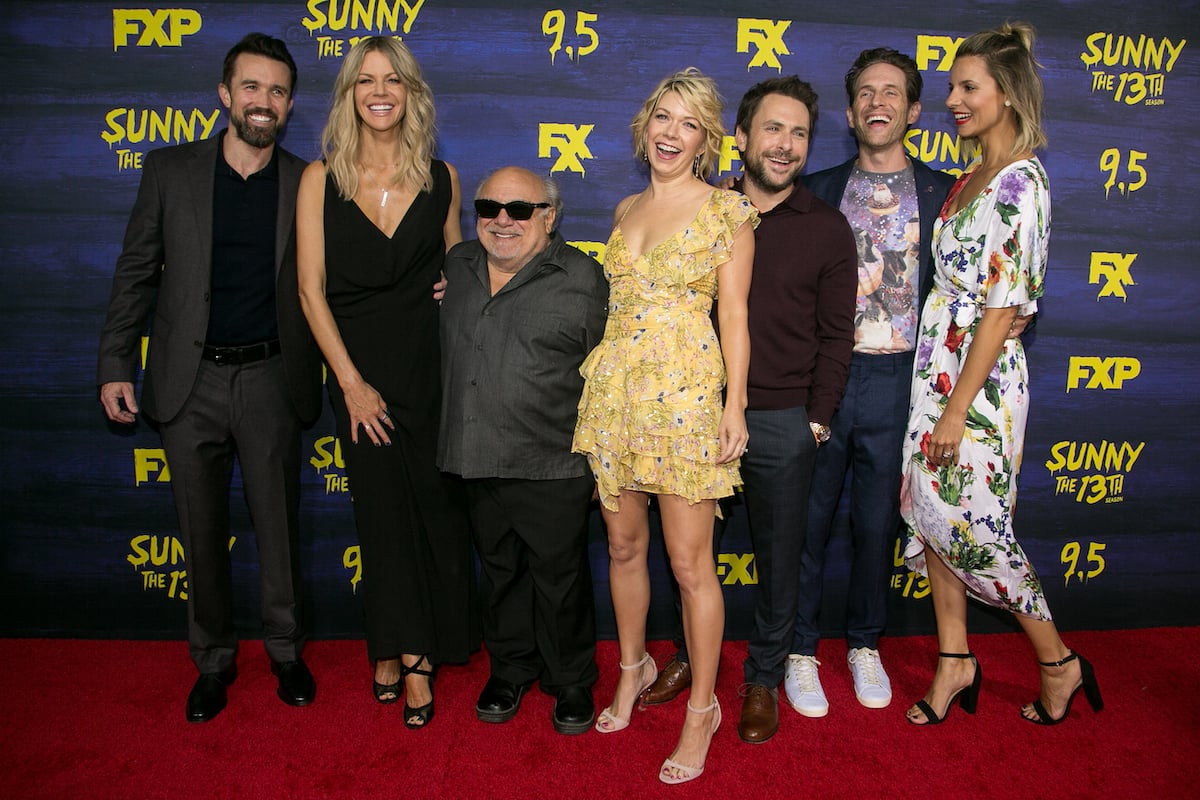 Many of the stars have been with the show from the beginning, and while some of the actors were established names in Hollywood before getting cast on It's Always Sunny in Philadelphia, others rose to fame thanks to the success of the show.
What is Danny DeVito's net worth?
Danny DeVito plays Frank Reynolds on It's Always Sunny in Philadelphia, a "fringe class" former businessman with a history of shady dealings and manipulations. DeVito has been a major star since the '70s since he started acting on TV shows like Taxi. When It's Always Sunny in Philadelphia debuted in 2005, DeVito was undoubtedly the biggest star in the cast, and his star power has only increased since his tenure started on the hit series.
According to Celebrity Net Worth, DeVito's net worth is around $80 million. While it's unclear what DeVito's specific salary is for the show, his net worth is by far the highest of any cast member on It's Always Sunny in Philadelphia, according to The Things.
Charlie Day became famous thanks to his work on 'It's Always Sunny in Philadelphia'
One of the main characters in It's Always Sunny in Philadelphia is Charlie Kelly, Frank's roommate. Charlie Kelly is played by actor Charlie Day, a talented star who has also worked as a screenwriter and director. Day appeared in a variety of television shows throughout the late '90s and early 2000s, but he didn't get his big break until he was cast in It's Always Sunny in Philadelphia.
Day received acclaim for his work on the series, and it has opened the door for a variety of other acting opportunities, including roles in films such as Fist Fight, Pacific Rim: Uprising, I Love You, Daddy, and Hotel Artemis. These days, Day is a successful performer with a net worth of around $30 million, according to Celebrity Net Worth. 
Glenn Howerton plays Dennis Reynolds
Dee's twin brother and the co-owner of the pub, Dennis Reynolds is another member of the main cast. Played by Glenn Howerton, Dennis is abrasive and outspoken, with a predatory nature that causes him to have relationship problems. A staple of the series since the beginning, Howerton's net worth is reported by Celebrity Net Worth as being $25 million – the lowest net worth of the main cast.
Rob McElhenney's net worth
As Ronald "Mac" McDonald, Rob McElhenney is Charlie's childhood friend and the son of a convicted felon who often evidences amoral behavior and signs of body dysmorphia. McElhenney not only stars in It's Always Sunny in Philadelphia, but he acts as a creator and executive producer on the show as well. Before his work on It's Always Sunny in Philadelphia, McElhenney had a hand in a variety of other projects, including small roles in movies like Wonder Boys, A Civil Action, and Latter Days.
McElhenney is one of the top earners on the show, with Celebrity Net Worth reporting his net worth at around $50 million. This is likely due to the fact that McElhenney is a producer and showrunner as well as an actor in the series. McElhenney has also opened up about how It's Always Sunny in Philadelphia grew to be a success, admitting in 2011 that at first, none of the cast made a great deal of money.
"We knew relative to the business that for people that were writing, executive producing and starring, and for me directing … we knew that ultimately it was low," McElhenney said of the early pay, according to The Wrap. "But we knew we owned a good chunk of the show and we were going into business with FX as the owners. What FX gave us, in the beginning, was a way to make our show the way that we wanted to do it."
The Wrap reports that McElhenney, Day, and Howerton decided to split $1 million between them for the first season in 2005, opting to share writing and producing duties as well. The gamble paid off since the series went on to become a big hit, boosting the income of everyone involved.
Kaitlin Olson's net worth
Rounding out the main cast is Kaitlin Olson, who plays Deandra Reynolds, a waitress at Paddy's Pub. Olson, who has a successful career in films as well as television, is one of the most popular characters in It's Always Sunny in Philadelphia, with viewers embracing her outrageous personality.
According to Celebrity Net Worth, Olson's net worth is $50 million, which is a tie with Olson's co-star, Rob McElhenney – who also just happens to be her husband. Their married status could explain the fact that their net worths are reported to be the same.