J.Cole is Ready to Jump From the Studio to the Court
Hip-hop and basketball have been inextricably linked for decades. Basketball players have wanted to be rappers since the two mediums crossed paths, and rappers have represented basketball for just as long. Several basketball players have tried to cross over to the hip hop world, and some rappers have also tried to conquer basketball. J. Cole is the latest to try to bridge this gap, and he has a plan to get himself onto an NBA team.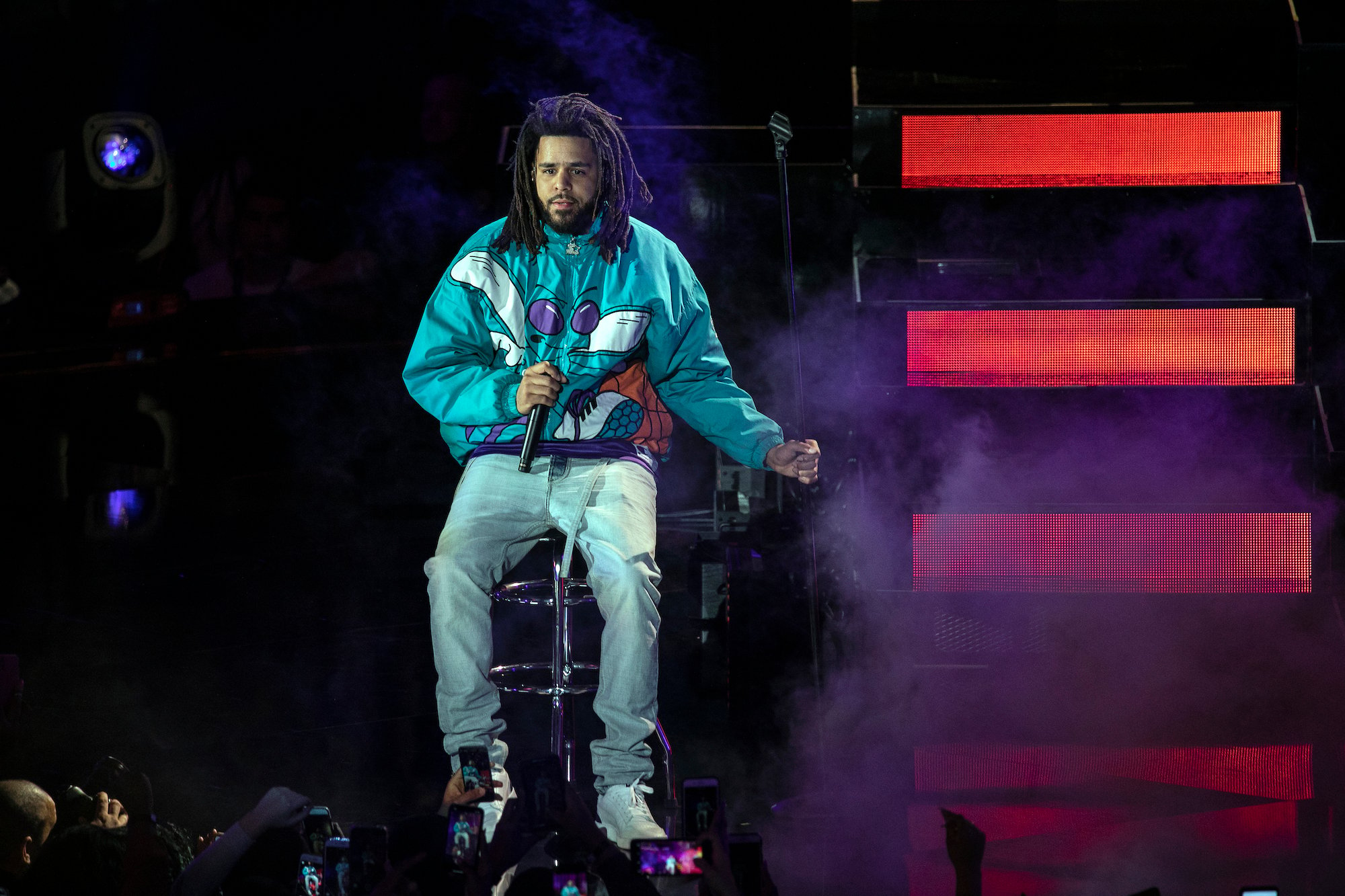 J. Cole's career
The rapper was born on a U.S. Army base in Germany, according to Biography. His father was a soldier but left the family when Cole, born Jermaine Lamarr Cole, was just a child. Not long after, his German mother moved the family to the United States, and he spent much of his childhood in trailer parks across North Carolina. In Fayetteville, North Carolina, Cole picked up a violin, and his interest in music was born soon after. 
He got into hip-hop and began rapping and producing under several names before settling on the simple abbreviation of his birth name. Working several dead-end jobs, Cole honed his skills and eventually graduated from St. John's University in 2007. Not long after, his first mixtape, The Come Up, dropped. Cole's mixtape caught the attention of Jay-Z, who signed him to the Roc Nation label. Cole's rule was officially a go.
After several successful mixtapes, Cole dropped his first album, Cole World: The Sideline Story, and he was officially a platinum-selling artist. Cole's next few albums gave him similar success. Although he initially let others onto his mixtapes, he developed a reputation as one of the few rappers to make an album without any features. Every record was a hit, and Cole became a power-player in the hip-hop world.
As such, Cole continued the relationship between basketball and hip-hop.
Following tradition
RELATED: Who Is J. Cole Dating?
Cole has performed at All-Star games and can often be seen supporting both his favorite team, the Charlotte Hornets, and several others. He's a staple at NBA games through his presence and music, which often plays over loudspeakers. It's nothing new or unique in the hip-hop world; however, as rappers and NBA players have forged a joint fraternity, as Grandstand Central shows. 
From Shaquille O'Neal's early days as a platinum-selling artist to Allen Iverson's revolutionary style and brand, the NBA and hip-hop have a co-dependent friendship that helps build both of their brands. Most of the time, it's in the form of fashion, music, and in-game appearances. Other times, the relationship has been quite different.
Master P might be the best example of a rapper who came into the NBA world differently than most. He wasn't just a fan, but an aspiring player. For several years, Master P was a staple at Vegas Summer League as he tried to bridge the gap between the NBA and hip-hop even further. While he never made it, Master P likely paved a path that Cole is trying to take a step further
Crossover appeal
At face value, Cole's potential NBA dreams might seem strange. At 6'2″ tall, he's got a size advantage over the average person, but he'd be utterly tiny compared to the NBA talent. Furthermore, at 35 years old, Cole is older than the average player is when he retires. None of this is holding him back, however. He already got a tryout with the league, although the results are not yet known. Master P told Complex that the rapper is serious about trying out a career in basketball. 
"When I talked to J. Cole, he was like 'You know, big dog you did it. What do you think I would have to do to make it happen?'" Master P told the magazine. "I said to get one of these NBA jerseys, it's not gonna be easy. It's gonna be a lot of hate, it's gonna be a lot of people not believing in you but you know J. Cole—he got the right size, he in the gym!"
It's a long-shot, but everything about Cole's journey has been. Time will tell if his NBA dreams become anything more than that, but if he tried, it would be another chapter in the marriage between the NBA and hip-hop.