J. Cole Is Officially Going to Be a Professional Basketball Player in Africa
Rappers and basketball have a long and complicated relationship. Several NBA stars have had varying amounts of success rapping (Shaquille O'Neal, Allen Iverson, Damian Lillard). There are also a few rappers who were near-professional-level basketball players (Master P, 2 Chainz).
J. Cole is looking to add his name to the latter list above. The musician will soon test his skills on the court against the pros. To do this, he recently signed a contract to play professional basketball in Africa.
J. Cole gave up his hoop dreams for music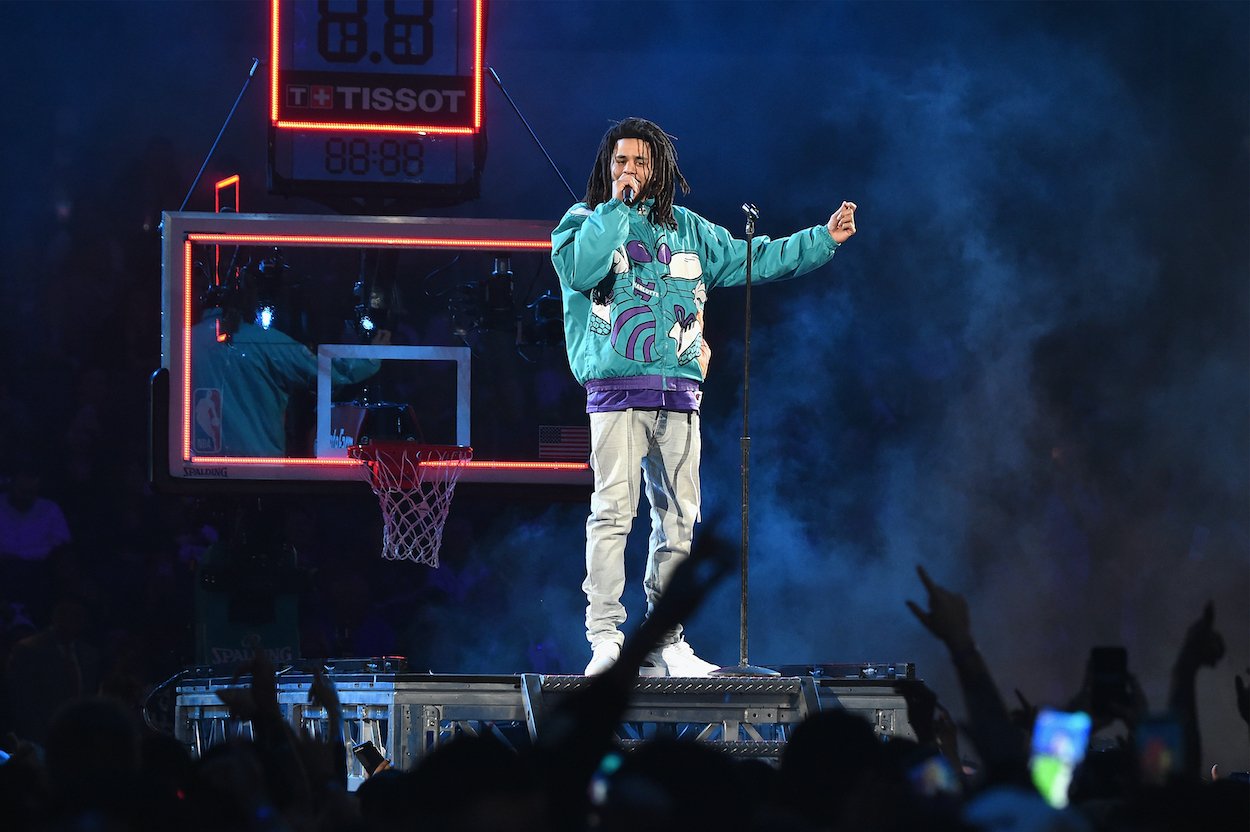 RELATED: DMX 'Uncensored': Rapper's Mom Tells Her Side of the Story in TV One Special
Jermaine Cole, according to ESPN, played basketball at Stanford High School in North Carolina before enrolling at St. John's University as a computer science major. The student, who would eventually go by just his first initial and last name professionally, decided to try and walk on to the basketball team at school.
The St. Johns Red Storm basketball team has a long, storied tradition. The school was a founding member of the Big East Conference and reached a Final Four under legendary coach Lou Carnesecca in 1985. The program has also produced many NBA players, most notably Chris Mullins, Mark Jackson, and Ron Artest.
While Cole would receive a callback for a second day of tryouts for the Red Storm, the future "Work Out" hitmaker decided his time was better spent developing his music career than likely sitting on the bench during college basketball games.
Pursuing music seems to have been the right move for Cole. In 2020, he won his firsts Grammy for Best Rap Song Grammy for his collaboration with 21 Savage, "A Lot".
Cole signed a contract with a pro basketball team in Rwanda
Like many talented high school and college athletes, Cole retained the itch to get back into organized sports. Being an internationally-known musician gave Cole an opportunity that most former jocks don't have though, and now, Cole is taking advantage of these opportunities.
According to The Athletic, Cole signed a contract to play with the Patriots BBC, a Rwanda-based franchise in the newly formed Basketball Africa League (BAL). The deal allows Cole to play three to six games for the club.
The 6'3" rapper has been quarantining in Rwanda for a few days. On Sunday, May 16, Cole will suit up for his first game against the River Hoopers from Nigeria.
ESPN also reports that the Patriots were founded in 2014 and quickly dominated the Rwanda professional league. The team won every game on their way to qualifying for the inaugural BAL tournament. They face stiff completion in their group though, facing the River Hoopers, US Monastir (Tunisia), and GNBC (Madagascar). These are all talented squads.
Is J. Cole good at basketball?
RELATED: Inside Eminem's Feud With Ja Rule
Just because Cole nearly played in college doesn't mean that, at the age of 36, the rapper still has the chops to ball with real players. The fact that he earned his college callback though, and didn't only make the team because of his famous dad, Romeo Miller-style, is a good sign.
Chris Kirschner of The Athletic confirms Cole's basketball chops:
A lot of celebrities think they're good at basketball, but Cole is actually a hooper… videos over the years have shown Cole in offseason runs with NBA players, and he can hold his own out there without looking like he has no business being on the court. He has handles and a smooth jumper, so this isn't just a publicity stunt.
The BAL is a very new, low-level professional league, but several former college and NBA players will also be participating in the tournament. Cole is reaching an age where even the best professional athletes start to lose a step, but, at this level, if he has the skills he and others think he does, the rapper may be able to find success.