J-Hope Sent a Coffee Truck to the Set of Suga's Music Video for 'Daechwita' and It's Totally Friendship Goals
The BTS idols are friends both on and off the stage. That's especially true of J-Hope and Suga, who hung out on the set of Agust D's latest music video, "Daechwita." Here's what we know about these performers and J-Hope's pink-hued coffee truck surprise. 
Suga recently released new music as his alter-ego, Agust D
Sure Suga is one of the rappers and dancers in the award-winning K-pop group BTS. Outside of his work with this boyband, though, this performer releases songs under his second stage name, Agust D. During May 2020, Min Yoongi released his second "mixtape" as this artist, titled D-2. 
The main song released from this collection was "Daechwita," an edgy song complete with a dark music video. In it, Agust D portrayed multiple characters, including a king and a person with a scar across his eye. The music video, of course, caught the attention of fans, raking in millions of views in a matter of days.
It didn't take long, however, for fans to notice the cameos of two BTS members — Jin and Jungkook. They were just in the background and, as they stated during a behind the scenes video, they were just there as actor Jeon Jungkook and as actor Kim Seokjin.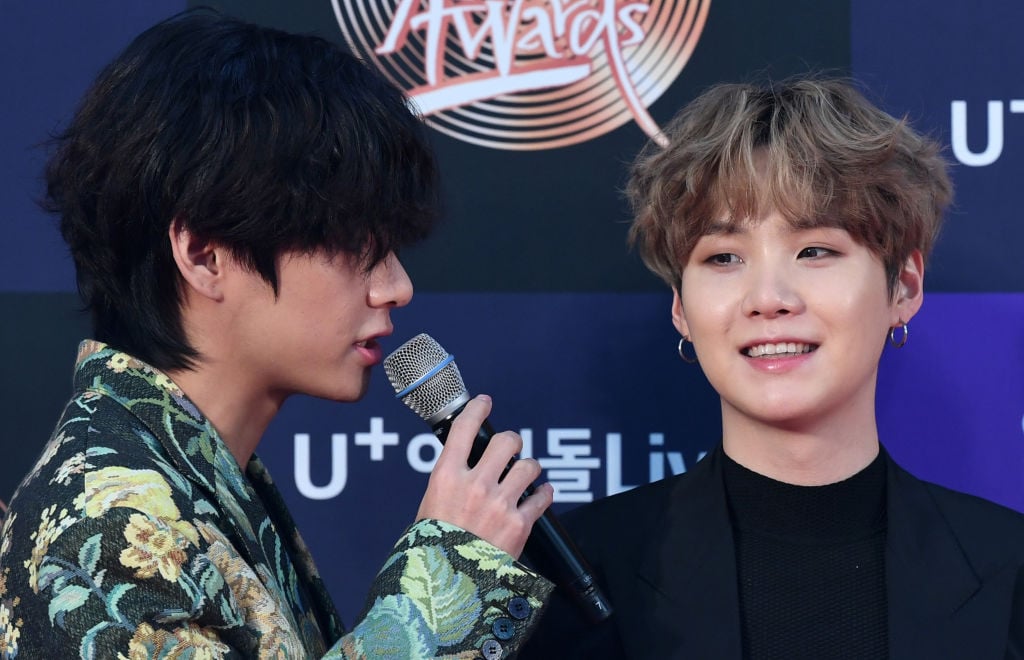 J-Hope sent a coffee and churro truck to the set of the 'Daechwita' music video
There was another BTS member who appeared to support his fellow rapper. J-Hope stopped by with his very own coffee and churro truck to help keep the crew members fueled while they filmed for "Daechwita."
In true J-Hope fashion, this pink truck and its coffee cups had supportive messages throughout. Reportedly, one of the photos shows the truck decorated with a banner that reads, "I came to boost my hyung's confidence. Min Suga jjang jjang man! Sope's maknae, Hope." 
J-Hope paid a visit to the set of 'Daechwita' to support his bandmates
This wasn't the only surprise J-Hope had for Suga and the other members of BTS involved. During a behind the scenes video for this production, fans saw J-Hope walk up to his bandmate. J-Hope noticed the cosmetic makeup surrounding Suga's eye, saying, "You look so cool! What happened to your eye?"
"I looked cooler yesterday. As long as those two [Jin and Jungkook] do well, it's done," Suga replied. As a response to J-Hope's coffee truck, Suga posted a collection of videos of him with the BTS members on set. The tweet earned over 2 million likes.
Music by BTS and by Agust D, including the song "Daechwita," is available on streaming platforms like Spotify and Apple Music. Fans can keep up with the BTS members on social media.