'Jackass' Cast Tally Up a Total of $24m Worth of Injuries During Their Careers
The cast of Jackass is no stranger to injuries. The TV show practically thrived on them. The series and the subsequent movies were hilarious, but not without their controversy. Some people believed the show encouraged dangerous behavior, while others delighted in the antics. But let's be honest, who doesn't cackle when one of your friends gets smacked to the ground with a giant hand? 
The injuries the cast sustained over the years weren't bumps and bruises, though. They were potentially life-threatening issues and they racked up quite the bill. With the final film in the franchise set to debut soon, interest in the cast has grown once again. Here are some of the injuries the cast endured and what it all cost in the end.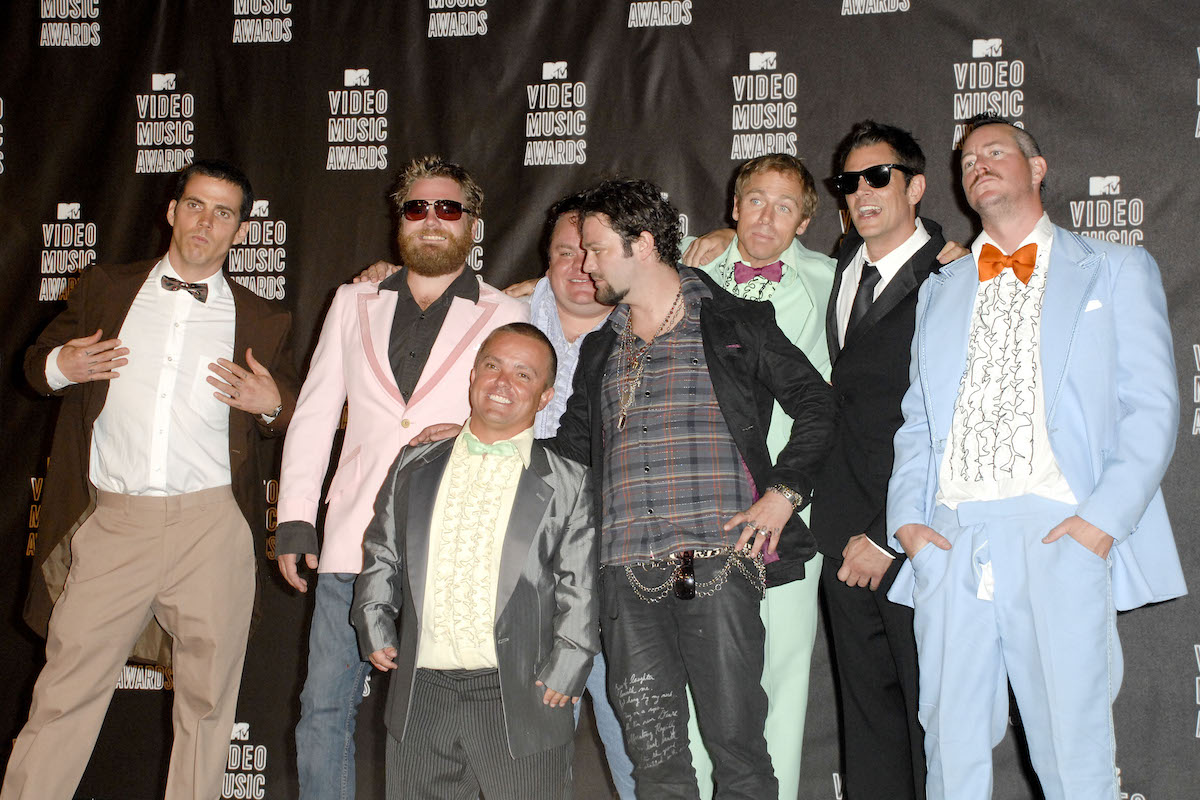 The cost of 'Jackass' injuries is astronomical 
It isn't surprising that the guys of Jackass started racking up medical bills right away, but after three years on MTV and five movies, the total is over $24 million. Johnny Knoxville, the group's ring leader, tops out with the highest bill at $8,663,000.
According to Nova Legal Funding, this is the complete list of Knoxville's injuries.
Alligator Bite – $100,000
Broken Wrist – $85,000
Brain Hemmorhage – $2,500,000
Broken Hand – $200,000
16 Concussions – $4,000,000
Crotch Injury – $120,000
Broken Ankle – $300,000
Eye Out of Socket – $75,000
Face Stitches – $30,000
Broken Ribs – $200,000
Powdered Bone – $50,000
Ruptured Finger – $250,000
Scalped Head – $150,000
Head Split Open – $500,000
Hand Stitches – $25,000
Teeth Knocked Out – $18,000
Torn Meniscus – $60,000
Ehren McGhehey is the runner-up with $7,380,000, and Steve-O follows that with $5,820,000. Over the years, more injuries were acquired, and the men seemingly went their separate ways. However, one of the original cast members, Ryan Dunn, died in 2011 in a car accident.
Why was a TV show about people getting hurt even popular?
In the early days of reality TV, almost anything went. For example, wild fights between guests on The Jerry Springer Show and VH1's Flavor of Love had people glued to their screens. These were real people, not celebrities, and therefore they didn't care to show you how they really felt about things. No publicist was running around to smooth things over, and, as a result, it was raw, and it was ugly. And of course it was addicting.
Jackass premiered in the fall of 2000. The world watched group of 10 men performed ridiculous stunts and pranks on each other in public. However, the goal was to be the most absurd out of the bunch, and they relished in it. The audience wasn't seeing trained stuntmen performing dangerous acts. No, it was a bunch of guys without a clue as to what they were doing.
'Jackass Forever' is supposedly the final film in the franchise
Knoxville and friends return to the big screen in Jackass Forever. However, not everyone is slated to come back. Bam Margera won't be returning after being fired from the film in Feb. 2021.
According to a report from TMZ earlier this year, Margera broke his contract, which resulted in his exit from the movie. "As for what he was supposed to do … our sources say there would be routine drug tests — including urine samples — plus committing to staying sober, blowing into a breathalyzer, taking his medication and seeing a psychologist while on the job. It's unclear which specific condition was the final straw."
After a delay, however, the film is finally set to premiere in 2022. I guess we'll have to check back next year to see where the final tally for injuries lands, but we have a feeling the total is going to increase.