Jada Pinkett Smith Denies Having a Romantic Relationship With August Alsina
August Alsina just confirmed what many people have said for years: that he and Jada Pinkett Smith were actually once in a romantic relationship.
The two had previously claimed that they were just friends, but their closeness spawned relentless speculation that they were more than that. Years later, August Alsina finally broke his silence, but Pinkett Smith says his story isn't true.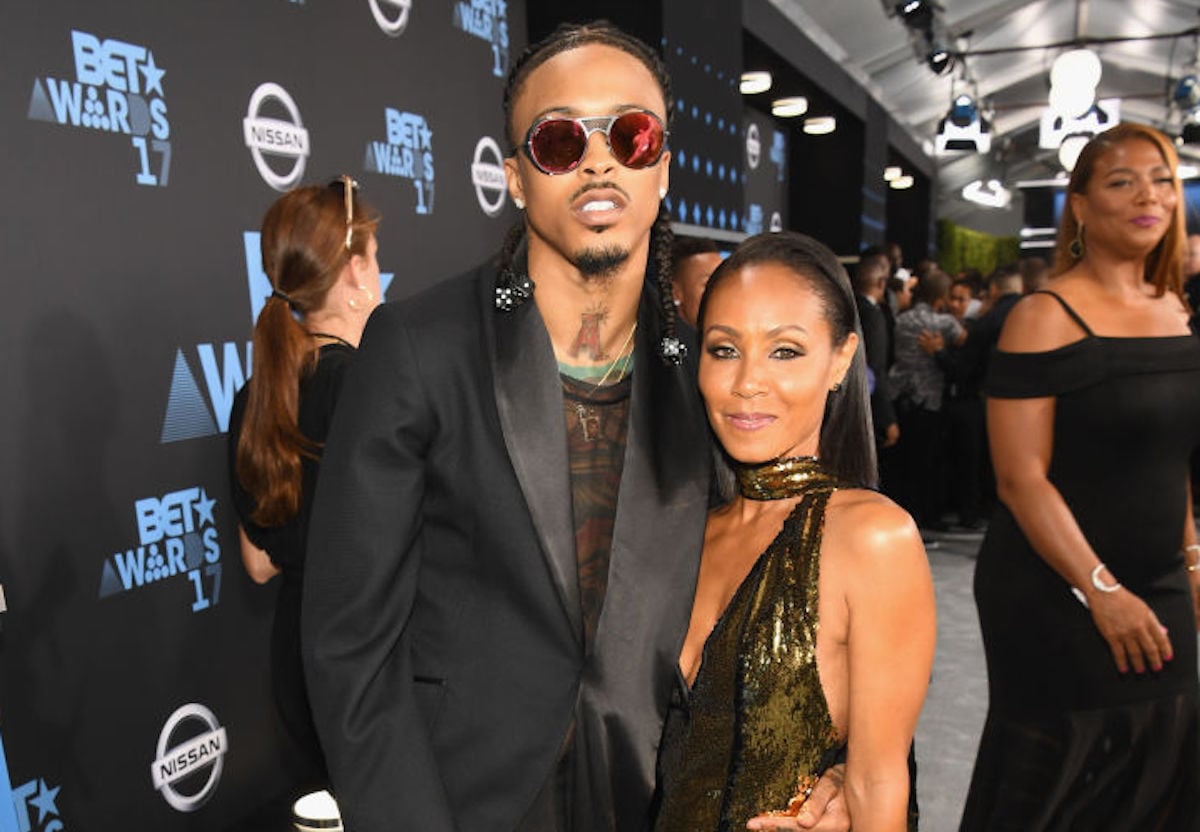 Inside August Alsina and Jada Pinkett Smith's relationship
August Alsina, 27, and Pinkett Smith, 48, met in 2015 when Jaden Smith introduced them at a festival. Over time, the "No Love" singer started spending time at the Smith home and even posed for photos with the Girls Trip star.
Their friendship immediately garnered side-eye due to longstanding rumors that Pinkett Smith has an open marriage with actor Will Smith, whom she married in 1997. But August Alsina downplayed romance rumors, suggesting she was more like a mentor who supported him while he was battling personal issues.
Still, he continued to do things that fueled the rumors. Fans started questioning the nature of their relationship again in September 2018 when August Alsina posted a birthday tribute to Pinkett Smith where he called her "an example of God's divinity" and "the Fortune in my cookie."
He also went on to drop a song in March 2019 called "Nunya" where he sings about his split from a woman named Koren, which happens to be Pinkett Smith's middle name. Though he denied it was about her, his latest comments on Pinkett Smith suggest that it could have been.
August Alsina's latest comments on Jada Pinkett Smith
After nonstop rumors, August Alsina did an interview on June 30 with Angela Yee of The Breakfast Club where he claimed that they were more than friends. However, he insisted it was not an affair, noting that Will had allegedly given him the OK to date Pinkett Smith.
"I actually sat down with Will and had a conversation due to the transformation from their marriage to life partnership that they've spoken on several times and it not involving romanticism… He gave me his blessing," he explained around the 18:00 mark, referencing a July 2018 interview where Will said he and his wife no longer view themselves married but as "life partners."
"I totally gave myself to that relationship for years of my life and I truly and really, really, deeply loved and have a ton of love for her. I devoted myself to it. I gave my full self to it — so much so to the point that I can die right now and be OK with knowing that I truly gave myself to somebody and I really loved a person. I experienced that."
Jada Pinkett Smith's response to August Alsina
Representatives for Pinkett Smith told Page Six that August Alsina's story is "absolutely not true." Pinkett Smith herself has yet to publicly address his claims. But she referred to August Alsina simply as a "dear family friend" in a 2018 interview on her Facebook Watch show, Red Table Talk.
She also said she learned he had been battling drug addiction some time after they met and that she and her family had been by his side on his journey to healing ever since. But she did not give any signal of a romantic relationship.
How to get help: In the U.S., contact the Substance Abuse and Mental Health Services Administration helpline at 1-800-662-4357.