James Arness' Real-Life Wife Played a Gypsy on 'Gunsmoke' Twice
Gunsmoke actor James Arness worked with many guest actors over the years, including his wife. The show started as a half-hour ensemble show based on the 1952 radio show. However, CBS expanded it into an hour-long adult Western that brought in guest stars to keep it interesting for audiences at home. Starting in the early years, Arness and his co-stars had the opportunity to interact with some fresh faces.
'Gunsmoke' actor James Arness married twice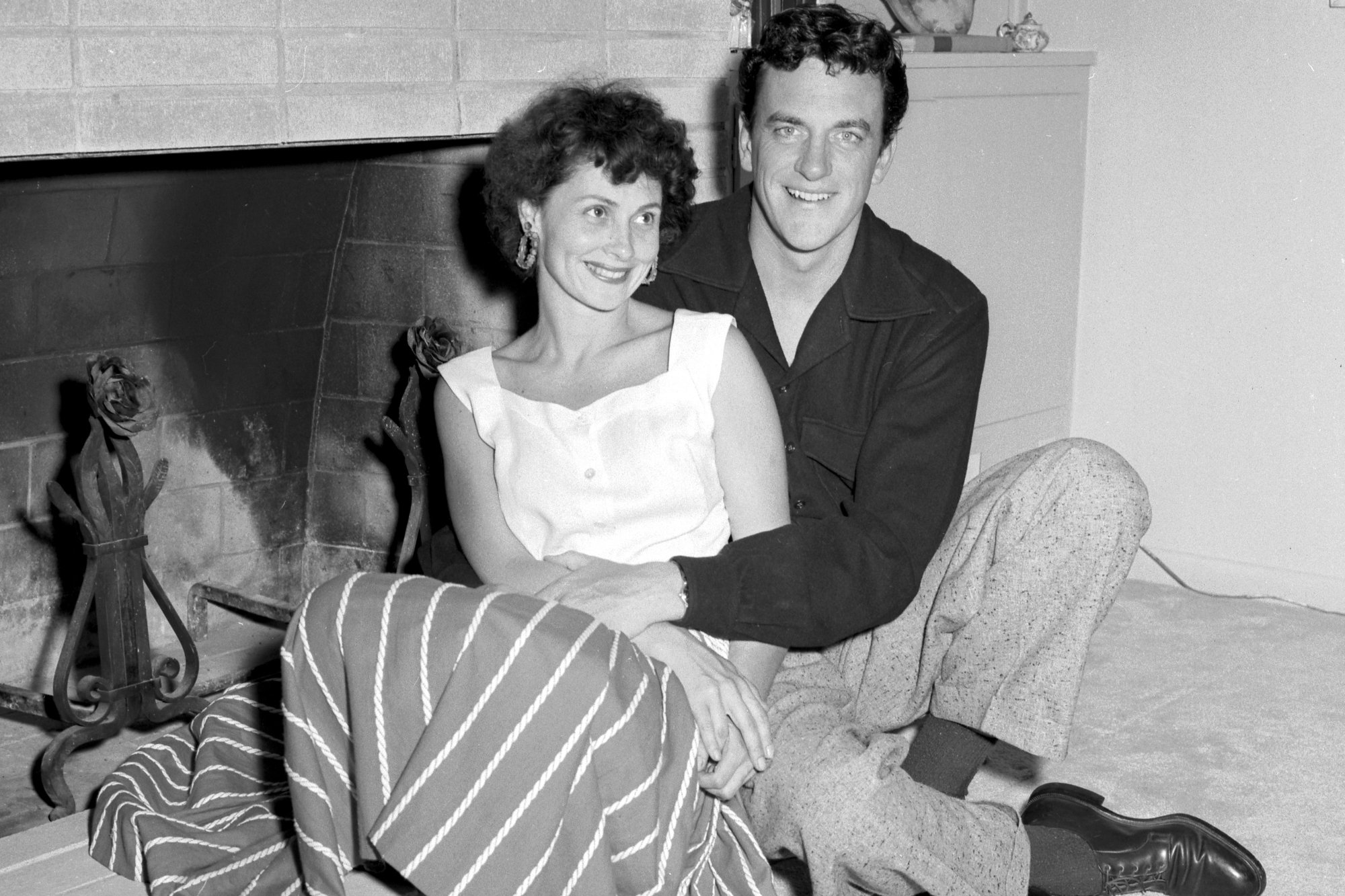 Arness originally started out in entertainment chasing movie roles in Hollywood, but he had difficulty due to his height. He stood 6'7″ tall, which intimidated many leading men who didn't want to stand alongside him in the frame. Western movie legend John Wayne was Arness' longtime friend, who ultimately recommended him for Gunsmoke. It proved to be a match made in heaven.
Arness married his first wife, Virginia Chapman, in 1948, which was 7 years before he started playing Matt Dillon. The pair divorced in 1963, leaving him with legal custody of their children. He didn't remarry for 18 whole years until Janet Surtees came along. Arness' remained with his second wife until his death in 2011.
What episode did James Arness' Matt Dillon's wife play on 'Gunsmoke?'
Arness' first wife, Chapman, starred in two Gunsmoke episodes alongside Matt. Before her appearance in the adult Western, she starred in uncredited roles in 1949's And Baby Makes Three and 1951's The Mob. Chapman had her first credited role as Nurse Helen in a 1955 episode of Medic. She had her debut on Gunsmoke in the same year before the production truly consistently embraced guest stars.
Chapman was credited as "Virginia Arness" playing a Gypsy in Gunsmoke Season 1 Episode 13 – "Reed Survives." The story follows Booth Rider (James Drury), who his employer ranch owner's wife successfully tricks. She tries to manipulate the situation to where he must kill her husband in self-defense, freeing her from him once and for all.
Arness' wife returned in 1956 for Gunsmoke Season 1 Episode 28 – "The Killer." She once again played a Gypsy, but this time went uncredited for her role. The episode tells the story of Matt, who must do whatever is necessary to put an end to a murderer's needless killing in gunfights with cowboys, farmers, and others with no chance of fighting back.
How many episodes did Matt Dillon appear in?
Arness' wife had the opportunity to see the Gunsmoke star become a household name on television. He became the most valuable asset for CBS on their most popular program at the time. Arness was one of the original cast members alongside Amanda Blake as Miss Kitty Russell, Milburn Stone as Doc Adams, and Dennis Weaver as Chester Goode.
However, Stone was the only other actor to remain on Gunsmoke for all 20 seasons. Weaver quit multiple times to pursue other projects, but it became official after his season 9 exit. Blake left after 19 seasons, initially blaming her long commute from Phoenix, Arizona, but it was later revealed that tensions with producer John Mantley were to blame.
Arness was the only Gunsmoke actor to star in all 635 episodes between 1955 and its cancelation in 1975. He also starred in all five made-for-TV movies that continued to receive the green light until the ratings slipped.