James Corden's BTS Nickname Revoked for Fanbase Joke: 'Papa Mochi No More'
Late night host James Corden's ARMY nickname is in jeopardy after he upset the BTS fanbase. Some fans thought jokes he made were offensive to the K-Pop group's fans and the group's international activism.
After the idols visited the United Nations General Assembly, Corden made some jokes about the trip. The BTS fanbase took to social media to let him know they heard him, and they weren't laughing.
Maybe a joyful ARMY will be more likely forgive Corden. Coldplay will release a new single featuring BTS in the coming days and spirits might improve then. In the meantime, take a look back at the events — and the jokes — that brought Corden to this uncertain place, starting with BTS on Carpool Karaoke.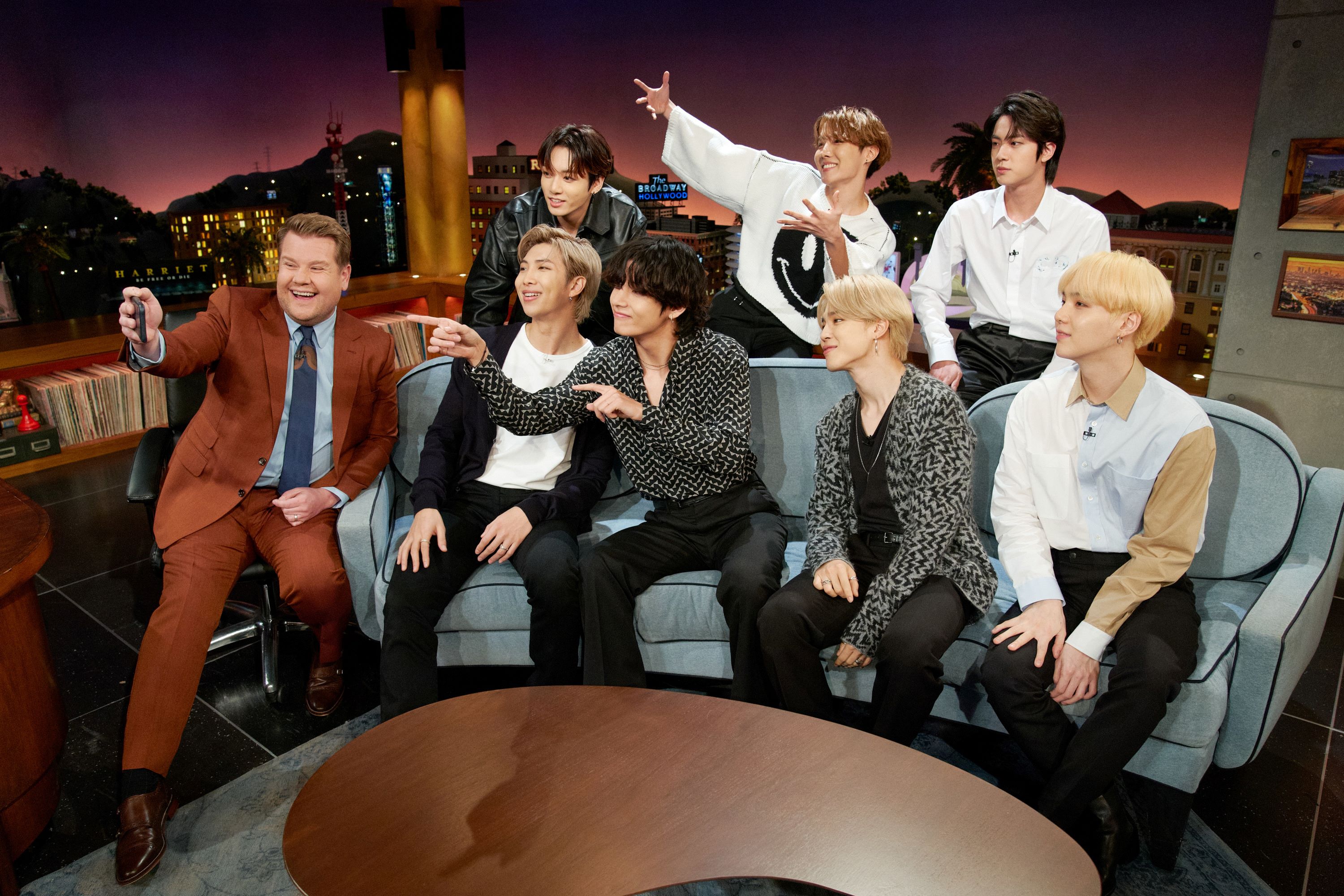 James Corden's BTS nickname came from 'Carpool Karaoke'
BTS joined Corden for an entertaining episode of Carpool Karaoke in 2020 and it seemed like a good time was had by all. The segment was so great, even Cardi B loved it!
A few of the group members shared their nicknames with Corden. Jin told him he is known as "WWH" for worldwide handsome. And there is supportive evidence for that name. V also shared a nickname fans love: "Good Boy."
But it was Jimin's nickname, "Baby Mochi," that received the most obvious attention from Corden. The late-night host outwardly gushed over the reference to a sweet treat. Jimin returned the love and eventually gave Corden his own nickname "Papa Mochi.
ARMY approved of Corden's place as "Papa Mochi" to Jimin's "Baby Mochi." The name was allowed the name to stick. But the host's more recent comments led to a revocation which Jimin himself may not be able to save him from.  
'Papa Mochi No More' trended following jokes about BTS and ARMY
BTS recently visited the U.N. and Corden upset fans when he referred to them as "pretty unusual visitors." The members are the Republic of Korea's Special Presidential Envoys for Future Generations and Culture. So, that was one strike with ARMY.
Fans also detected a common ageist misconception about the band's fanbase when Corden joked that every 15-year-old girl wished they could be at the U.N. that day. Some ARMY members expressed feeling erased by the comment, either because they fall outside of the "15-year-old girl" group or they felt the remark diminished intelligence and maturity in teenage girls.
Some ARMY members were personally offended by his statements. Others were offended on behalf of BTS members because of a word he used to describe their visit. Regardless of their individual reasons, a collective of ARMY stripped Corden of his nickname by starting a trend on Twitter.
Hence, the "Papa Mochi No More" trend on Twitter. Fans will have to wait to see if this prompts an apology — that is if Corden can be forgiven.
While BTS has yet to weigh in on their relationship status with "Papa Mochi," the debut of their collaboration with another big name in music is sure to keep fans happy.
Coldplay set to release collaboration with BTS
All jokes aside, a new Coldplay song featuring BTS called "My Universe" will debut on Sept. 24. The single is a preview of Coldplay's upcoming album — "Music of the Spheres" – scheduled for release on Oct. 15.
RELATED: BTS' J-Hope Reveals He Can Finish an Entire Bottle of Wine by Himself