James Corden's Odd New Year's Resolution – He's Not Kidding
James Corden can always be counted on to say or do something to raise eyebrows. Whether it's belting out a tune in his Carpool Karaoke that makes even Adele do a double-take, or doing improv with a Hollywood A-lister, the Into the Woods star never disappoints.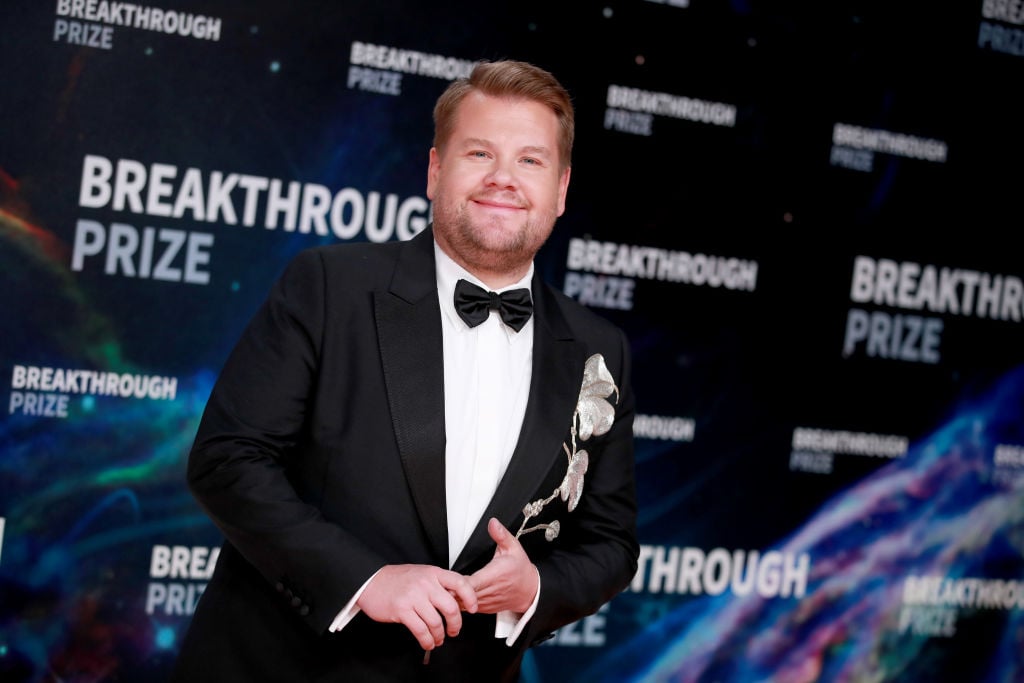 The 41-year-old just revealed one of his New Year's resolutions this week. Not only is it sweet, but it's also relatable. . . and a little odd. Find out what The Late Late Show host had to say.
James Corden's New Year's resolution
Corden opened up on his late-night show in speaking with guests The Marvelous Mrs. Maisel actress Rachel Brosnahan and RuPaul of RuPaul's Drag Race.
His resolution for 2020? To stop wearing Spanx, the body-shaping underwear, underneath his suits.
"What's the most painful clothing you wear?" became the topic of conversation between the three celebrities. Brosnahan confided that her ribs have become joined from wearing a corset for her role on the Amazon dramedy.
Meanwhile, RuPaul explained how his experience dressing in drag has involved an "intricate system of pulleys and weights" to hide evidence of his being a man.
Corden surprised both of them when he chimed in with his underwear complaints. As anyone who wears Spanx knows, the best part of wearing them is taking them off.
"I think I'm making a sacrifice wearing these Spanx," Corden blurted out. "I'm not even joking," and paused to make that point clear.
"My New Year's resolution is to try to get to a point where I do one show this year without wearing Spanx. It will be like I'm suddenly free!," the English actor declared, spreading his arms wide.
RuPaul asked a good question. "Will we know it when you're not wearing them?"
"Oh, you'll know, babe!," Corden replied. "I will shout it from the rooftops! It'll be my first-ever Instagram story."
Corden's struggle with his weight
Corden has not shied away from discussing his weight loss struggles. He told The Sun in 2018 that he's tried every diet out there, and as many dieters understand, he abandoned whatever diet he was on as soon as a tempting food came along.
"I don't know what I'm on and off now. I've been on some sort of cleanse but then I went out to this Oscar thing. And before you know it I'm eating in In-N-Out Burger," he said.
His emotional request for understanding for those who struggle with weight loss
Corden spoke out in September 2019 after talk show host Bill Maher, on his Real Time with Bill Maher, remarked that "Fat isn't a birth defect" and "Nobody comes out of the womb needing to buy two seats on the airplane." He shocked many when he stated, "Fat-shaming doesn't need to end, it needs to make a comeback."
"There's a common and insulting misconception that fat people are stupid and lazy, and we're not," Corden stated in reply to Maher on his late show. "We get it, we know. . . I've struggled my entire life trying to manage my weight and I suck at it. I've had good days and bad months. . ."
"In the meantime, Bill, while you're encouraging people to think about what goes into their mouths," Corden concluded, "just think a little harder about what comes out of yours."
Read more: James Corden Says This is The Rudest Celebrity He's Ever Met