James 'Radio' Kennedy, Who Inspired Cuba Gooding Jr. Film, Has Died
James "Radio" Kennedy, the inspiration for the 2003 movie about a mentally disabled man who is adopted by first one man, then by an entire town, has died. Kennedy was 73 years old.
Nicknamed "Radio" for his near-constant transistor radio by his ear, Kennedy and Jones' friendship lasts several decades, with Kennedy growing from a shy, neglected young man to the pride of his community.
Kennedy was portrayed in the feel-good film by Cuba Gooding Jr.
Here's what is known about his passing.
The 'Sports Illustrated' article 'Radio' is based on
The film that told Kennedy's story was based on a 1996 article by Gary Smith in Sports Illustrated entitled, Someone to Lean On.
Smith explained in the article the extent Coach Jones went to in caring for Radio.
"Coach Jones took Radio to the doctor every year, monitored Radio's diet when his blood-pressure readings and cholesterol count went through the roof and made sure his medical and dental bills were paid."
"Radio," says assistant coach Honeycutt, "would be dead by now if not for Coach Jones."
He was portrayed by Cuba Gooding Jr. in 'Radio'
Cuba Gooding Jr. played Kennedy in the 2003 true-story film about football coach Harold Jones who comes alongside Kennedy, a mentally disabled man who eventually is welcomed as a student at T.L. Hanna High School in Anderson, South Carolina.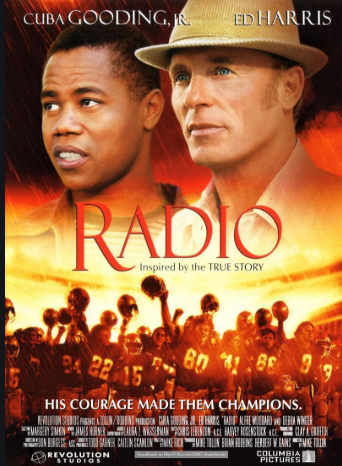 Gooding described in 2003 his experience playing Kennedy when he spoke with Harry Smith of CBS' morning show at that time, The Early Show. Gooding explained it was very important for him to be true in his portrayal of a mentally disabled person.
"Especially with his handicap. He's very animated and he's very expressive emotionally and what not, so there was the fear of going too far," Gooding explained. "It's more of a child-like innocence that I saw about him and I kind of hung on to that."
"It's so funny," he says, "because the really challenging stuff, the stuff that you have fun creating is the easiest stuff to do because you're always mentally motivated in every moment."
Gooding opened up about what he hoped the film's impact would be
At the movie's premiere, Gooding said, "There are a lot of issues that are dealt with in the film about obviously, people with disabilities. But just dispelling fears of things you don't understand. . . the fact that the real Coach Jones into the lives of these high school kids shaped their opinions of people with disabilities. . . "
"If children realized the effect of their words, maybe they'll think twice before they say certain things. There's a good family message in our movie about that."
How Kennedy died
Kennedy died on Dec. 15, apparently from complications of diabetes.
His dear friend, Coach Harold Jones, confirmed that Kennedy had been treated earlier this month for pancreatitis, as well as ongoing diabetes and kidney issues.
TMZ reported that Kennedy had been ill and in the hospital for quite a while. He had been recently moved to a hospice facility.
Jones told TMZ, "He was just a fine man. We all loved him. We will miss him incredibly."
Radio was inducted into T.L. Hanna's Athletic Hall of Fame in 2016.
Kyle Newton, a spokesman for Anderson School District 5, said in a statement this morning, "Radio was the heart and soul of T.L. Hanna for over 50 years, and the impact he made in our community can't be overstated. He will be missed, but his legacy will live on in the countless lives he touched."