James Spader Took This Star From 'The Blacklist' Under His Wing Proving He's Just as Charming as 'Red'
The success of NBC's The Blacklist is largely due to its main man, James Spader. As the FBI's Most Wanted fugitive, Spader's Raymond "Red" Reddington is equal parts intimidating criminal mastermind and charmer. For a Hollywood icon, a reputation typically precedes. Spader's reputation, however, is a little more complicated. While some think the star is intimidating, there's one fellow Blacklister who sings his praises.
Former costars are intimidated by James Spader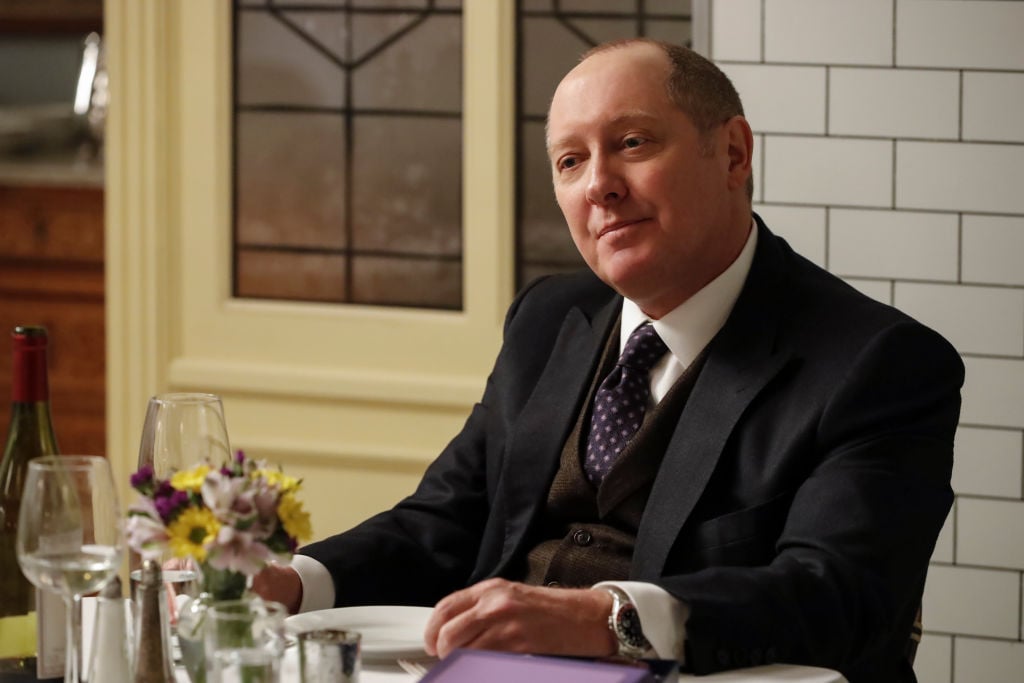 RELATED: 'The Blacklist' Season 8 Fans Still Think This Old Reddington Theory Holds Up
When you've had the kind of success that Spader's had over the last few decades, it's no wonder some feel a sense of fear when he walks into a room. Known for hits like Pretty in Pink, The Practice, and Boston Legal, Spader's performance on The Blacklist is par for the course. Some of the star's former costars previously revealed how they really felt about working with the icon.
"He's intimidating," Creed Bratton of The Office told E! News in 2011. "But Creed has been around a very long time, and he probably has a dead guy in the trunk of his car, so Creed won't be too scared for long. Personally, I think Creed should stick around as the boss because who would have the nerve to fire him?"
Ellie Kemper, who played Erin Hannon also feared Spader and his portrayal of the elusive Robert California. "I just hope he's not disappointed in me personally," she said while Brian Baumgarner described him as "terrifying."
Spader also left an impression among his Avengers: Age of Ultron costars. Captain America's Chris Evans deemed Spader "intimidating during the 2014 San Diego Comic-Con.
"Have you met him? Just having a conversation with the guy, I mean, it feels like he's looking into your soul," Evans said. "He's just a very present person and he has a beautiful speech pattern and he's kind of perfect for a Marvel villain."
It's clear Spader has a way about him. One star from The Blacklist is singing his praises.
Spader helped a newcomer on 'The Blacklist'
RELATED: 'The Blacklist' Fans Have a Devastating Theory About a Major Character and Yes — This One Hurts
Spader has worked with a lot of people over the years but it's The Blacklist partner Hisham Tawfiq that credits him with getting the role of Dembe Zuma.
"For my first time on set, I was with James Spader," Tawfiq said in a 2016 interview with Niagara Frontier Publications. "I give him all the praises because he went out of his way to really talk to me about who I was personally. And then after we talked for an hour about who I was personally my outside interests, do I have family, kids; after that, then we talked about this character, who I then found out was requested by him."
He went on to explain that the pilot — which he wasn't in — had already been shot when Spader requested a bodyguard of some sort because it didn't make sense for Red to run around town alone.
"So he told me about a celebrity friend of his who had a bodyguard who wasn't big, muscular, anything, but just had this quiet demeanor that everyone knew that, if you messed with his client, that all hell was going to break loose," Tawfiq explained.
"We had that conversation early on. From then on, James always greeted me and spoke about my weekend or my day. At the time, I was still working as a firefighter (for NYFD). He was very much interested in how was my work week because I built a lot of hours in during the weekend so I could shoot during the week."
From the sound of it, Spader was anything but intimidating when getting to know Tawfiq. If anything, that charm and dedication to their working relationship are why the show is still going strong.
'The Blacklist' star doesn't think many know him at all
RELATED: 'The Blacklist': Here's Why Fans Think Liz Keen's Demise Is Inevitable
All the titles aren't lost on Spader. It wasn't long ago Rolling Stone deemed him "The Strangest Man on TV."
"I don't put a tremendous amount of stock in magazine profiles," he told National Post in 2014. "And I don't know somebody after talking to them for a couple of hours. I think one grows into one's own idiosyncrasies. They change and evolve over time and you try to dispense with those that hold you still and try and nurture those that keep you moving forward and growing."
He continued: "I think you carry into the room with you those attributes of a character that are accessible to you and try to fill in the empty spaces."
In doing exactly that, Spader — along with Tawfiq and costars — keeps The Blacklist in one of the network's top spots proving his idiosyncrasies are something to be admired — not feared.
The Blacklist airs Friday at 8:00 p.m. ET on NBC.