Jane Fonda Just Revealed the Best Kiss She's Ever Had
Jane Fonda is one of the most iconic and beloved actors of our generation. She has defied ageism in Hollywood and continues to be an activist and sex symbol. The Grace and Frankie actor has always been outspoken and bold. Never one to bite her tongue, she's been candid about her past relationships and personal experiences in Hollywood.
Fonda has revealed details about her romance with Donald Sutherland and why she regretted turning down an affair with the late Marvin Gaye. Though she's starred in countless movies and TV shows across the generations, Fonda still remembers the best kiss she ever had like it was yesterday.
The kiss that swept the 9 to 5 actor off of her feet was not what you might expect.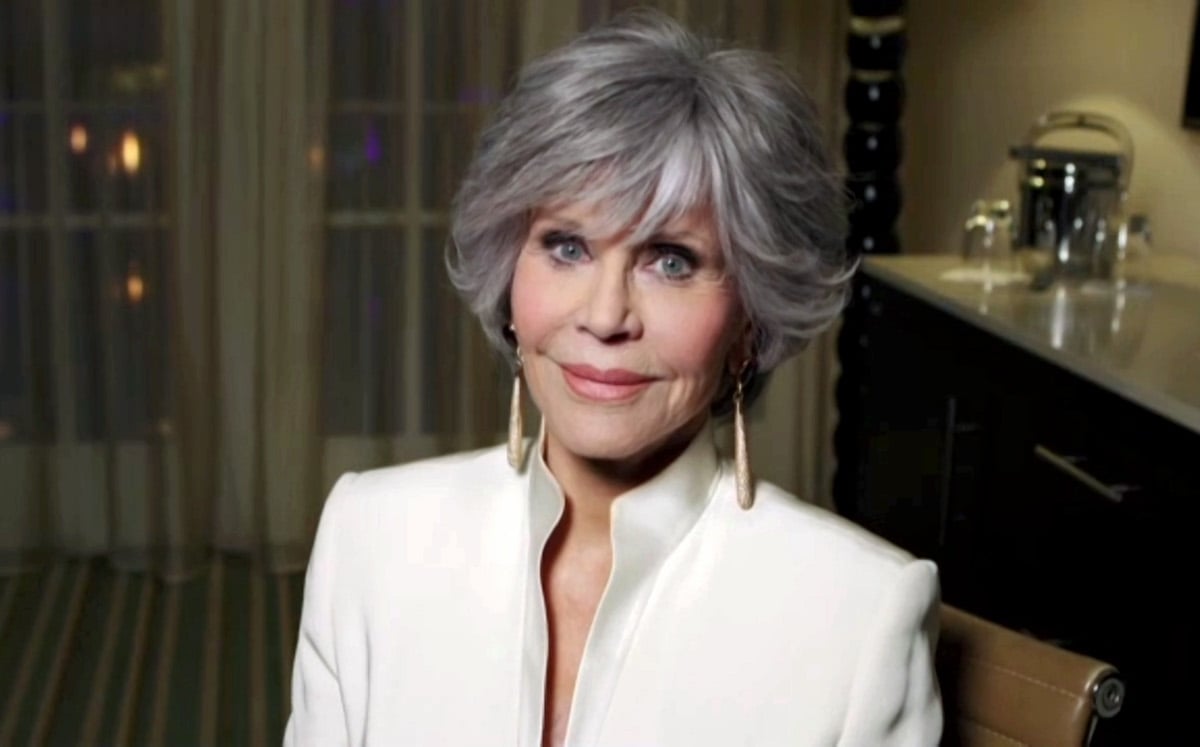 Jane Fonda has been married three times
At age 83, Fonda has spent the majority of her life in relationships. From sultry affairs to her three marriages, there has rarely been a time when the Monster-In-Law actor has been single. Fonda married French screenwriter, film director, and producer Roger Vadim in 1965, and the pair remained married until 1973.
The same year her marriage to Vadim ended, Fonda and anti-war activist Tom Hayden tied the knot. They remained married for 17 years until 1990. The next year, Fonda married cable-television tycoon and CNN founder Ted Turner. The duo remained married until 2001.
Fonda has said that she used to find validation in herself through men. As a result, she's been unable to have a successful relationship. "I'll tell you something that I haven't achieved, which is a successful marriage," she told Page Six.
RELATED: Jane Fonda Reveals That One of Her Biggest Regrets Was Not Hooking up With This Motown Legend
Jane Fonda says she has no interest in being in a relationship again
Though she has dated since her last marraige, Fonda has been single since 2017, and she says she has no interest in getting romantic with anyone ever again. "I don't have time," she told the New York Times in 2020. "I am fully complete with me and my children and my grandchildren and my friends. I don't want any more romance. I don't have time for it."
However, Fonda does say that she wishes she could've been better at marriage. "Maybe I was afraid of having a marriage work. I don't know … It's beautiful when it works, when people grow together and are together for an entire lifetime," she told Page Six. "How wonderful. I wish that I could have experienced that."
Jane Fonda just revealed the best kiss she's ever had
While Fonda is content being a single lady, she still vividly remembers the best kiss she's ever had. Though she's had tons of kisses with some of Hollywood's leading men, her best kiss ever happened off-screen with Mr. Novak star James Franciscus.
The kiss happened over one summer in  Hyannis Port, Maine. "He walked me out to the end of a pier and he kissed me," Fonda recalled on The Tonight Show Starring Jimmy Fallon. "The stars began to whirl and the pier began to shake, and my knees gave way and I slid down to a pile at his feet."
To this day, the kiss is vivid in Fonda's memory.  "I never had a kiss like that ever since," she said.