Jane Powell, Star of MGM Musicals, Dies at 92
Movie musical star Jane Powell died at her home in Wilton, Conn. Sept. 16 at age 92. She became a teen star appearing in many musicals, including the classic 1954 Seven Brides for Seven Brothers. Powell's lyrical soprano voice made her an ideal choice for movie musicals in the 1940s and 1950s. According to the New York Times, Powell's friend, Susan Granger, confirmed her death.
Jane Powell's early success in Hollywood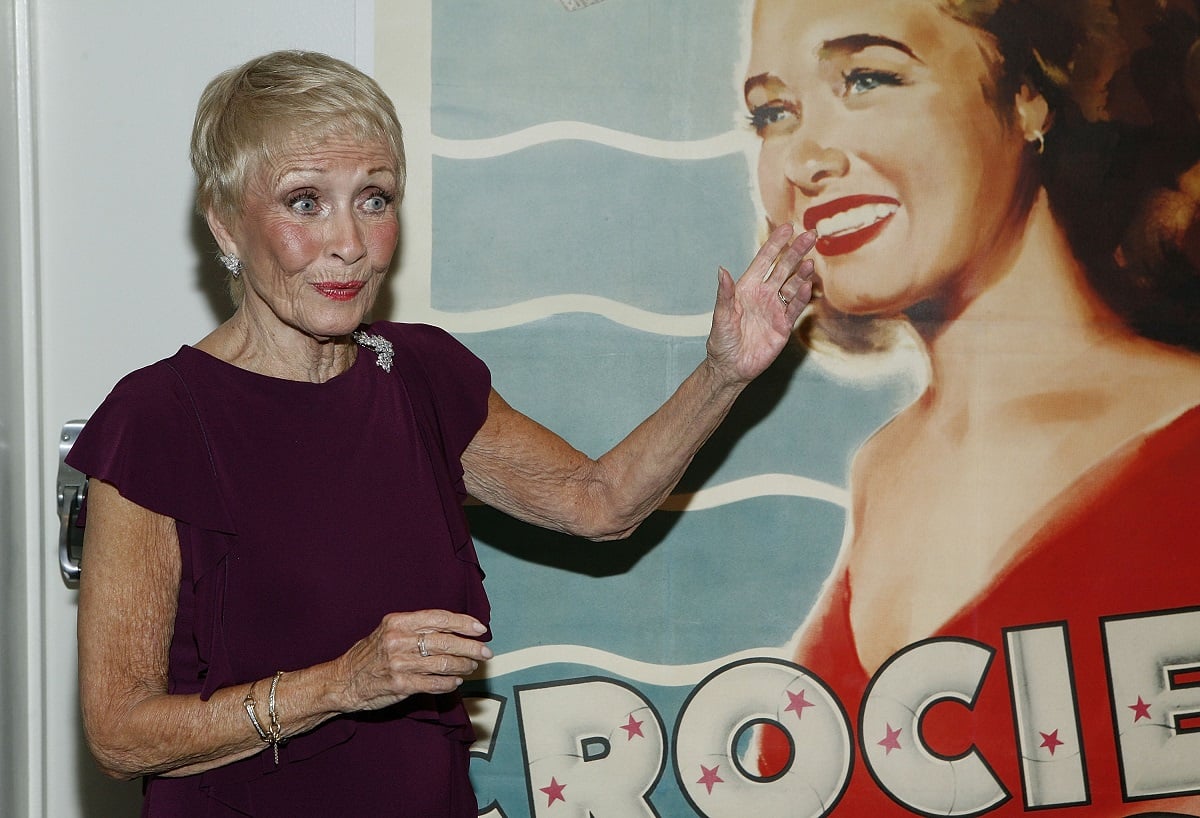 Born Suzanne Lorraine Burce on April 1, 1929, Powell was an only child taking singing and dancing lessons at an early age. She appeared on the radio while being groomed as the next Shirley Temple, who was the biggest child actor at the time. At age 14, her parents drove her to Hollywood to audition for Louis B. Mayer at MGM.
Powell signed a seven-year contract with MGM. In 1944, she starred in Song of the Open Road playing a young film star who runs away from home and ends up part of a group of young people picking crops during the war.
Ironically, Powell played a character named Jane Powell, which she then adopted when the film was released. She became a star at the tender age of 15, appearing in several musicals for MGM. A couple of her early films featured pianist Jose Iturbi and bandleader Xavier Cugat. In Holiday in Mexico, Powell played the daughter of an American ambassador while in Luxury Liner she was a stowaway on a cruise ship.
Jane Powell transitions into adult roles
In 1951, Powell joined Fred Astaire as a brother-sister entertaining act for her first adult role in Stanley Donen's Royal Wedding. A last-minute replacement for Judy Garland, Powell had little time to learn the vaudeville-style dance routines. Powell continued to play the girl next door in Rich, Young and Pretty (1951) and Three Sailors and a Girl (1953).
Although her career seemed to be gaining track, Powell found herself being typecast in the same kind of musical roles. Despite some early success, Powell struggled with fame and the pressure of Hollywood. "I should have been the happiest girl in the world," said Powell. "Well, I wasn't."
Peaking with the musical classic 'Seven Brides for Seven Brothers'
Considered one of the greatest musicals of all time, Seven Brides for Seven Brothers (1954) featured Powell co-starring with Howard Keel as newlyweds in a pioneer community. Directed by Donen, the movie featured choreography by Michael Kidd. "(It was) my last really wonderful role in a film," said Powell.
Powell made a couple of other musicals, Hit the Deck (1955) and The Girl Most Likely (1958), but musicals were waning in popularity. "I didn't quit movies," she said. "They quit me."
In 1958, she made two dramas, The Female Animal and Enchanted Island before transitioning to television.
Jane Powell's career on television and stage and writing her autobiography
Powell made a TV pilot, The Jane Powell Show, in 1961 but it was not picked up by the networks. She did appear on several dramatic series and variety shows until the late 1980s when she played Alan Thicke's mother on the sitcom Growing Pains. In 2002, Powell's made her final TV appearance on an episode of Law & Order: Special Victims Unit. She also appeared on stage, including musicals such as My Fair Lady, The Sound of Music, and Irene.
Powell wrote an autobiography, "The Girl Next Door and How She Grew" in 1988. In it, she discusses how success in Hollywood made for a lonely childhood. "Sometimes I just wanted to run away from it all," she wrote. Looking back at her career, Powell wrote "I get angry when I hear other actors blame the studios for all their problems."
"It really bothered me when Judy Garland used to say, 'The studio made me do this, the studio made me do that," said Powell. "Nobody makes you do anything. You make your own choices."
Powell was married five times and had a son, Geary Anthony Steffen III, and two daughters, Suzanne Steffen and Lindsay Cavalli. In 1988, she married Dick Moore, who had also been a child actor.
RELATED: What Was Jane Powell's Net Worth? How Many Spouses Did She Have?