January Jones Avoids Stylists for a Relatable Reason
Stylists are a huge part of celebrities and pop culture. Many A-listers rely on the professional help of stylists to choose their looks for events. However, a select group of actors like going with their gut when walking the carpet or being out and about, and January Jones falls into that category. Jones once revealed her relatable reasons for avoiding stylists.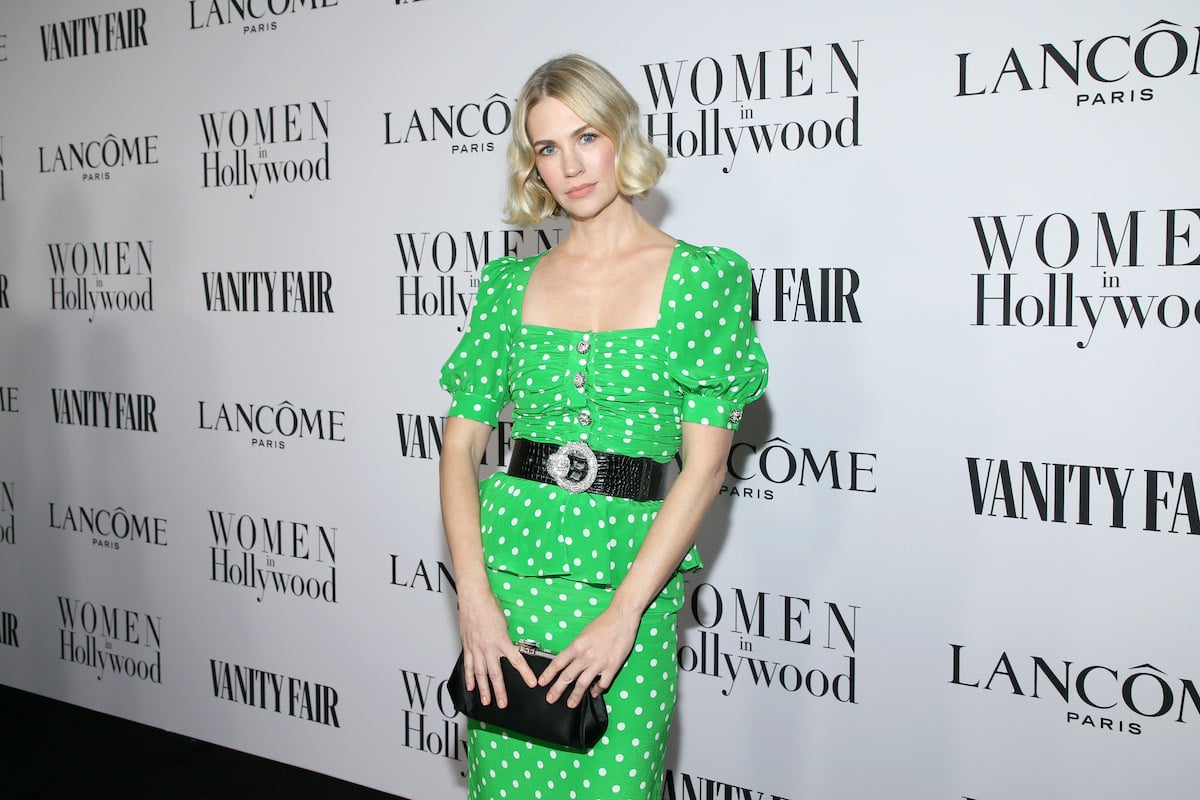 Why January Jones doesn't have a stylist
Many celebrities usually prefer having some help with their wardrobe, especially when walking down red carpets. However, Jones doesn't see the need to have a stylist at hand for a very relatable reason.
In a conversation with Versace's Donatella Versace in 2009 for Elle Magazine, the two talked about fashion. The interview opened with Versace commending the actor for her Golden Globes fit but noting that the dress lacked a belt.
Jones asserted that she wasn't aware the dress had a belt before Versace assured her that she was probably the only one who noticed. Jones revealed that she had been going over different dresses online and wanted to wear the outfit for a while.
Versace lauded her decision to not work with a stylist, and Jones chimed in, saying, "I don't like the idea of paying people to tell me that something looks good. If I don't feel it myself, why would I wear it?"
Jones noted that her fashion choices all boil down to instinct, saying it all "comes down to what feels right," likening it to her choosing her projects.
Other celebrities who don't have stylists
Jones isn't the only celebrity who doesn't see the need for a stylist. Shameless actor Emmy Rossum said she doesn't use a stylist because she loves fashion and "playing with clothes." Rossum shared that she emails designers on her own, picks what she would like to wear, and sends it back once she's done.
Blake Lively has shown a great fashion sense since her Gossip Girl days, and as it turns out, it's all her. The actor revealed that she has too big of an ego and "control issues" to allow someone else to style her.
Other celebrities who don't work with stylists include Eryka Badu, Diane Kruger, Taylor Momsen, and Kate Moss.
January Jones is best known for 'Mad Men'
Jones' career began in 2003 when she landed a supporting role in Anger Management. She had more guest stints in movies like Love Actually and Dirty Dancing: Havana Nights. During the early stages of her career, Jones played the wife role, including in The Three Burials of Melquiades Estrada and We Are Marshall.
Her first lead role came in Love's Enduring Promise, where she played a woman falling in love with an enigmatic man who saves her father's life. Jones' most famous role came when she appeared in the TV series Mad Men alongside Jon Hamm. Jones played a young housewife and mother, Betty Draper, living in the suburbs.
Her performance in the AMC series earned her an Emmy nod and two Golden Globe nominations. She is also known for her part in American Wedding, where she played Cadence Flaherty. She appeared in Law & Order for one episode as a con artist who frustrates Michael Cutter's efforts.
2011 saw Jones appearing in two thriller movies, Unknown and Seeking Justice. She also appeared in X-Men: First Class as Emma Frost that same year. Jones became part of the cast of The Politician in 2019, playing a wealthy but bored housewife Lizbeth Sloan. She also became a cast member on Spinning Out, playing a single mother and a former figure skater. The series ended after one season.
Jones has done modeling working for Versace, Abercrombie & Fitch and graced the covers for major publications like Marie Claire, Town & Country, Harper's Bazaar, and Glamour.