Jason Alexander Calls His 'Seinfeld' Costar Jerry Stiller 'the Kindest Man'
Seinfeld star and comedian Jerry Stiller had died at age 92. His son, actor Ben Stiller, announced his father's passing on Twitter. 
"I'm sad to say that my father, Jerry Stiller, passed away from natural causes," the Zoolander star wrote. "He was a great dad and grandfather, and the most dedicated husband to Anne for about 62 years. He will be greatly missed. Love you Dad."
Stiller's showbiz career began in the 1950s, when he and his wife Anne Meara were part of a popular comedy duo. But to today's audiences, he is best known for his work on NBC's hit "show about nothing," where he played George Costanza's (Jason Alexander) volatile and eccentric father Frank Costanza. 
Jason Alexander remembers Jerry Stiller  
Seinfeld ended its run more than 20 years ago. But Alexander remained close with the man who played his onscreen father. 
"Such sad news that my beloved friend, Jerry Stiller, has passed," the actor tweeted. "He was perhaps the kindest man I ever had the honor to work beside. He made me laugh when I was a child and every day I was with him. A great actor, a great man, a lovely friend. #RIPJerryStiller I Love you."
"I adored this man," he added in a follow-up tweet that was accompanied by a picture of the two performers together. 
Jerry Stiller initially turned down a role on 'Seinfeld' 
Stiller appeared in just over 25 of Seinfeld's 180 episodes. George's irascible father didn't even make his first appearance until the show's fourth season. But he became one the series' most beloved and memorable characters with his cries of "Serenity now!" and invention of a new Christmas-adjacent holiday he dubbed Festivus.
But Stiller's version of Frank almost never happened. The actor initially passed on the role when producers approached him about it, he explained in an interview. He wasn't familiar with the show, he said, and was busy with another project.
"They said they want you to play the father of George Costanza on Seinfeld, and I said, 'Who's Seinfeld?'" Stiller said. "They said it is a very funny show and it is on the air right now. And I said, 'Well, I am in a Broadway show. I am about to rehearse. I pass. [They said] 'What?!' I pass. I don't want to do it."
As a result, John Randolph was cast as Frank. He appeared in one episode, but things didn't quite click. Seinfeld creator Larry David reached out again to Stiller, and this time, he convinced him to give the show a chance. 
Stiller said he has a 'wonderful' relationship with his 'Seinfeld' costars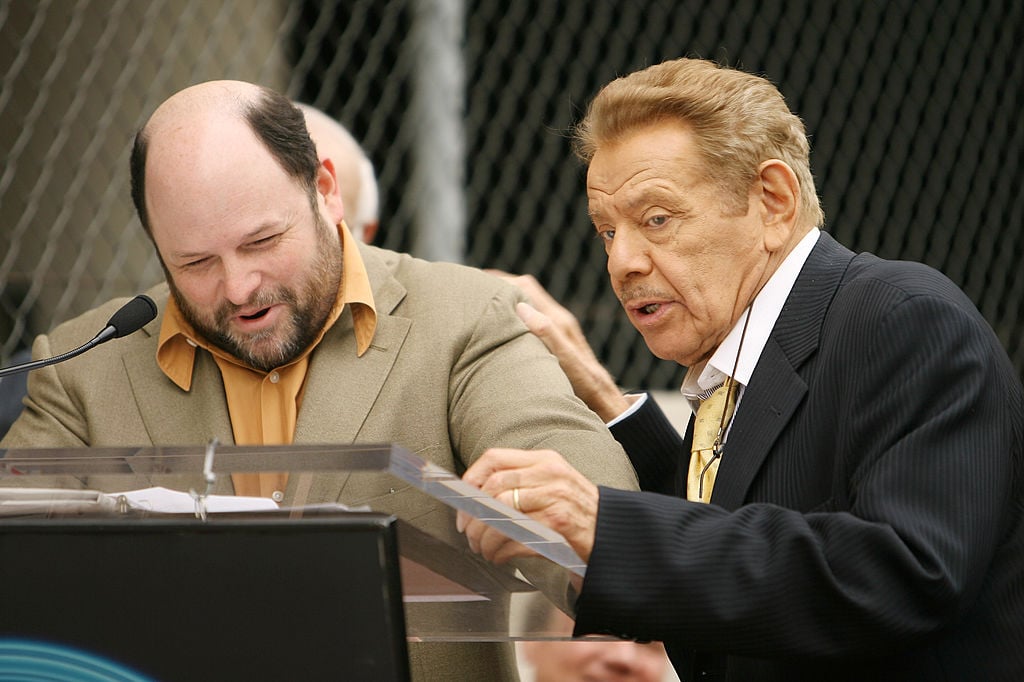 When Stiller initially joined the Seinfeld cast, David asked him to play Frank as a more subdued character opposite his outspoken and loud wife Estelle (Estelle Harris). But the actor soon realized that approach wouldn't work. When she screamed at him, he decided to yell right back. Everyone loved it. 
"Everybody starts laughing and David said, 'Jerry, keep it that way,' he recalled. "And that was the beginning of Frank Costanza. We established the character."
"The relationship between myself and Estelle and Jason and Michael Richards and Julia Louis-Dreyfus, it all blew up in such a wonderful way … and that was one of the reasons I think that the show was successful," he added. "We weren't thinking about the next line. We were just listening to each other."