Jason Sudeikis 'Would Never Condone' the Way Olivia Wilde Received Custody Papers
After reports suggested Jason Sudeikis served his ex, Olivia Wilde, with custody papers while she spoke at an event, his team claimed he had "no prior knowledge" of when and where the papers would be served.
Ted Lasso star Jason Sudeikis and Don't Worry Darling director Olivia Wilde co-parent two young children after splitting in 2020. And as Wilde gave a presentation about her movie on the CinemaCon stage on Apr. 28, 2022, an unidentified individual presented her with an envelope containing custody papers on behalf of her actor ex.
After reports emerged suggesting Sudeikis was behind the somewhat awkward distraction from Wilde's big moment, his team went public to say he "would never condone" such a tactic.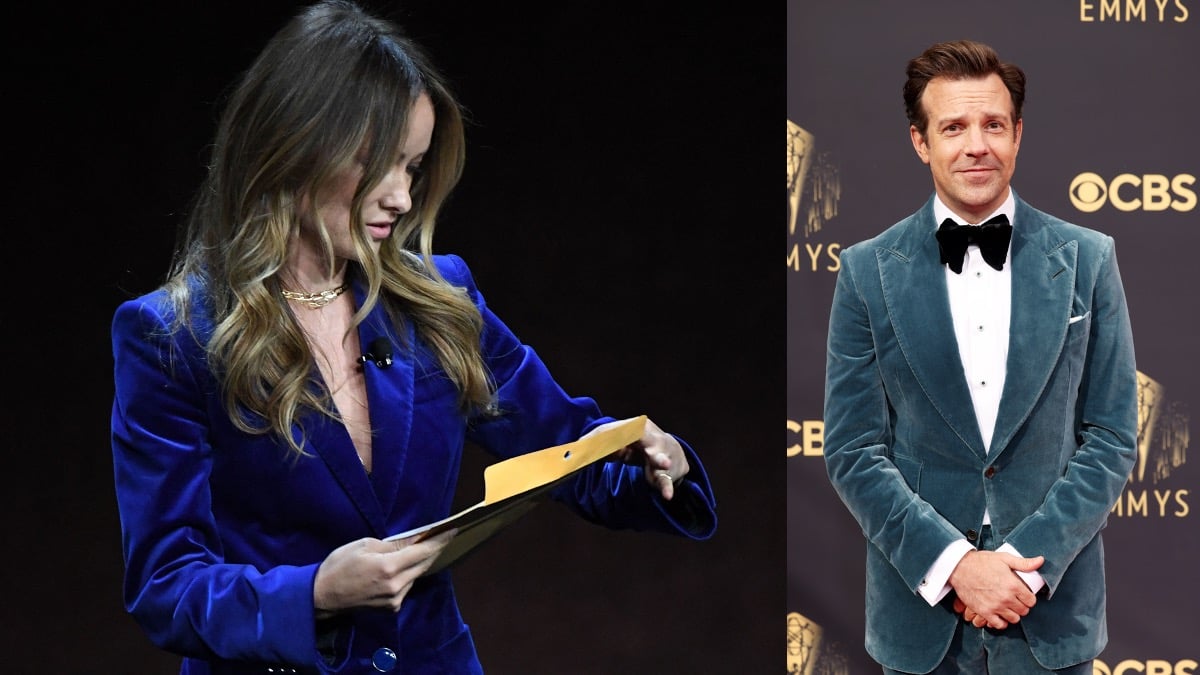 Jason Sudeikis disputed Olivia Wilde's timeline for their split before serving her with custody papers
In 2020, news trickled out that Wilde cast Harry Styles as a lead in Don't Worry Darling and had privately split from Sudeikis earlier in the year. Soon after, rumors began swirling that Wilde was dating the singing superstar.
Those initial reports suggested the formerly engaged couple broke up amicably long before Styles ever came into the picture. But Sudeikis later gave a different timeline of events, saying the split happened in November 2020 — around the time it was reported and not earlier that year.
Notably, Wilde fired Shia LaBeouf and brought Styles in to fill his role in September 2020. Sources claimed a "close friendship" between the director and the star "quickly turned romantic" on the movie's set (per People.) In January 2021, the new couple went public by holding hands at a wedding. Fans spotted them cuddling at Coachella.
An unknown individual approached Olivia Wilde with custody papers from Jason Sudeikis as she stood on the CinemaCon stage
Wilde was approached by an individual with an envelope marked "Personal and Confidential" while she was presenting the steamy movie starring Styles and Florence Pugh at CinemaCon. While some initial reports suggested it was an unsolicited script, it was later confirmed that the envelope contained legal papers pertaining to custody of the two children she shares with Sudeikis.
But the Ted Lasso star denied having prior knowledge as to when she would be served and called the display "inappropriate."
"Papers were drawn up to establish jurisdiction relating to the children of Ms. Wilde and Mr. Sudeikis," an insider told The Hollywood Reporter. "Mr. Sudeikis had no prior knowledge of the time or place that the envelope would have been delivered, as this would solely be up to the process service company involved, and he would never condone her being served in such an inappropriate manner."
Olivia Wilde said she's happier than she's ever been before she received custody papers
In a December 2021 interview with Vogue, Wilde claimed she's now living her best life. Of course, one of the pitfalls of dating a beloved pop star is the animosity from strangers that comes with the territory.
Though she said it's sometimes "really tempting to correct a false narrative," she concluded, "… When you're really happy, it doesn't matter what strangers think about you."
"I'm happier than I've ever been. And I'm healthier than I've ever been," she declared, "and it's just wonderful to feel that."