Why Jason Sudeikis Wasn't Behind Olivia Wilde Getting Served During CinemaCon
Jason Sudeikis and ex Olivia Wilde are embroiled in a custody battle, but Sudeikis wasn't behind Wilde getting served at CinemaCon.
Jason Sudeikis and Olivia Wilde were a couple for years, long enough to have two children together and get engaged. The relationship came to a rocky end in 2020, and the custody battle for their children is ongoing. The latest salvo was Wilde getting served legal papers at CinemaCon while promoting Don't Worry Darling, her second feature-length directorial effort. Though the timing was terrible and embarrassing for Wilde, Sudeikis wasn't behind it.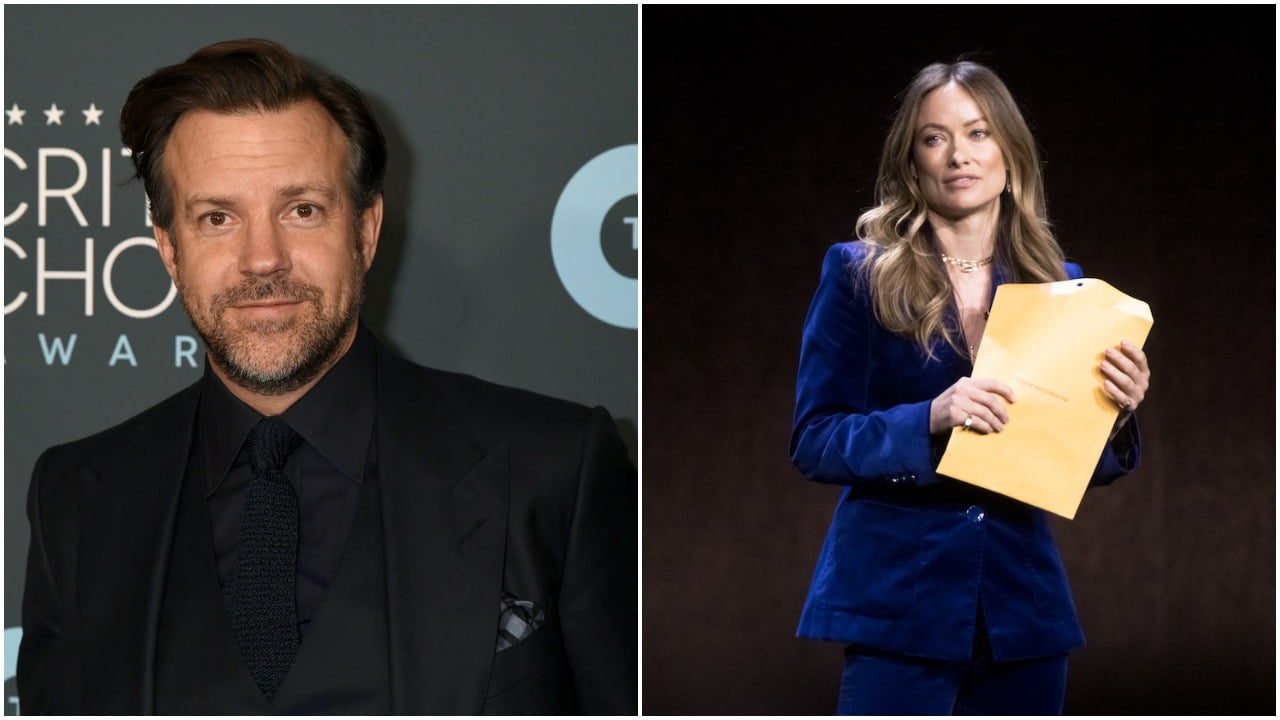 Olivia Wilde served during CinemaCon as custody feud with ex Jason Sudeikis continues
News trickled out in 2020 that Wilde cast Harry Styles as a lead in Don't Worry Darling. Not only that, but the rumor was she was dating the superstar singer after quietly splitting from Sudeikis earlier that year. 
However, Sudeikis later said the split happened in November 2020 — around the time the news broke and not earlier that year.
Fast forward to April 2022. 
Wilde got served legal papers while on stage promoting Don't Worry Darling at CinemaCon in Las Vegas, months ahead of the movie's planned September 2022 release. An unidentified woman slid a manilla envelope labeled "personal and confidential" across the stage toward Wilde. She picked it up, glanced inside, and calmly continued her presentation. The envelope contained custody documents from Sudeikis for their children, Otis and Daisy.
The papers came from Sudeikis, but there's almost no way he orchestrated the delivery at that precise moment.
Sudeikis wasn't behind Wilde being served papers so publicly
We already know Sudeikis doesn't condone the method in which Wilde was served. That might be true, or it might be a cover, but it's almost guaranteed Sudeikis wasn't behind Wilde's CinemaCon moment being ruined.
First, delivering legal papers isn't the same as making a salon appointment. You don't get to choose the date and time. 
Also, process servers typically deliver documents discreetly at a home or office. Shoving an envelope in the direction of the person being served isn't how it's usually done.
Also, it's a legal proceeding, so lawyers, clerks, judges, and a process serving company are involved. Sudeikis orchestrating such a humiliatingly specific time to serve Wilde, or his lawyers doing so, would be extremely challenging. 
Additionally, Sudeikis is busy shooting Season 3 of Ted Lasso in Europe. Even if he were vindictive and spiteful enough to want to serve Wilde at that specific moment, finding the time to orchestrate it amid a busy shooting schedule and with several hours time difference ahead of the U.S. would be challenging. 
Perhaps most importantly, there are specific rules for serving papers. If Sudeikis or his legal team instructed the process serving company to break those rules, and it was proven in court, it could harm his chances of earning custody of his and Wilde's children, which defeats the whole purpose of filing custody papers.
California rules for serving court papers are somewhat relaxed
If the custody proceedings are taking place in California, then the server would have to follow the guidelines for personal service under California's service of court papers guidelines:
The server gives the papers to the party being served. It can be at the party's home, work, or anywhere on the street.
The server has to identify the party being served, hand them the legal papers, and inform them they are court papers. If the party being served does not want to take the papers, they can be left on the ground in front of him or her … The person being served does not have to sign anything.
California rules allow for a little leeway in delivering papers, so serving Wilde by leaving the envelope on stage is permissible under state law. Nevada is a little different.
The process server company might have broken Nevada rules
Specific rules for delivering legal documents need to be followed. The way Wilde got served at CinemaCon might have broken the rules.
CinemaCon took place in Las Vegas. Nevada rules of civil procedure section 5.b.2. states that court documents are delivered by:
Handing them to the person;
Leaving them, at a known office with a clerk, in a conspicuous place at a place of work, or their residence;
Mailing them to the person's last known address;
Leaving them with the court clerk if there is no known address;
Delivering them by any other means that the person consented to in writing.
Serving Wilde by sliding the envelope is not the same as handing it to her, but the server could claim delivery if she saw Wilde pick it up.
No matter what happens in the Sudeikis vs. Wilde custody battle, it's likely we'll hear a heck of a lot more about Wilde getting served at CinemaCon.