Jay Leno vs. Jerry Seinfeld: Who Has the Bigger, More Expensive Car Collection?
Plenty of millionaire celebrities purchase luxury cars, but the two most notorious car collectors are both comedians. Former Tonight Show host Jay Leno is notoriously obsessed with motor vehicles and has the insane catalog of vehicles you'd expect. Similarly, comedian and producer Jerry Seinfeld has millions of dollars worth of cars.
Leno and Seinfeld frequently get together to discuss their shared passion and compare notes. But between the two, who has the bigger, more expensive collection?
Jerry Seinfeld keeps his cars in an underground garage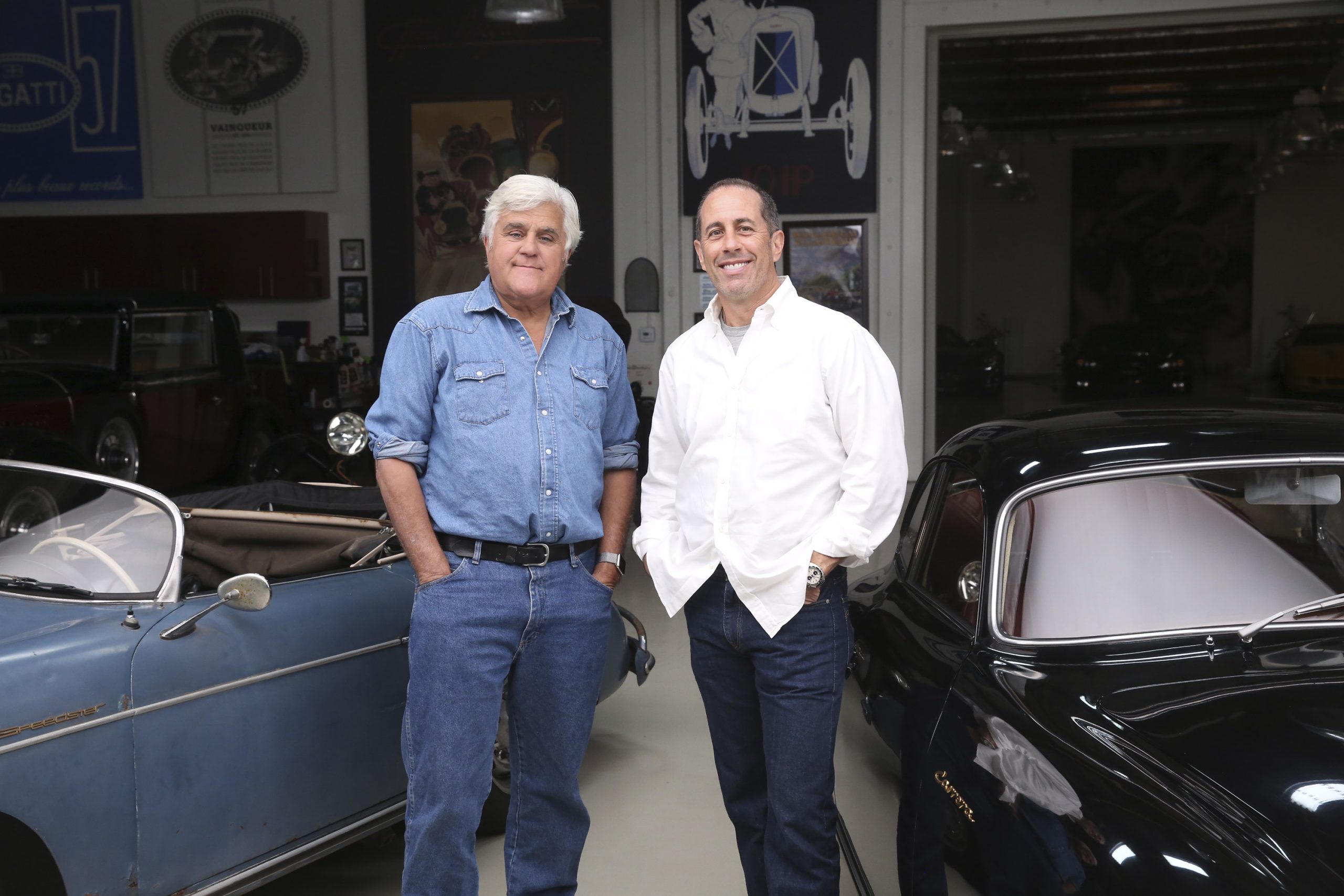 Car collecting is a naturally tricky hobby for a diehard Manhattan resident like Seinfeld. But he came up with a creative solution for the lack of parking options in his neighborhood. Rather than storing his precious vehicles in a garage upstate or — perish the thought — parked on the street, the 66-year-old sitcom star built an elaborate underground garage.
Seinfeld's car storage facility is a few blocks away from his permanent residence on Central Park West, Complex reported. It features 4 separate garage spaces, an elevator, a club room with a pool table, a kitchenette and bathroom, and an office.
Plus, the temperature-controlled space has plenty of parking for Seinfeld's many cars, most of which are made by Porsche.
Jay Leno has more cars than Jerry Seinfeld — by a lot
Both Seinfeld and Leno are two of the most notorious car collectors in the entertainment industry. However, when it comes down to whose collection is bigger, Leno beats out Seinfeld by a mile.
The former host owns approximately 286 vehicles as of 2018. Leno's dizzying lineup includes 169 cars and 117 motorcycles with an estimated value between $50 million to $150 million.
Jerry Seinfeld has more Porsches than Jay Leno
Though Leno has the most number of vehicles, Seinfeld wins the prize for owning the most Porsches. The Seinfeld star has around 80 cars from his favorite maker and once said Porsche is the "essence of sports-car perfection."
Though he owns fewer vehicles (about 150), the total value of his collection is the same as Leno's. It's estimated at being worth $50 million to $150 million thanks to all the rare and valuable vehicles.
One car you'll never find in Seinfeld's underground garage? A Lexus, which the comedian absolutely despises. He once said the car maker "perfect the idea of a coffin on wheels."
The two comedians aren't in a competition
Ultimately, the two car collectors aren't trying to one-up each other. They just really, really love cars and appreciate that passion in others, too. Seinfeld shows off some of his rides in the series Comedians in Cars Getting Coffee. Meanwhile, Leno has a car-centric series of his own, Jay Leno's Garage.
The car buffs have nurtured their friendship for more than 30 years. "If I admire anyone, it's Jerry. He's all about the joke, not his personal self," Leno told Post and Courier.
And the feeling is mutual. Seinfeld has appeared on Leno's car show and vice versa.