Jeff Wittek Releases YouTube Video That Shows How He 'Broke' His 'Face' and It Involves David Dobrik
Jeff Wittek opened up about how he got his injury on his face in a brand new YouTube video. The video detailed how David Dobrik was involved with the accident.
Jeff Wittek and David Dobrik are both part of what is called the "Vlog Squad" on YouTube. The pair made prank videos together for years, led mostly by Dobrik, who gained a big following on social media app Vine. In 2020, Wittek got into a mysterious accident that showed injuries on his face. He was quiet about how he got his injuries — until now. Wittek posted a new YouTube video explaining how it all happened.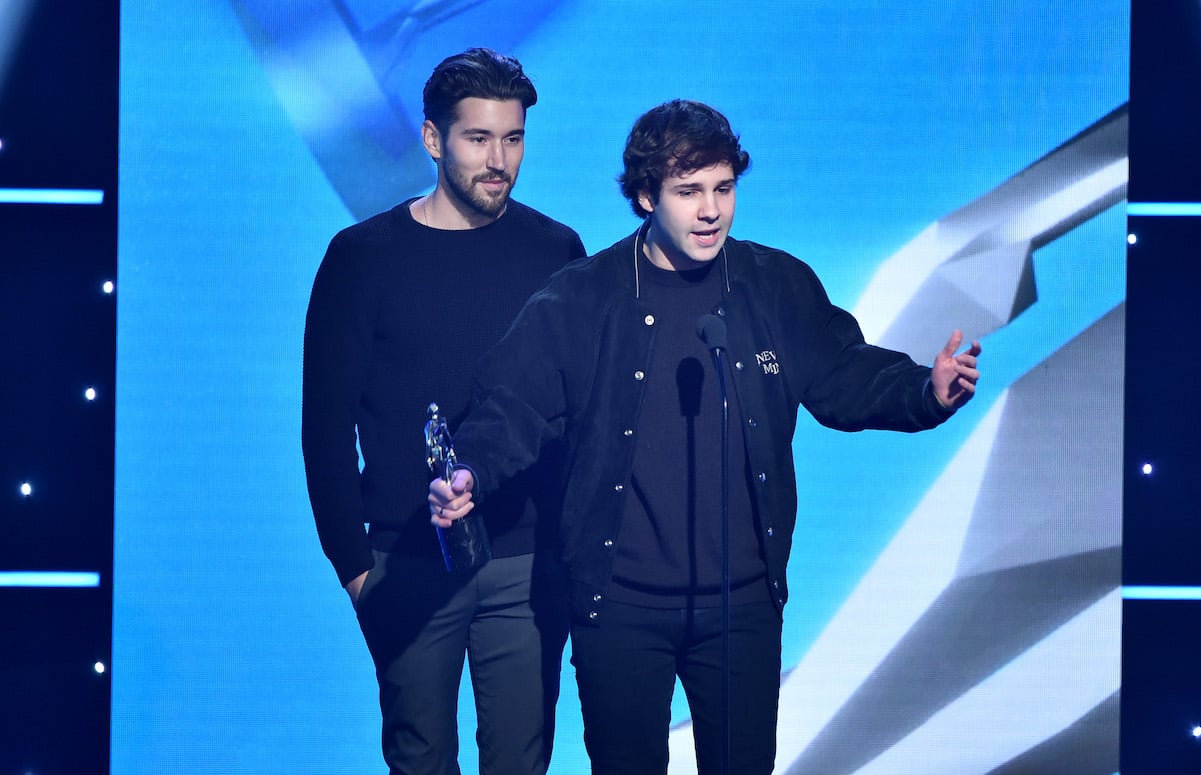 David Dobrik stopped vlogging regularly in early 2020
Dobrik had built a YouTube empire, collaborating with other content creators on his channel. The YouTuber has over 18 million subscribers on his page. Prior to the coronavirus pandemic, Dobrik posted regularly once a week on his channel. He also has a podcast with other "Vlog Squad" member Jason Nash. But after his April 24, 2020 YouTube video, he didn't post for 11 months.
Fans had speculated that Dobrik wasn't vlogging anymore due to the pandemic. But Wittek's new video offers a potential alternative explanation for the YouTuber's extended absence.
Jeff Wittek had a mysterious injury that he didn't explain how he got
RELATED: JoJo Siwa Explains Why She Doesn't Want to Label Herself Yet
Related post url: 
Wittek has been posting on his YouTube channel pretty consistently during the pandemic. But he had a mysterious injury on his face, that he seemingly was covering with an eye patch, sunglasses, and decorative makeup.
His newest video series, which he teased with a trailer on April 15, 2021, explained from his perspective what happened with video clips.
"A year ago, a lot of things happened," he said in a voiceover in the trailer. "And I kept them all a secret."
The trailer then showed Wittek on a plane. Then it showed him jumping out of it.
"Not telling everybody made it a lot harder," he said.
Jeff Wittek put out new video that showed David Dobrik's involvement
Wittek posted the first-part video on April 18 that discussed his upbringing and working as a barber. His second-part video shared on April 21, though, went into more detail about his accident.
Early on in the video, Dobrik, Nash, and Wittek talked about how they wanted to pivot to "stunt videos" three months into the pandemic. Dobrik said he texted the Vlog Squad group chat to see if they wanted to jump out of airplanes for YouTube videos.
The video showed that some of the content creators began sky-diving without Dobrik participating. He said he was playing video games. Wittek described that they were sky-diving six to seven times a day.
At one point, Dobrik and Nash arrived to film stunt videos with Wittek and other members of the Vlog Squad.
The clip showed Dobrik handling an excavator on a body of water, with Corinna Kopf dangling off a rope while Dobrik allegedly controlled the machine's movement. Kopf jumped off the rope and Wittek jumped on.
Wittek described that the stunt looked easy in comparison to sky-diving.
"What's the worst that could happen if I swing from a rope over a one-foot deep lake," he described how he felt at the time. "And yeah, I didn't know I was gonna go that fast. So I grabbed the f*cking rope and I tried to make a goddamn funny video for people."
Wittek continued: "But this is where I made a mistake. I forgot that the biggest f*cking idiot I know was driving it."
The video then showed Wittek falling into the water, face first.
Wittek will likely go into even more detail in the next part of his YouTube series. But for now, viewers got to see exactly how his accident happened and who was involved.
A spokesperson for David Dobrik did not return a request for comment about this video by the time of publication.