Jeffree Star Slams Claims He's Paying His New Boyfriend To Be With Him; 'I Don't Give Money To Anyone I'm Dating'
It appears Jeffree Star has a new beau, and since he hasn't officially introduced the mystery man, fans have a lot of questions regarding their relationship. After posting a steamy photo of the two of them sharing a passionate embrace on his Instagram, Jeffree Star fans immediately took to Twitter to share their thoughts on this new romance.
Though many were for happy the famous YouTuber, others questioned whether the mystery man is actually with him for love or if he's only dating him for money. However, Star set the record straight on Twitter by clapping back at those who think he's paying his new boyfriend to be with him.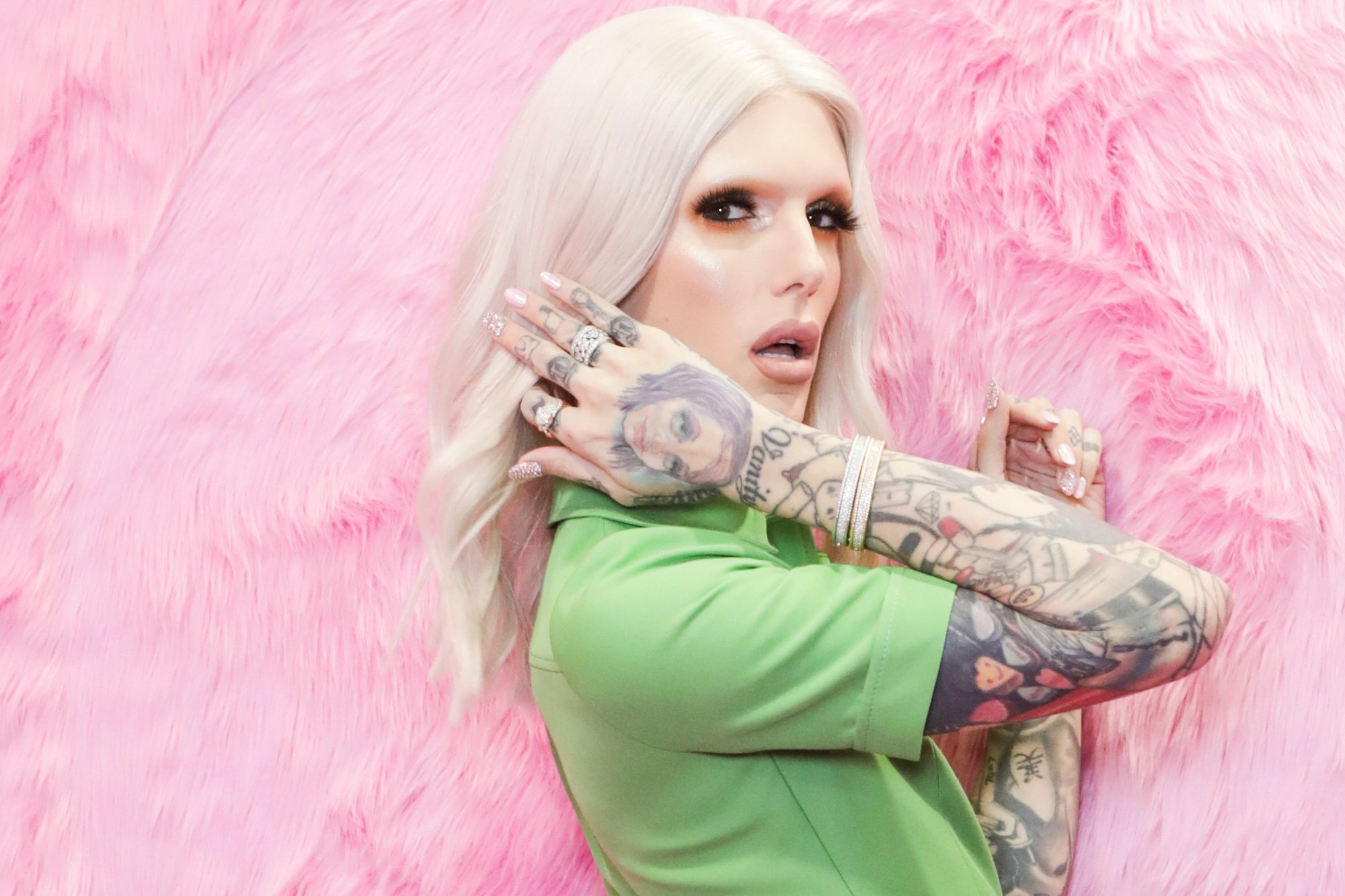 Jeffree Star's new relationship announcement sent the internet into a frenzy
Star definitely knows how to send the internet into overdrive and proved this over the weekend when he announced his new fling on social media.
On Aug. 21, the makeup mogul shared a steamy photo of himself with a mystery man on his Instagram. The photo shows Star dressed in a monogrammed Louis Vuitton outfit sitting on his new boo's lap.
Though the man's face was covered, his tattooed arms and protruding muscles were on full display as he wrapped them around the YouTuber.
Star captioned the snapshot, "Thankful for all the blessings God has brought into my life this year 💯🙏🏼." So far, the post has garnered over 1 million likes on Instagram from fans and celebrities. However, Star disabled the comments under the photo, preventing followers from sharing their unfiltered opinions about his relationship and revealing the man's identity.
But despite Star keeping the mystery man's identity a secret in the post, he eventually gave fans a look at his new beau face on his Instagram Story and Twitter.
On Aug. 24, Star shared two snapshots of himself and his boyfriend lounging by a pool. In the first photo, Star is seen donning rainbow-colored hair and a red hoodie while his beau posed behind him shirtless.
In the second snapshot, the man, who The Shade Room identified as a professional basketball player overseas, is seen holding onto Star feet while they have some lighthearted fun in the pool.
The makeup mogul insists he's not compensating his new boo to date him
Since announcing his new fling on Instagram, many have taken to Twitter to share their reactions to Star's most recent love connection.
While some didn't waste time congratulating the Jeffree Star Cosmetics founder on his newfound relationship, others quickly shared their reservations about this romance.
Although many called out Star for dating a person of color after coming under fire for using racial slurs in the past, a handful of people questioned whether his new boo is benefitting financially from this relationship. 
After getting swarmed with tweets insinuating his relationship comes with a price tag, Star defended himself against the accusations by clapping back at naysayers on Twitter.
"I know it's devastating news for some people, but I don't give money to anyone I'm dating or anyone who is f*cking me. Work on your own insecurities sis, I'm not the problem," the Star tweeted.
He continued in another tweet, "Worry about how to pay your own bills, not who's in my mouth. Thank you, God bless – Upper management."
Who did Jeffree Star date in the past?
Star's new relationship comes less than a year after he called it quits from longtime boyfriend, Nathan Schwandt. The pair dated for nearly five years before Star announced in January that they went their separate ways to focus on themselves.
"We're gonna start things off fresh. I'm starting this year off alone and I can't even believe I'm saying that," the makeup mogul said in an emotional video posted to YouTube.
Though their relationship fell apart, Star noted that he and Schwandt will always love each other and plan to remain friends.
"I will always have love for him," he added. "Are we in love with each other? No. But we love each other and he will always be in my life."