Jemele Hill From 'Below Deck' Returns for 'Below Deck Med' – but the Penis Cake Probably Won't Make a Comeback
Jemele Hill from Below Deck Season 7 returns for another voyage, this time on Below Deck Mediterranean. Her first appearance on the show was for her wild bachelorette party, which was when her friends were presented with a relatively graphic cake in the shape of a penis. The gag was that Hill had gone to bed when the cake came out, timed perfectly as Captain Lee Rosbach had a serious discussion about charity work with Hill's friends. So what did Hill say about her first time on the show and how will this time be different?
Why did Chef Kevin make a penis cake for Jemele Hill?
The penis cake was essentially a setup after chef Kevin Dobson made chief stew Kate Chastain's life an absolute pain during the season. Dobson complained about how Chastain did her job so when she knew Hill had gone to bed, she pushed Dobson out to the table with nothing but the cake and a smile. The guests and Rosbach looked horrified.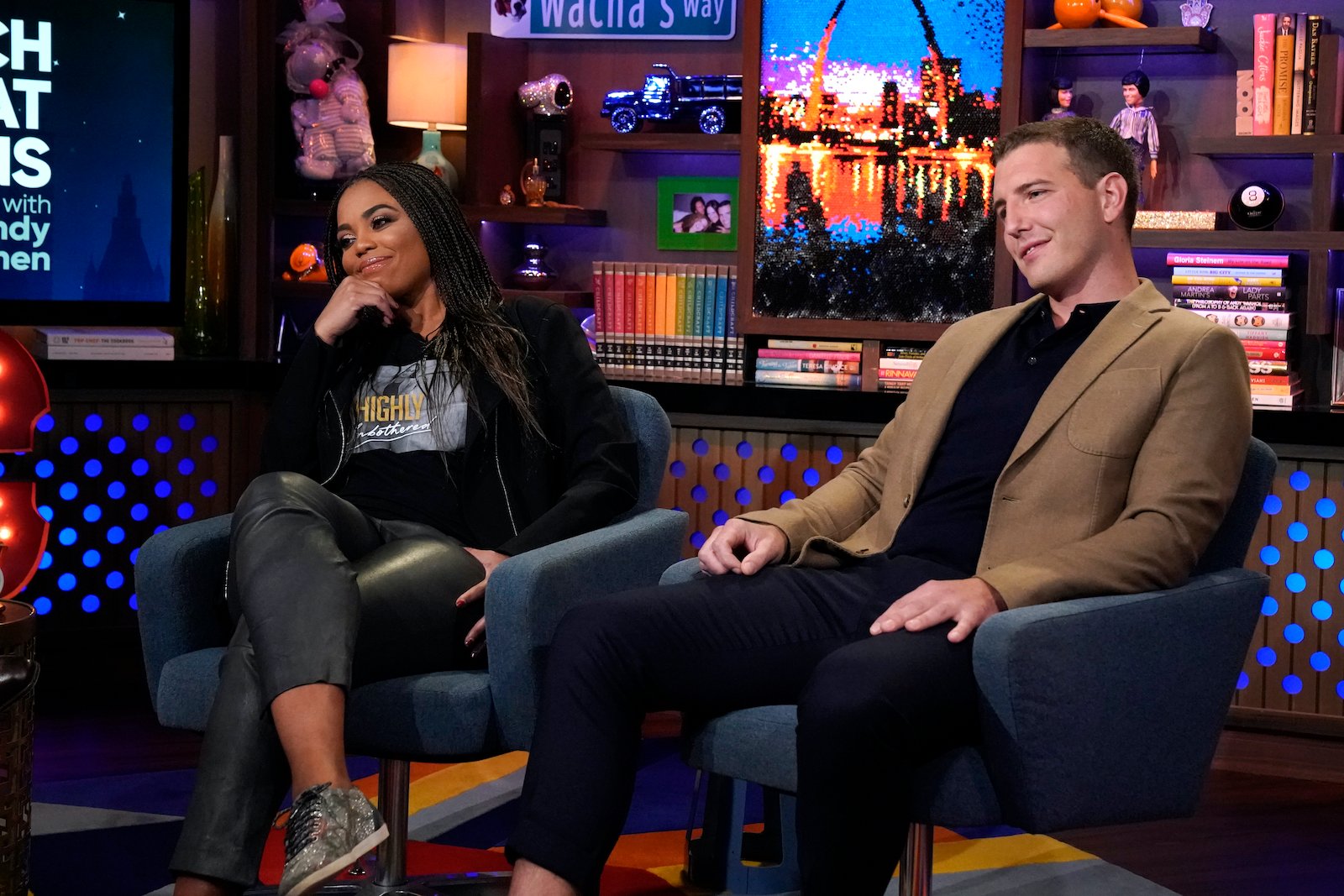 Unfortunately, Dobson was like a deer in headlights and just stood there. Hill later reflected on the moment during an appearance on Watch What Happens Live with Andy Cohen. "The number one thing that the rest of my friends had a problem with is, it's like you dropped it and you didn't explain anything," she said to Dobson. "Had you explained it, it might have gone better. So that was a piece of feedback I got from everybody."
Jemele Hill from 'Below Deck' said Chef Kevin was set up
Hill was also a little surprised that Chastain set up Dobson. "I didn't know that basically you got set up, dude. I don't even know how to make this right or whatever. I'm sorry I wasn't there for the penis cake," she said to Dobson. "I didn't know there was something larger at play that apparently horrified the rest of my charter."
RELATED: 'Below Deck': What Did Jemele Hill's Mother Say About Kate Chastain?
But Dobson realized he fell for the prank. "I kind of walked into it, didn't I?" he replied. "I had been upsetting her all day, and she got me then. It was kind of perfect." After Dobson swiftly turned and ran back to the galley kitchen, penis cake in hand, he managed to slice and serve the confectionary phallus. And the guests, even Rosbach, said the cake was delicious.
How will Jemele Hill's voyage on 'Below Deck Med' be very different from 'Below Deck'?
While Hill, her husband, and their friends haven't arrived on the boat just yet, her experience this time will likely be very (very) different than her girls' trip. The only similarity is that like her first time on the show, Hill's group will be the final charter of the season. But the similarities end there.
This time she is celebrating her wedding anniversary. Last time it was an all-you-can-drink buffet (and a penis cake). She laughed about how drunk she was during her last time on the show. "It was the observation of all observations, you knew, I was drunk as f**k. Like super, super drunk," she shared with comedian Leslie Jones on her podcast, Jemele Hill is Unbothered. "We had been drinking all day. Like, I had been drinking since about 9 am in the morning."
Hill added that the crew makes sure the guests get pretty lit. "Let me tell you how they set you up on Below Deck though. Because I feel like you need to go on Below Deck. You need to go on there. I think you will be like the perfect, perfect charter guests. So they get you tuned up. Before we even make it to the yacht, we're at a bar that's right on the marina area and the producers are like, yeah, we'll just like go over like the mic packs, you know, just general stuff. You should know, blah, blah, blah, blah, blah. Hey, y'all want some shots?"
RELATED: 'Below Deck': What Did Jemele Hill's Mother Do When the White House Demanded Her Daughter Be Fired?