Jenna Ortega Says She Has Been Compared to Addams Family's Wednesday Her 'Whole Life'
The Addams Family is back with a fresh new adaptation that will see Jenna Ortega in the role of Wednesday Addams—a character the actor says she has been compared to throughout her life. The Netflix series, directed by goth-loving director Tim Burton, premieres later this year.
Jenna Ortega is the new Wednesday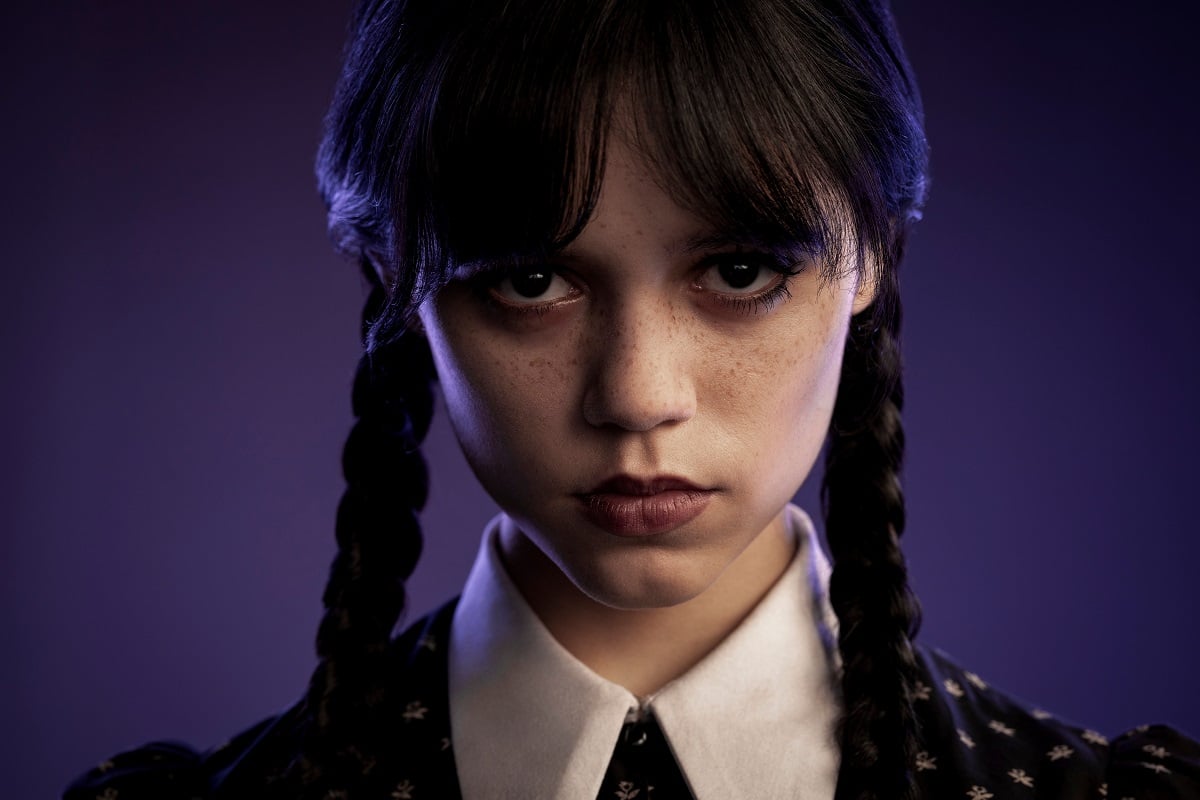 A new imagining of The Addams Family heads to Netflix. Directed by Tim Burton (in his first-ever foray into television), the series will follow Wednesday as a teenager. According to What To Watch, the show "delves into the titular figure's days as a student at the Nevermore Academy in the small town of Jericho where she has both friends and enemies! She has to navigate new, and very tangled, relationships, master her emerging psychic ability and thwart a monstrous killing spree that's terrorized the local school." The series teaser also mentions that Wednesday will try to solve a supernatural mystery involving her parents from long ago.
Jenna Ortega plays Wednesday Addams, which isn't much of a stretch for her. "She's someone I've been compared to my whole life," she tells Empire, "just because of my humor and dry nature, so it just seemed fitting. I thought that would be a nice way to flex my muscles in a different way." 
Ortega adds, "A big part of the reason I signed on is because she's technically a Latina character and that's never been shown or represented." She continued. "As someone who struggled, and still struggles to this day, with some sort of feeling of representation or relatability in mainstream media and film and television, I recognized this was an opportunity for me to… give that relatability to other girls like myself." 
Where viewers have seen Jenna Ortega before
Ortega began acting more than a decade ago. But her breakout role came when she started playing young Jane in Jane The Virgin in 2014. Ortega later made waves for her portrayal of Ellie Alves in the thriller series You. Most recently, Ortega starred in 2022's Scream as Tara Carpenter (a role she reprises in Scream 6). 
This is just the latest 'Addams Family' adaptation
The Addams Family has seen many reincarnations since its debut in popular culture in 1938. Originally a comic by Charles Addams, The Addams Family featured in The New Yorker for 50 years. The first screen adaptation of the eccentric family occurred in 1964 with a television series, followed by an animated series in 1973. Then, finally, The Addams Family hit the big screens in 1991, followed by the sequel, Addams Family Values, in 1993. 
Of all the versions of The Addams Family, the 1991 and 1993 movies are likely the most recognized. In them, Christina Ricci plays The Addams Family's only daughter, Wednesday Friday Addams. Unlike the series that came before the films, Ricci's Wednesday was a return to the original character from Addams' comics. The character was dark, sociopathic, and obsessed with death. Wednesday Addams was one of Ricci's breakout roles and led to her career trajectory of leaning away from more "traditional" Hollywood parts. Ricci notably voiced her approval of Ortega in the role. Additionally, she's set to appear in Wednesday, but the character she'll portray remains a mystery.