Jennifer Aniston and Brad Pitt Handled Their Public Split Very Differently
Sixteen years ago — in January 2005 — Jennifer Aniston and Brad Pitt announced that they were separating after nearly five years of marriage. The news came after rumors swirled for months that something was going on between Pitt and Angelina Jolie on the set of Mr. and Mrs. Smith. Those rumors turned out to be true.
Just weeks after the announcement, Pitt went very public with Jolie and was a father figure to her son, Maddox. To cope with the betrayal and the subsequent media frenzy, Aniston essentially went into hiding.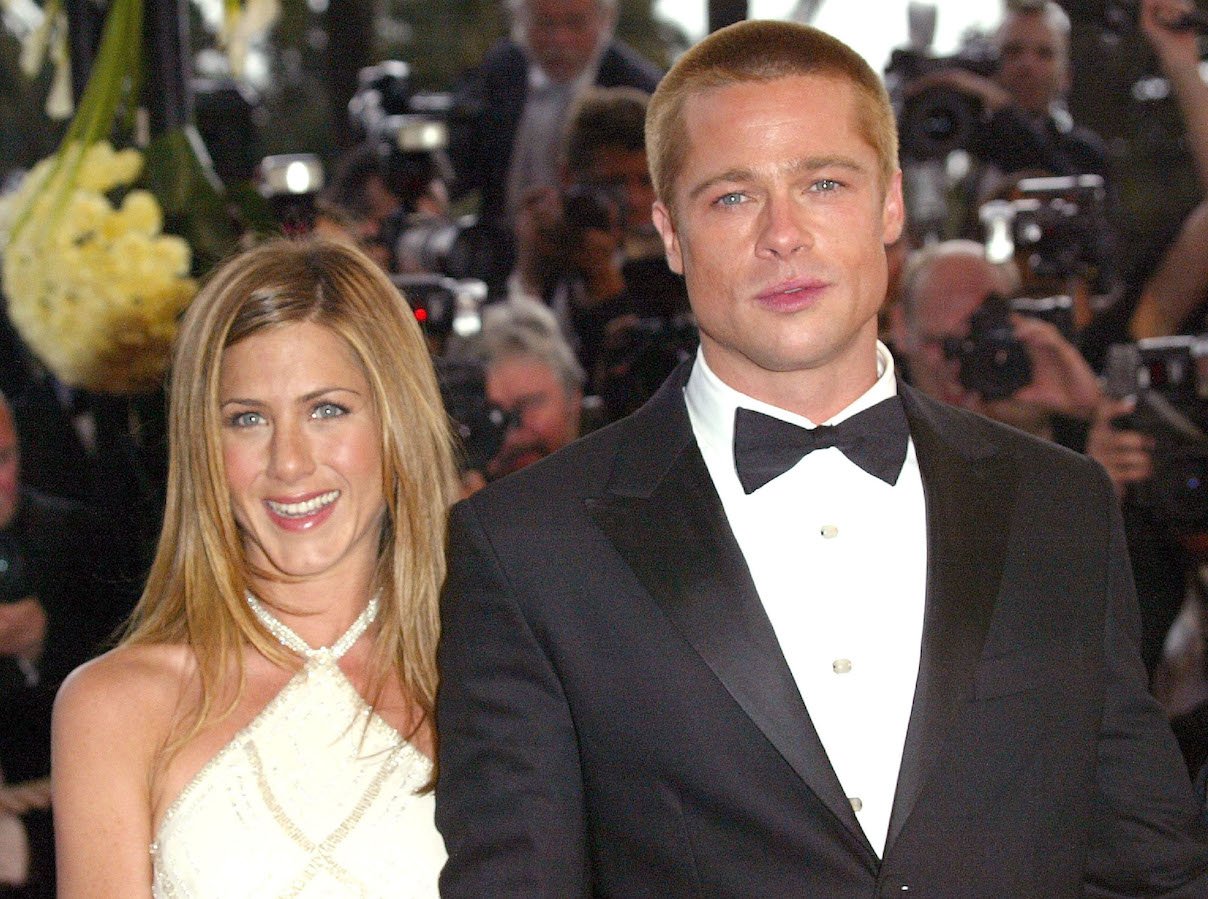 The aftermath of Jennifer Aniston and Brad Pitt's split was devastating
After Aniston and Pitt announced their separation, she retreated to a rented bungalow in Malibu to deal with the end of her marriage. But the aftermath of the split was even worse. Hurtful headlines appeared on nearly every tabloid for months. And oftentimes, there were stories about Aniston that were completely fraudulent.
But what was truly devastating for Aniston was the fact that Pitt didn't keep a low profile after the split. Instead, the paparazzi photos started to emerge of Pitt and Jolie together in exotic locations.
RELATED: Insider Claims Jennifer Aniston and Brad Pitt Were Planning For a Baby Before Angelina Jolie Came Into the Picture
He even appeared to take on a paternal role with her adopted son, Maddox. But they continued to deny that they were an item.
"It was extremely hurtful to Jen that he was seen with another woman so quickly after they were separated," Andrea Bendewald — one of Aniston's closest friends since they were teenagers — told Vanity Fair.
The tabloids blamed the 'Friends' star for the end of her marriage
At the beginning of 2004, Aniston was wrapping up her 10 season run on Friends. And she told The Guardian that she was ready to start a family with Pitt.
"It's time. It's time. You know, I think you can work with a baby, I think you can work pregnant, I think you can do all of it. So I'm just truly looking forward to slowing down," she said at the time.
But after their marriage fell apart, sensational tabloid stories claimed that the real reason for the split wasn't Pitt's affair. Instead, they blamed Aniston. Numerous headlines claimed Aniston refused to have a baby with Pitt because she was so career focused.
RELATED: Jennifer Aniston Said 'Good-Bye' to 'Friends' the Same Month Brad Pitt Met Angelina Jolie
"A man divorcing would never be accused of choosing career over children," she said. "That really pissed me off. I've never in my life said I didn't want to have children. I did and I do and I will!"
Aniston added that the women who inspire her are the ones who have careers and children. She said that she's always wanted to have kids, and she would never give up that experience for a career.
"I want to have it all," Aniston declared.
Jennifer Aniston and Brad Pitt are still on good terms
A mutual friend of the former couple noted that Pitt's behavior after his split from Aniston could have been a lot better. The insider said that having a baby was never a priority for Pitt when he was married to Aniston. When the tabloids started blaming the actress, the friend says Pitt could have done more to refute the rumor.
Despite all of the devastation and heartbreak, Pitt and Aniston have managed to come full circle and are on good terms. While he was still with Jolie in 2011, the Fight Club star publicly stated that Aniston was still very important to him.
RELATED: Jennifer Aniston Once Admitted She Was 'Confused' By the End of Her Marriage to Brad Pitt
"Jen is an incredibly giving, loving, and hilarious woman who remains my friend," Pitt said. "It is an important relationship I value greatly."
After his split from Jolie — and her divorce from Justin Theroux — Aniston and Pitt have had some very public moments that have fans shipping them once again. He showed up to her 50th birthday party. They also ran into each other at the SAG Awards and the photos nearly broke the internet.
Aniston and Pitt were also part of a Fast Times at Ridgemont High charity table read in September 2020. And their flirty conversation made it clear all was well between them.