One of Jennifer Aniston's Beauty Secrets Involves Skin Icing
One of the newest trends in celebrity beauty is skin icing. You've probably seen this skin care practice all over Tik Tok. Some say it's a way to give dull skin a glow that lasts for days. One celebrity who uses ice as part of her beauty routine is former Friends star Jennifer Aniston.
Jennifer Aniston uses skin icing as part of her beauty routine
What exactly is skin icing? According to esthetician Nicole Caroline, skin icing involves using ice to tighten and brighten the skin.
"Facial icing is something that has been around for a while," Caroline tells Showbiz Cheat Sheet. "I created a technique that my clients loved. My technique involves applying specially created skin care formulas depending upon their skin concerns through icing (which I do every morning)."
Aniston tells Vogue she is able to look great when she wakes up early in the morning because she uses eye masks and Cyro-Sticks (stainless-steel wands that are refrigerated and used to reduce skin puffiness and redness). She also likes to use ice water to help her skin thrive.
"Another good one that my facialist taught me is just get a bowl of ice water and splash your face 25 times," Aniston tells Vogue. "It's an old-school trick that Joan Crawford used to do—it just wakes your skin up."
According to Aniston's facialist, Joanna Czech, ice is a great way to reduce skin puffiness. Czech tells Grazia magazine she uses ice cubes that are made from dandelion tea. "Start with the ice cube at the center of your face and draw down to the base of the ear and then the base of the neck," she tells the publication.
Madonna uses cold temperatures in her skin care routine
Aniston isn't the only celebrity who incorporates cold temperature into her skin care regimen. Madonna is also a fan of the technique to give her skin a boost. During a 2017 interview, she spilled some of her skin care secrets to Vogue.
"I would wake up and put my eye mask on," says Madonna. "I would lay there for a little while and take the rose mist spray—I wouldn't get out of bed—and then use my Cryo-Sticks, which I store in the freezer. Then, I'd lay there for 10 or 20 minutes, until my puffy eyes go down, while I'm served coffee, of course."
Nicole Caroline's tips for skin icing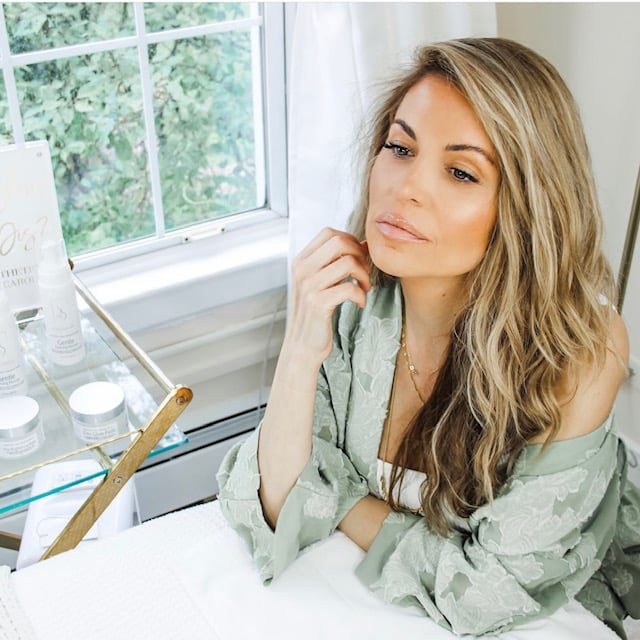 If you're thinking of using the skin icing technique to elevate your beauty routine, there are a few things you should know before getting started. Icing isn't for everyone, so make sure to get all the information you need (and check with your dermatologist beforehand if you have any pre-existing skin conditions). Nicole Caroline shared some of her do's and don'ts with Showbiz Cheat Sheet.
Nicole Caroline's do's:
Do apply in the morning if you're unsure when to do it. Use my proprietary blends; they will dramatically improve results and the impact of using the icing technique.
Always move the ice (unless hovering over a cystic breakout for 15 to30 seconds).
Use over a sheet mask if your skin is sensitive.
Nicole Caroline's don'ts:
Don't leave the ice on the skin–always keep it moving!
Don't keep using if any type of reaction occurs. Stop immediately and consult your professional.
Don't use on children under 12 years of age.
Don't use directly over broken capillaries.
Follow Sheiresa Ngo on Twitter.