Why Jennifer Aniston 'Burst Into Tears' After Singing for Dolly Parton
Jennifer Aniston is a woman of many talents. Not only can she act and produce, but it turns out the Friends star can also sing, which she proved on the soundtrack for her 2018 Netflix film Dumplin'. Though she only sang background vocals on one song, Aniston was especially nervous to perform alongside the album's co-writer Dolly Parton. So much so, that when recording for the track was done, Aniston "burst into tears."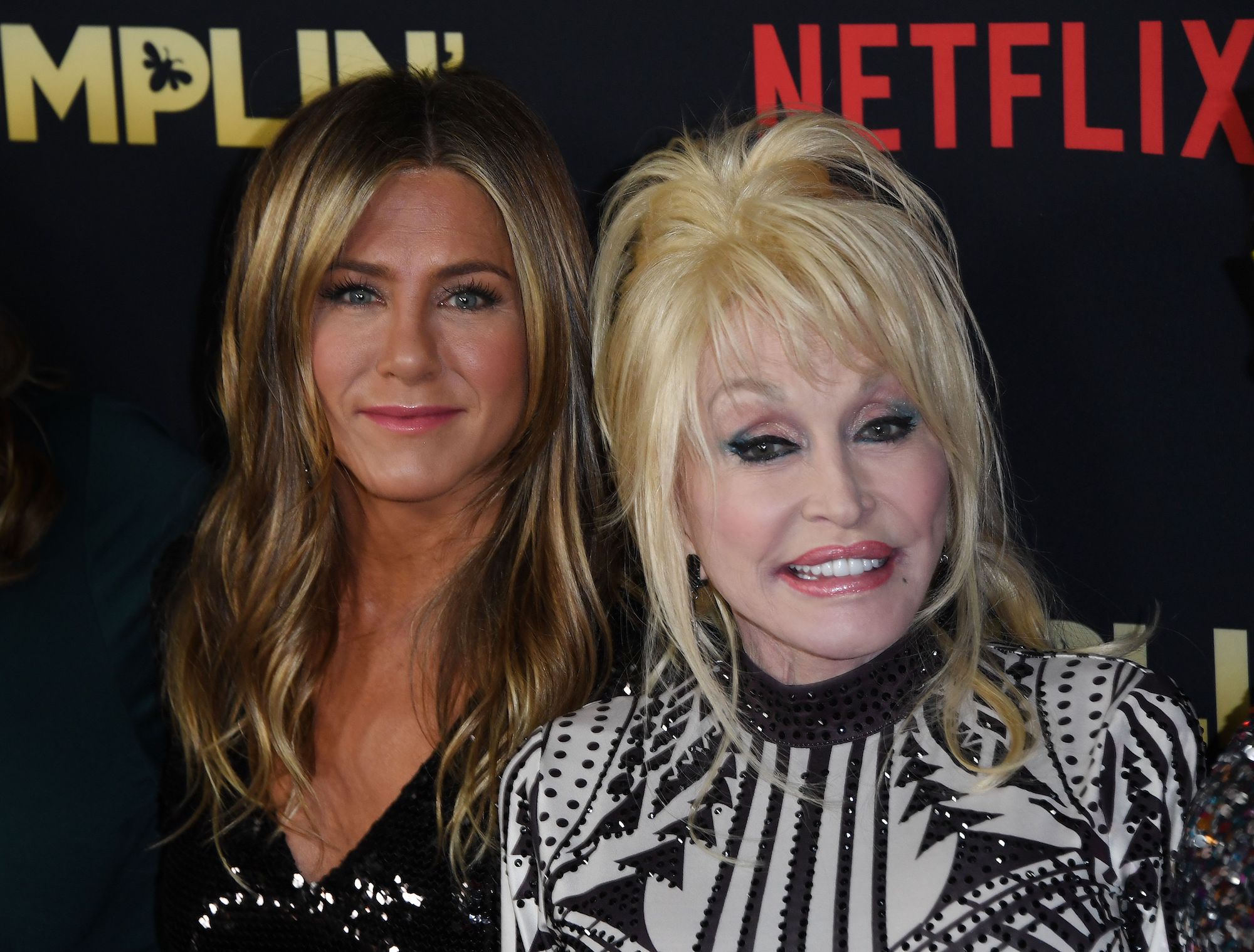 Jennifer Aniston said singing with Dolly Parton was 'terrifying'
Not many people can say they have had the pleasure of working closely with Parton, but Aniston sure can.
The two women joined forces in 2018 for the Netflix film, Dumplin', which Aniston stars in and produced.
The movie follows Aniston's character, Rosie, a former beauty queen who focuses her attention on various pageants rather than her daughter, Willowdean "Dumplin." With Rosie giving pageants more of her time than Willowdean, the teenager finds comfort and support from Parton's music — as well as Dolly impersonated drag queens.
Though Parton doesn't physically appear in the film, she did have a hand in its soundtrack, co-writing six original songs.
One of the tracks she wrote was titled, "Push and Pull," and includes the background vocal stylings of Aniston and her Dumplin' co-star, Danielle Macdonald.
Following the film's release, Aniston and Parton did a series of press junkets together, during which the Friends star opened up about singing alongside the country music legend.
Though it was "terrifying" for her at first, the actor soon tapped into her inner musician.
"I think it was something that was such a dream for so long, to actually be in a recording studio," Aniston said during an interview on the British morning talk show, Lorraine.
RELATED: Why Jennifer Aniston Thought She Accidentally 'Insulted' Dolly Parton When They First Met
After recording the track, Aniston was overcome with emotion.
"As a kid, you fantasize, I sang into a hairbrush… I was pretty nervous, then I got really relaxed," she recalled. "When I finished I burst into tears!"
Dolly Parton thought Jennifer Aniston did a great job singing
Though Aniston was nervous going into the recording studio and laying down the track, Parton says the actor did "great."
"I think it was because she was so relieved to be done," the "Jolene" singer said during the interview. "I was rooting for you. You did good. I was proud of you."
In a separate interview with Entertainment Tonight, Parton confirmed that Aniston did get emotional after recording "Push and Pull." However, Aniston defended her actions, sharing that the recording session was like an adreline rush for her.
RELATED: Dolly Parton Once Revealed That Her Husband 'Fantasizes' About Having a Threesome With Jennifer Aniston
"I would imagine if I were to jump out of an airplane, I would probably have the same reaction of like 'I just did that!'" Aniston expressed.
The 'Dumplin' soundtrack wasn't the first time Jennifer Aniston showcased her vocal chops
Though she was nervous to sing on the Dumplin' soundtrack, Aniston has showcased her singing abilities plenty of times throughout her career.
In 2001, Aniston put her vocal chops on display during a scene in the comedy-drama film Rock Star. While appearing on The Ellen DeGeneres Show in 2010, the actor belted out part of "I've Got a Crush on You" by George Gershwin, which earned her a round of applause from DeGeneres and the studio audience.
Now that we know Aniston can hold a note, maybe she and Parton will one day go on tour.